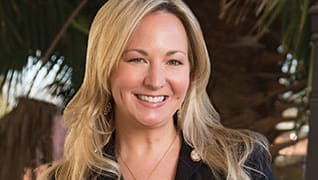 Photo by: Felix Sanchez
The Judge, the Prosecutor and the Criminal Defense Attorney
They're all Kerrisa Chelkowski, whose anxious parents bought her a black cowboy hat when she switched from prosecuting accused criminals to defending them
Published in 2014 Texas Rising Stars magazine
By Alison Macor on March 7, 2014
Kerrisa Chelkowski is recovering from a late night. The San Antonio criminal defense attorney worked until midnight in the court building just across the interstate, where she has been moonlighting as a magistrate judge since 2008. Every third weekend, give or take, Chelkowski presides over the district court in her city.
"Talk about every day is different," says Chelkowski. "You see from the very beginning how things work, from the search warrants to talking to the police officers and hearing about their investigations to issuing the arrest warrants."
Chelkowski is one of a handful of applicants selected by the district court judges and approved by the commissioner's court to serve in this capacity.
"Kerrisa has such a keen sense of justice," says Tony Hackebeil, a former district attorney for Medina, Real and Uvalde counties who has worked with Chelkowski as a special prosecutor. "She's also confident and not at all afraid to educate the police officer who's bringing in the person under arrest and show them that the rule of law is what prevails."
The former teacher has a reputation for taking her time with each defendant—much to the bailiffs' chagrin. "Some of them say, 'Judge, you're really nice, but can we not answer so many questions?,'" she relates. "I say, 'These people are scared to death.' … I see people and I'm like, 'Oh, my gosh, that could be my little cousin, or that could be my friend.' You sort of see the humanity of the situation at that point."
The 38-year-old feels at home in the courtroom, thanks in part to a clinic for criminal justice cases that she attended while a law student at Texas Tech University. Chelkowski spent some time each week in the Lubbock District Attorney's Office. One memorable case concerned a motion to revoke a man's probation. At the end of the hearing, the man crossed the courtroom, grabbed Chelkowski around the ankles and begged for a reprieve. "You realize you're affecting people's lives. It's not to take lightly," she says.
Although Chelkowski initially planned to become a lobbyist for the Americans with Disabilities Act, combining her law degree with an undergraduate degree in elementary special education, she began her legal career in 2002 in the appellate division of the Bexar County Criminal District Attorney's Office. "Everyone starts off as a misdemeanor prosecutor in Bexar County," says Chelkowski. "It was just random that they had an opening in the appellate division."
One significant appeal that Chelkowski handled was Stewart v. State of Texas in 2003, which became an important case for its influence on Texas DWI law. During the appeal, the defense argued that Dawn Stewart's breath test results, taken more than an hour after her traffic stop, were irrelevant without evidence of what her blood alcohol content was at the time she was pulled over, since the level can increase for a time.
The Fourth Court of Appeals agreed, and the conviction was reversed. But Chelkowski filed a petition for review with the Texas Court of Criminal Appeals, arguing that the lower court was in the wrong. At the time, the Court of Criminal Appeals was traveling to various law schools so the public could witness the workings of the court. As a result, Chelkowski made her first oral argument before the Court of Criminal Appeals at St. Mary's University in front of hundreds, including her grandparents. The Court of Criminal Appeals agreed with Chelkowski and found that the breath test results were relevant in a DWI case when considered along with other evidence such as driving factors and field sobriety tests.
In 2004, having gained appellate and trial experience, Chelkowski realized she wanted a change. "I loved trying cases, and I was assigned to two courts and I really loved the judges. But I wanted to seek other opportunities," she says. Her venture into private practice as a criminal defense attorney was met with concern by her parents. Her father, who had always counseled Chelkowski on the importance of an "employable" education, worried that she wouldn't have a steady paycheck; her mother feared she would be working for "criminals." Says Chelkowski, "They even bought me a black cowboy hat."
Initially, Chelkowski touted her trial and appellate experience to other defense attorneys, offering to help with their cases. In addition, Hackebeil hired her to work as a special prosecutor for his DA office on a variety of cases that included theft, sexual assault and murder. "I think for the first six months, every week I was in trial," says Chelkowski. "I wasn't making any money, but the experience was phenomenal."
One such experience concerned an airline ticket fraud case that began in 2005. Multiple Bexar County officials were alleged to have illegally bought or obtained stolen flight vouchers from a Bexar County bailiff married to a former Southwest Airlines employee. An attorney friend who was defending another bailiff in the case had a scheduling conflict and asked Chelkowski to attend a preliminary hearing in his place. She read up on the case and arrived for the hearing, which she says was something of a "show" trial, given that the defendants included the district attorney, a few judges and other high-ranking county employees. As she listened to the other attorneys argue the case, she decided that the allegations involved more of a contract dispute than a crime and were focused on contract details that applied primarily to debit or credit cards, not to flight vouchers. Chelkowski said as much to the judge, and he told her to write a bench brief so that he could look into the matter.
"Kerrisa was correct in her assessment of what was going on and what was important at that moment," says attorney Jay Norton, who represented the couple charged with selling the vouchers. He has worked on various cases with Chelkowski over the years. "Sometimes people get 'trial fever' and they get to thinking they're on the right path. They take everything at face value. Kerrisa could see big picture."
Chelkowski wrote the bench brief along with another attorney, and the judge granted the motion and dismissed the case. A year later, the government refiled it and ended up winning. Still, says Chelkowski, "It was a victory at first. And it was a great learning experience."
Outside of work, Chelkowski's definition of fun includes travel to exotic places—a wanderlust that was nurtured by a peripatetic childhood, with her father in the military. In 2012, Chelkowski traveled to Africa to take part in a safari on horseback, galloping alongside giraffes and gazing upon wildebeests and lions. An accomplished diver, she also has swum with sharks in the middle of the Pacific Ocean.
"I'll work, work, work, work, and then go on a big trip for a couple of weeks," says Chelkowski.
New developments in DWI and DUI cases also present unique challenges. "Jurors love blood. I think it's the whole CSI effect," says Chelkowski of the increase in blood draws being submitted as evidence in the types of cases that she often tries. "We have to educate jurors that this is not a DNA case, this is not a whodunit. It's just about the intoxication."
If Chelkowski finds herself anxious about a particular trial, she reflects on her travels. "I've been 100 feet underwater with a great white shark two inches from my face," she reminds herself. "I can do this."
Search attorney feature articles