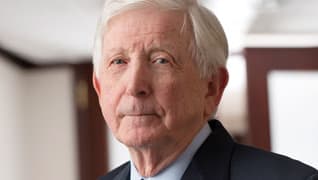 Photo by: Felix Sanchez
The Man Who Said No to LBJ
Shannon Ratliff chose politics over ranching, then law over politics
Published in 2013 Texas Super Lawyers magazine
By Carlos Harrison on September 9, 2013
Shannon Ratliff says he left the small Texas town where his dad ran a mercantile store so that he wouldn't "always be known as Tom's boy."
Now he might be known as the only person from Sonora to have said "no" to a job at the White House.
Ratliff was an aide to Lyndon Johnson during the turbulent years when the U.S. senator rose to vice president, then president. Today, he is a Democratic powerhouse in a deeply conservative state, a key player in billion-dollar oil and gas disputes whose clients include ExxonMobil Corp., and one of the most successful business litigators ever to argue before the Texas high court.
"At one point he was 10 for 10 before the Supreme Court," says Ratliff's former law partner and longtime friend Jack Balagia, ExxonMobile's vice president and general counsel. "There's nobody any better than him, as far as I'm concerned."
Ratliff is also known for his devotion to his alma mater, the University of Texas, and his prodigious—some might say photographic—memory.
"That son of a bitch still knows everything he's ever learned," says Pat Lochridge, a partner at McGinnis, Lochridge & Kilgore, where Ratliff spent more than three decades. He went on to launch his own firm, which now employs seven lawyers.
Ratliff's talent for retention complements an astounding ability to analyze and multitask, his friends say. Lochridge remembers going into Ratliff's office one day for some advice on a legal issue, and finding him reading a case. Just then, the phone rang. It was the governor, needing some political advice. So, says Lochridge, Ratliff consulted with Gov. Mark White, continued to read the case, and simultaneously responded to Lochridge's question: "Go look at Justice Brennan's concurrence. I think it's on the right-hand side of the page. About halfway up."
Lochridge chuckles at the recollection: "Now, I can't honestly say he was reading the case, but I'll bet he was."
Ratliff has an air of Jimmy Stewart about him—flowing white hair framing his face; a soothing, gravelly drawl in his voice; and an affable manner that masks razor-sharp skills. He brought with him from Sonora a soft-spoken, homespun style and a way of stringing words into indelible images that his friends refer to as "Ratliffisms."
"'Lower than a snake's belly in a wagon rut.' Or, 'That guy doesn't know the difference between come here and sic 'em,'" Balagia says. "I could go on for about a week with all the old Ratliffisms we've heard over the years. … I think it's just that great West Texas background."
Ratliff's hometown bills itself as halfway across Texas and halfway between the Florida and California coasts. It's known for its caverns and for being the place where Dan Blocker taught English and drama before landing the role that made him famous: as Hoss Cartwright on the old TV Western Bonanza. Its other best-known citizen is Ratliff's brother Bill, who served as Texas' lieutenant governor beside Rick Perry from 2000 to 2001.
"He was on the wrong side," Ratliff says of his Republican sibling.
By the time he was 17, Ratliff seemed destined to make a name for himself. He won a $1,000 scholarship in a statewide extemporaneous-speaking competition. A short time later, he got a standard congratulatory letter signed by then-Sen. Lyndon Baines Johnson. "It just had kind of a casual line down at the bottom that said, 'If you're ever in Washington D.C., be sure and come by and see me.'"
A few weeks later, he took Johnson up on it. Ratliff appeared unannounced with his father, en route to the national extemporaneous-speaking finals.
 "When we showed up, I could tell we were probably one of the first people who ever did," Ratliff says. But Johnson invited Ratliff and his father into his private office. They chatted a bit, then Johnson "looked at my dad and he said something along the lines of, 'Did you support me in the 1948 Senate election?'"
"No, sir," Ratliff's dad said, admitting that he'd voted for Johnson's Democratic rival, who came from a family he knew that lived fairly close to Sonora.
"That makes sense," Johnson said.
Then, Ratliff recalls, "Out of the blue, he just looked at me and he said, 'Would you like to work up here?'"
Indeed he did, but he'd already told a rancher back home that he would work for him. "Not the glamorous kind of work where you ride a horse," he says. "The kind who digs caliche out of a caliche pit."
Still, he'd given his word, and without the rancher's clearance, Ratliff didn't feel that he could go to Washington. Luckily, the rancher, "a Republican before there were Republicans in Texas," gave his approval. Sort of.
"I don't have any regard for that son of a bitch," Ratliff recalls the man saying, "but if you want to take that job, you can."
That was 1957. From then until 1961, Ratliff worked for Johnson during the summers in D.C. He also handled his Austin office for several years as LBJ rose from senator to vice president. After John Kennedy's assassination, Ratliff was offered a position as a junior staffer at the Johnson White House.
Ratliff said no.
"It wasn't an easy job to pass up," he admits. "But at the same time, I guess I had always noticed one thing about D.C. A lot of the people that went there were going to serve a congressman or senator for a few years, go back to school and get a degree. They never made that second step. So from that day on, they were dependent upon somebody for a job."
As soon as Ratliff  graduated, he landed a clerkship with U.S. Supreme Court Justice Tom C. Clark, another Texas native. He had barely begun when Johnson reached out again. He asked Clark to let Ratliff come work for Johnson's 1964 presidential campaign.
"You know, we have a saying in Washington," Clark told Ratliff. "If the president calls, you try to do what the president asks."
After the campaign, Ratliff went back to his clerkship. When it ended, he went back to Texas.
"I just watched politics destroy some pretty good people and I decided maybe that wasn't my game," he says. "I just didn't like some of the ways it messed up people's lives. And not just the person who's running, but his family and everybody else."
Turning down the White House job led Ratliff to where he is now, in an office on the 31st floor of the One American Center in downtown Austin, within walking distance of the Texas Supreme Court and with a commanding view of the state Capitol, far below.
He almost ended up closer to street level, as a history professor. That's what he pursued in his undergraduate studies, and he nearly followed the advice of a professor to get his master's and Ph.D. in the field. "I'm not quite sure what jarred me," he says, but in his junior year, he changed his mind and went for the law degree instead.
From then on, three threads have remained intertwined in Ratliff's life: the law, politics and the University of Texas.
He worked on the successful campaign of former Gov. White, and as treasurer in White's run for attorney general before that. White rewarded him by appointing him to the Texas Public Safety Commission and, a couple of years later, to the Board of Regents of the University of Texas System. Even though he's no longer on the board, Ratliff remains active, supporting UT's fundraising efforts and defending its teaching standards as a member of the executive committee of the Texas Coalition for Excellence in Higher Education.
All of those labors have been sidelines to his true calling, which Ratliff discovered when he returned to Texas and took a position at a firm in the state capital.
"It was by Austin standards a giant firm," he says. "When I got there, I was the seventh guy."
In those days, he says, practices tended to be general. Ratliff tried a lot of contract cases, he says, and "I gradually got more and more into what I'd call just generally complex commercial litigation, with a heavy dose of oil and gas and energy."
Soon, he had his first taste of what it was like to go before the state's Supreme Court. Ratliff just wrote briefs that time, but the bug bit him. A few years later, he was back before the Texas justices in a case that continues to be cited in municipal zoning disputes in the state: Austin Independent School District v. City of Sunset Valley. Ratliff represented the school district, fighting to keep the city from imposing municipal zoning regulations on school property. He won.
"It was fun," he says. "I love to argue up there. … I enjoy advocacy and I enjoy appellate advocacy because, unlike trial work, you got a confined record. The facts have been found by somebody. So you're kind of in a more controlled environment, but still a lot of fun."
Over the years, he has won multimillion-dollar verdicts for some of the state's most preeminent citizens and corporations, and helped establish or affirm case law that defines dealings in land disputes, tidal boundaries, and oil and gas reserves.
Along the way, he also has become one of the state's leading authorities on oil and gas legal issues, as well as matters involving coastal boundaries. He has co-authored several articles focusing on oil and gas arbitration agreements, and frequently speaks at conferences dealing with the field.
Most of all, though, he loves litigation.
"I like arguing in all appellate courts," he says. "I have argued on the 5th Circuit, the 9th Circuit, the 10th Circuit, the 6th Circuit. I just like the combat."
He's currently involved in a legal battle that started 17 years ago between ExxonMobil and one of the state's most prominent oil families, who accused Exxon of plugging and abandoning the wells and oil lease on their property. It was all but over, in Exxon's favor, when the state's land commissioner stepped in. He calculated Texas could be due nearly $1 billion from Exxon. The fight continues, with Ratliff battling for Exxon, and shows no signs of letting up.
"I do what the client wants to do," he says, "but I don't like settling very much."
And he's made it clear that he firmly believes the quote from Captain Bill McDonald of the Texas Rangers displayed prominently on his firm's website:
"No man in the wrong can stand up against a fellow that's in the right and keeps on a-comin'."
Search attorney feature articles