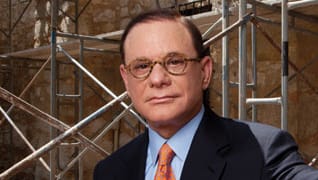 Photo by: Felix Sanchez
The Polunsky Unit
Allan Polunsky has a Texas death row facility named after him and doesn't mind
Published in 2011 Texas Super Lawyers magazine
By Judd Spicer on September 12, 2011
Allan Polunsky is not only the only person to have ever served on both boards of the state's top two criminal justice agencies—The Texas Department of Criminal Justice (TDCJ) and the Department of Public Safety (DPS)—he's the only person to have chaired them both as well. Not that you'd know it by looking at him.
"I don't look the part," says Polunsky, who has been chairman of the DPS since 2008 and who practices real estate law at Polunsky & Beitel. "I look more New York than Texas. I don't go out and rustle cows or do anything that a lot of these other people probably have done in my position or do work in the prison system or for the state police."
Polunsky is more likely to be found rustling up English antiques (from the Georgian period) or enjoying a Broadway musical during his downtime. He's never held a gun and you won't find any spurs in the Polunsky closet.
"He tells me he wears blue jeans a lot, but I don't know if I've ever seen him in a pair of jeans," says San Antonio attorney Mark Holland, whom Polunsky has known for more than three decades. "I always feel underdressed around him because he always has his Italian pinstriped suits on."
Polunsky began earning his stripes upon opening his law firm 35 years ago.
"We both started from scratch, more or less. So I think we respect each other's accomplishments," says Holland, who has teamed with Polunsky on numerous real estate ventures over the years. "Back in that environment, when we graduated from law school, I probably had a little bit of an ego wanting to work for the big firms. Allan started on his own."
A third-generation San Antonioan and the son of a World War II officer, Polunsky started his real estate practice with a $600 loan from his father. He began Polunsky & Beitel, which now has offices in San Antonio and Dallas, by doing the legal work for a real estate agent he was introduced to by his former college roommate who was working in mortgage lending. The agent started a company that provided an opportunity for Polunsky, and his clients grew from there. His firm celebrated its 35th anniversary in June.
"What we specialize in today is what we specialized in on day one," Polunsky says. "We exclusively represent residential mortgage lenders. That's all we do. And we have run the practice to what I would consider the largest niche practice in Texas in the representation of residential mortgage lenders, whether they be mortgage companies or your conventional banks."
Polunsky has built a formidable civic career. At the age of 30, he became chairman of the San Antonio Zoning Commission and later served on various city boards. Come the late 1980s, Polunsky was named to the Texas Board of Corrections. Two years later, he served on the board of the state's Department of Criminal Justice, and in 1995, he was tapped by then-Gov. George W. Bush to become chairman.
Prior to the close of his 13 years of service with the TDCJ, Polunsky's name was branded in the region's history when the state's death row facility near Livingston was renamed the "Allan B. Polunsky Unit." While the title may give pause to some (there were 219 executions during his tenure on the board of the TDCJ from 1987 to 2000), Polunsky has no problem with the homage.
"Not at all," says Polunsky. "I am a strong law-and-order person. I feel that if a person commits some kind of transgression, that they should pay for it. I have no problem whatsoever that the death row unit is named after me. In fact, I see it as an honor."
After his time with the TDCJ, Polunsky was appointed by Gov. Rick Perry (whom he has known since their days in the Texas Lyceum 25 years ago) to serve on the Texas Finance Commission. Perry then named him to serve on the Department of Public Safety, where he would take on his present post as chairman a year later in 2008. DPS is the state police organization, and a far-reaching agency with various divisions, some of the most visible being: the Texas Highway Patrol, the Texas Rangers, Homeland Security, and the office probably most familiar to Texans—the Driver's License Office.
Holland describes the secret to Polunsky's success: "He helps folks accomplish their goals, without crediting himself a lot," says Holland. "There are plenty of egos to go around, so he suits the relationships real well. I've never heard him brag."
"I'm not a public person," Polunsky insists. "Even though I've found myself in high-profile positions, I don't necessarily feel extremely comfortable in [the public eye]. I don't go for all the pomp and circumstance. I enjoy being involved in setting public policy and doing things that I hope improve public agencies or society in general. But I would say I'm pretty shy and introverted."
Such shyness hasn't belied Polunsky's reputation as a "fixer." Seeing Polunsky walk into your agency may not be a good sign if you're a member of the old guard.
"I'm not afraid to make changes and to change directions, bring new people in, and reinvent something, if necessary," Polunsky says of his approach. "Some people who serve on various boards [and] commissions see it as ceremonial. I look at it very differently. I have a very hands-on approach and I get myself involved and don't stop until it's where I want it to be.
"I don't mind getting in somebody's face and many times I do. I don't mind shaking things up if they need to be shaken. I do that pretty easily. But as far as seeking publicity or being on the stage—that's not my cup of tea."
Search attorney feature articles