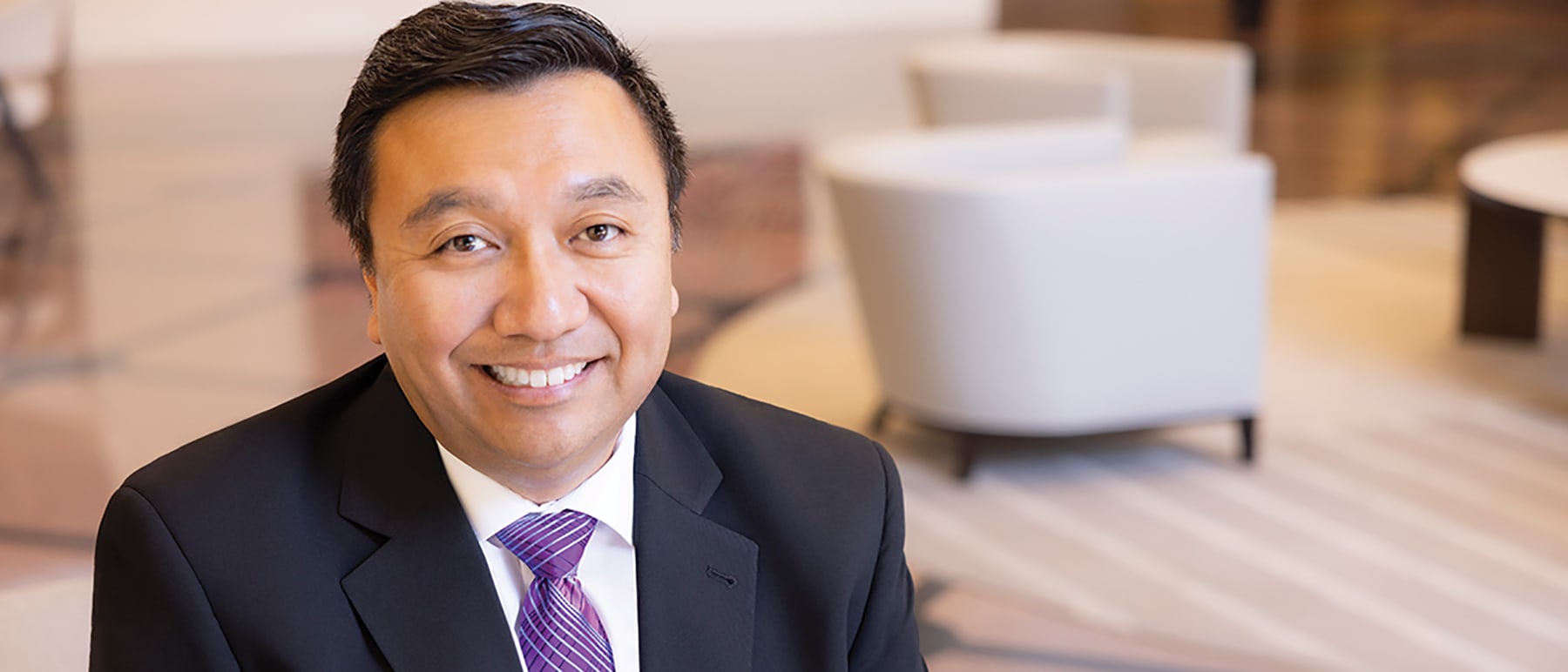 Tireless
Former Navy nuclear propulsion engineer Alfonso Chan is a 'workhorse'—and 'crazy smart'
Published in 2023 Texas Super Lawyers magazine
By Marc Ramirez on September 15, 2023
As an intellectual property litigator at McKool Smith, Alfonso Chan has to take complex topics such as semiconductors, electronics, biomaterials and medical devices and make them understandable for laypeople. Those can be sink-or-swim moments before juries.
It's a skill he honed in the Navy—where it was literally sink or swim. As assistant to the director of the naval reactors program, he taught sailors to service their submarines and trained commanding officers to oversee emergency repairs.
"Sailors need to be able to maintain the integrity of the ship, especially under battle conditions where things can break," says Chan, 53, sitting in his 12th-floor office overlooking uptown Dallas, casually dressed in a gray pullover and loafers. "You have to be able to tell sailors how to right the ship while they're stressed, and you can't provide a complex explanation on how to repair a valve or you're going to sink; you have to give very clear and precise instructions.
"If there's a leak or some kind of problem when you're that deep, you're going to die. You're fighting your environment."
Chan's analytical and explanatory skills were so good that one of his senior officers suggested he might want to consider pursuing law.
---
The eldest of four siblings, Chan was born in the Philippines, where his parents and grandparents were born and raised. His father, a radiation oncologist who trained at Houston's MD Anderson Cancer Center, moved the family to Fort Worth to launch a private practice when Chan was in middle school.
At 17, Chan joined the Navy out of high school on an ROTC scholarship, following in the footsteps of a long line of family members who became military officers, dating to the 1930s. Several granduncles had also served in the U.S. Army after graduating from West Point and the Philippine Military Academy. Two were forced to take part, one fatally, in the infamous Bataan Death March. Chan's father served in the U.S. Air Force, his uncle in the U.S. Army.
"The opportunities and adventure of serving in the Navy were something that attracted me even as a young kid," he says. "I believed the smartest and most exciting work in the Navy was in the submarines and nuclear aircraft carriers, and the most technologically advanced work was in the nuclear field. I loved technology in high school, so it was a natural fit."
Chan studied materials science and engineering at Rensselaer Polytechnic Institute in upstate New York, eager to put his skills to work with the Navy's so-called "Silent Service"—the naval nuclear submarines, submerged for months at a time, whose missions were largely covert.
Though Chan aspired to be on those submarines, his engineering prowess landed him on the staff of the naval reactors program in Washington, D.C. He wasn't commanding subs, but he was overseeing them from cradle to grave—from design, operation and maintenance to safe disposal after deactivation. He helped develop standards for repair and maintenance of the Navy's nuclear systems, at sea and in the shipyards.
With the Navy's support, Chan went on to pursue post-graduate studies in nuclear engineering at the Bettis Atomic Power Laboratory in Pittsburgh, then earned a master's degree in materials engineering at the University of Virginia, from which he graduated in 1994. "I really owe a lot to the Navy," he says.
But when that senior officer urged him to go to law school, Chan's first reaction was negative.
"I dismissed him as crazy," he says. "We were in D.C. and surrounded by lawyers, and I considered them pains in the rear. All they do is say no."
He was getting offers for other naval opportunities, but he and his wife, Sharon, whom he'd met at Rensselaer, wanted to start a family and were concerned that military life would be too demanding. The thought began to take shape: What could it hurt to take the LSAT and see what happened?
That was how he came to find himself with a Sumners Scholarship at SMU Dedman School of Law in Dallas, where Sharon had just gotten a job at Texas Instruments. "I took it as a sign to go back to Texas," he says.
By the time he earned his law degree in 1999, he'd been drawn to the technical challenges and cutting-edge innovations of intellectual property law.
In one of his first formative cases, Chan represented Texas-based Power Mosfet Technologies, owner of a university-invented patent, in an infringement case against several semiconductor giants that included Siemens, Infineon Technologies and STMicroelectronics. He lost the bench trial and subsequent appeal and "was humbled by the experience," he says. However, not only did he learn how to argue a claim, conduct written discovery, take deposition, try a court case and brief an appeal, but "it taught me how to negotiate patent licenses, and to recognize the importance of university patents."
In 2005, as a partner at Akin Gump in Dallas, he helped represent the University of Texas system in a suit seeking royalties from Samsung, Sony Ericsson and other tele-communications companies over their unlicensed use of a predictive texting technology.
"George Kondraske, a professor at UT Arlington, had developed this technology for the Texas School for the Deaf," Chan says. "He was trying to help these deaf kids who didn't have ways of readily communicating with others. He thought, what about using a phone keypad as an inexpensive way to communicate? Working on that [case] was quite rewarding. We managed to license a significant portion of the growing cellphone industry at that time."
Chan's work representing universities, research institutes and tech firms has since taken him to Europe and throughout Asia, including China, Taiwan, Korea and Japan. He's also served as an adjunct professor of international comparative law at SMU.
His favorite part of the job is witnessing innovations that can improve people's lives.
"I'm working on a case right now involving genetic sequencing," he says, eyes lighting up. "It's being able to put in the hands of clinicians tools to allow them to determine whether a child has a genetic birth defect, or helping a woman determine whether she's at risk for breast cancer—and then being able to customize treatment to that. To put that in the hands of primary care technicians is a great advance—and we get to deal with that straight on."
Granta "Grant" Nakayama, an energy and environmental lawyer with King & Spalding in Washington, D.C., met Chan when both were in the Navy's nuclear propulsion program. Nakayama attended law school in the evenings, which influenced Chan's decision to pursue law school.
"Alfonso is very much a people person—as they say, one of those people you wouldn't mind having a beer with," Nakayama says. "But he's also super smart. … He's just a natural, and a very responsible, hardworking and dependable guy. If he says he's going to do something, he does it."
Michael Smith, a partner at Scheef & Stone in Marshall, says he was immediately struck by Chan's ability to develop a command of the issues when the two worked together on a complex patent case in East Texas in late 2001.
"He's not a show horse, he's a workhorse," Smith says. "He has an enormous capacity for the hard work necessary to figure out how to address an issue and to get it successfully resolved for a client. He's crazy smart, but his capacity for work is just unreal."
At the time, Smith and Chan were with different firms and among four lawyers representing a single plaintiff.
"Alfonso was doing the lion's share of the work," Smith remembers. "He was doing by himself in trial what would take at least four to six full-time patent lawyers now. I try patent cases all the time, and that's not an exaggeration. There was no one else to hand the work off to, and he made sure all the trains ran on time—and then he had to drive the trains."
---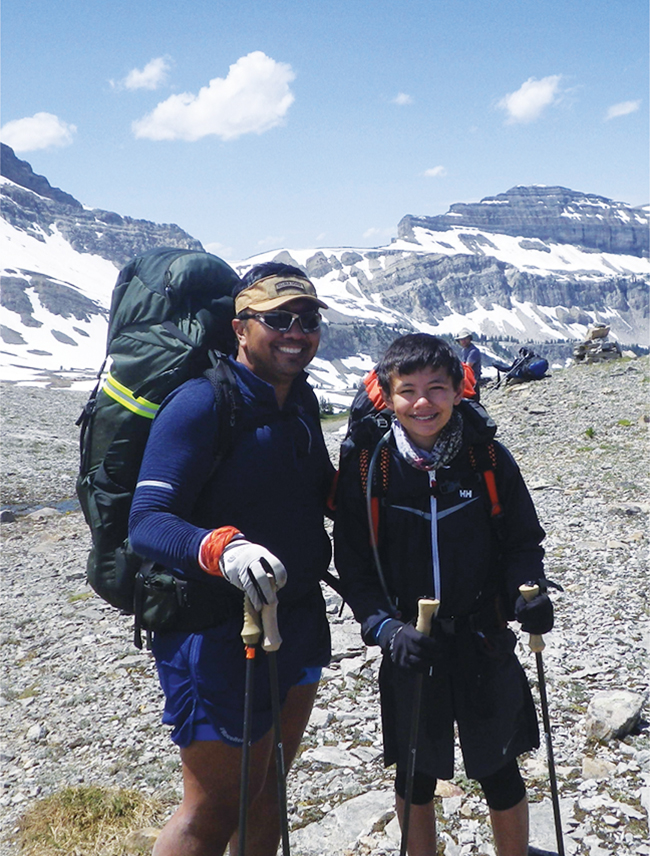 Chan finds patent law exciting because it helps drive innovation—and therefore economic progress—and academic institutions are at the forefront.
"It's really a fundamental aspect of our society," he says. "It's important that universities are able to continue that development because they provide the fuel for innovation, and we have to feed that fuel."
Chan is a proponent of fair compensation for universities as the engines of academic research that leads to state-of-the-art products and services.
"The research is not free," he says. "There are professors and grad students who need to be funded, equipment that needs to be purchased and resources that need to be utilized, and that costs money. 
They need to get a fair return so they can reinvest that into further innovation.
"Otherwise," he adds, "the engine just stops."
---
Endurance Trials
Dallas patent lawyer Alfonso Chan's predilection for hard work holds true for his most extreme interest outside of the law: running ultramarathons.
"I'm really slow," he says. "But I can go a long way."
Chan focuses on endurance as he plows through runs in grueling locales like sunbaked Death Valley or the humid Florida Keys, with distances up to 160 or 170 miles. "There's races in Brazil that go up and down the mountains in Minas Gerais," he says. "I've been across the Sahara Desert in Morocco. The environments can be really taxing."
What draws him to such a strenuous activity? "You get into a meditative, prayerful state," he says. "So often we're caught up in checking our text messages or email, and this is almost a type of personal pilgrimage."
Chan started doing the rigorous runs about 12 years ago, on a whim, egged on by a fellow lawyer. Though he'd run marathons before, it was not a smooth start. As he trekked the hilly farmlands outside Austin, he found himself stumbling into electric cattle fences. "That was a tough one to finish," he says.
Since then, Chan has developed the ability to run 100 miles at a stretch. In Brazil, the route ran through a variety of mountain towns, where he would grab a bite, chat with the locals, then move on. "You just keep going from town to town, and as long as there's food, you eat and keep going," he says. "I can only go about two days without sleep. After that, you start to hallucinate."
Chan's laid-back strategy contrasts with the rocket launches preferred by many participants. "You'll see some people that'll just take off," he says. " They're fit and ripped and sinewy and muscular, and after half a day or so of running they've got that 1,000-yard stare already. They're wiped out. Whereas I'm just kinda trotting along, listening to my music, eating pizza and talking to people."
He laughs. "My motto is, 'Start off slow, and then get progressively slower.'"
Search attorney feature articles