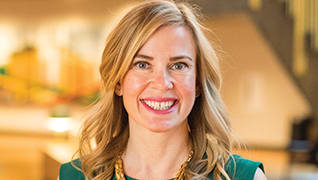 Photo by: Jeremy Enlow
Trail Blazer
Amy Emerson hits the ground running, whether she's taming construction disputes or exploring trails 
Published in 2020 Texas Rising Stars magazine
By Carlos Harrison on March 31, 2020
A movie poster-size photograph on Amy Emerson's office wall reflects both who she is and who she isn't. It's an aerial picture of Manhattan, showing Wall Street and the soaring skyscrapers beyond. But it's not a place she dreams of being—it's a challenge she conquered. 
"I'm not a brick-and-concrete girl," she says, "but I ran the New York Marathon." 
Running is a defining force in Emerson's life. Her now-husband, environmental litigator Jason Hill, introduced her to trail running; their wedding took place on one of her favorite trails. She wore a traditional wedding dress and blue trail shoes. 
The partner at Allensworth & Porter in Austin is also a trailblazer of a different sort, pushing the boundaries of contract issues and paving the way for other women in the largely male-dominated practice of construction law.
Her career, however, wasn't love at first sight. Neither, for that matter, was running.
"I went to a little, teeny 1A [high] school in a town of 400 people," she says. "I did track and cross-country, but that was really just because you did everything. "I really didn't like people telling me how fast to run, and I wasn't very good at it." 
By college, she had pretty much hung up her running shoes. Temporarily. The law would bring her back. 
But growing up in Christoval, about 20 miles south of San Angelo in the Concho Valley region of West Texas, Emerson says, "I didn't know any lawyers at all." 
Dad started off in the oil fields, then became an RN. Mom cleaned houses. As a teenager, Emerson was pointed in a different direction. 
"A teacher said, 'Gosh, you like to argue,'" she recalls. "'You should be in debate.'"
Emerson joined up, and won the state championship in her junior and senior years. 
"When you do that, the immediate thing people say is, 'Oh, you should be a lawyer,'" Emerson says. "But I've always tried to keep my options open. So [in college] I took pre-med classes and I took all kinds of different things."
The law won out.
An undergrad stint as a legislative aide dealing with water issues spurred an interest in environmental law. She graduated with honors from UT law school in 2007, and went to work at Lloyd Gosselink in Austin, which had a strong environmental practice.
Emerson wanted to be a trial lawyer, and she gravitated toward the complexity and diversity of construction law issues, which sometimes arose in environmental cases. Her mentor at Lloyd Gosselink at the time, Chris Phillips, suggested she take a construction law class at UT, which was taught by Allensworth & Porter's founder, William R. Allensworth.
"She very much stood out," recalls Allensworth, now retired. "I would have hired her on the spot, but I didn't have the money."
That's because the global financial meltdown was sending construction tumbling. "She graduated from law school at the worst possible time," he says. 
By 2015, things had changed, and Emerson joined Allensworth & Porter as a partner. 
From her window in a gleaming geometric high-rise on Congress Avenue, Emerson looks out over Austin's rapidly growing downtown. 
"We now call the state bird of Texas the crane, because there are so many building cranes all over the city," she says. "This was a sleepy little 'big town' for so long, and it is just in a boom, so it's been wonderful for this firm."
Also visible is Lady Bird Lake and the Butler Hike-and-Bike Trail, where Emerson has run many times. 
Her return to running came a few years after law school.
In 2011, she says, "I decided I was going to run a marathon, and I told everybody, so that way I couldn't quit," she says. "And so I did. I ran the Austin marathon for the first time for my 30th birthday." 
Two years later, she went big time, running the New York Marathon. It's one of the toughest to get into, with more than 100,000 applicants competing for fewer than half as many spots.
Then, in 2013, a friend suggested she try trails. 
"I was hooked," she says. "I find it to be more relaxing because, one, you're in nature; and two, it takes a lot more concentration. When you're running on the road, you can just zone out, but when you're running on a trail you have to pay attention to what you're doing. And so, as a result, I don't think about things like what my to-do list is, or work. It's more of an escape, more relaxing for me.
"And, as long as you can stay on your feet and don't bust your face open—which is the risk—it's a lot easier on your body." 
So far, she's run in 40 of Texas' state parks, encountered two rattlesnakes, and had to rush down a peak in Guadalupe Mountains National Park with thunderbolts crashing around her when a lightning storm sprang out of nowhere and turned the trails into rivers.
"That was definitely one that was quite exhilarating," she says.
She has also run trails and races for charitable causes: the Austin Half Marathon, to benefit the Trail Foundation; Back on My Feet, to encourage homeless people to take up running to build confidence and commitment; and on her firm's team—the Weapons of Mass Construction—for the Austin Parks Foundation. 
Running, she says, even gave her another way to mentor: "One of the young lawyers in my office decided she wanted to run a half-marathon, and so I talked her through the training and ran it with her to support her."
But the trail is where her heart is.
She's run multiple long-distance races with her husband, a 50K ultramarathon trail run at Monument Valley Navajo Tribal Park on the Arizona-Utah border in 2015, and a 55K race along the Grand Canyon's North Rim in 2017. 
Her toughest race by far was more climb than run. The Imogene Pass Run between Ouray and Telluride, Colorado, is "only" 17.1 miles long, Emerson says, but it starts almost a mile-and-a-half above sea level and climbs another full mile by about midpoint. 
"Tears came out of my eyes at 12,000 feet," she says. "Involuntarily."
To Emerson, there's a connection between running and construction law—and it's not the tears. It's "taking something really complicated and breaking it down into small pieces and a plan," she says. "In a race, you say, 'I'm going to run from aid station to aid station. I'm going to do this leg of the race.' And you take it one step at a time. 
"Construction cases are the same: They're generally very large, very complicated, and you have to sort of go one step at a time. It's fun to do that for me, and it's also really rewarding to break it down for the client and walk them through what is a difficult, frustrating, and sometimes not well-understood process."
The intricacies often involve a web of contracts—from architects and engineers to builders and owners—and an array of issues. The impact sometimes extends far beyond construction.
"A lot of law in Texas, on both the contracts and negligence side," she says, "gets decided in construction cases, because so many unique issues come up."
Emerson especially enjoys government-immunity cases. 
"That's my baby," she says. "I represented a lot of governmental entities in my early career as part of the environmental practice. So I became extremely knowledgeable on those rules, which are very complicated and don't really make any logical sense. To the layperson on the street, it's so unfair. The government can do something, quote-unquote 'wrong,' and you can't sue them.
"What I would tell them is, 'Well, when you sue the government, in a way you're suing yourself, right? Because all the money to defend those lawsuits and to pay them comes out of your own pocket. So that's why we have those rules.'"
Those cases, too, can have an outsized impact.
She was called in last year to represent a municipality in a contract dispute with workers over payment for on-call time. Both state and appeals courts had decided against the city of Denton. Then Emerson stepped in, argued before the state Supreme Court, and won. That decision last March presaged far-reaching consequences for governments and workers across the state.
Her expertise makes her a potent ally for governmental entities, whom she still represents, "but I also now am on the flip side of helping private entities navigate disputes with governmental entities, understanding what the limits are," she says. "I have a 360-degree view having worked with both sides."
The range of issues requires rapid immersion in what are frequently abstruse specialties, a challenge she relishes: "It's just such a neat thing, in addition to the legal complications, to just learn so much every time."
That includes finding out "everything you could know about making a wood pellet" for a contract dispute involving a pellet factory; as well as learning about reservoirs, pipelines and water law to help win the first reservoir permit issued by Texas for a regional district in nearly 30 years.
And, after a new beltway around the West Texas city of Andrews started breaking up under heavy truck traffic, Emerson was called in to represent the contractor, quickly becoming an expert in the whys and what-fors of road-building. 
"It kind of puts the opposing party experts on their heels a little bit that an attorney's questioning actually has some knowledge of what was constructed and what failed," says client Rick Hurworth, the "Hur" in DelHur Industries, Inc.
On top of that, he adds, "She's got that bulldog in her. She doesn't back off just because it's a construction guy telling her, with maybe rough language, 'This is how it is.'" 
Just as important, says Kennon Wooten, who faced her as opposing counsel in a complicated and contentious dispute over a wholesale power agreement, Emerson knows when not to fight.
"She always focused on the issues and never made a discourse about a personal attack," says Wooten. "It was apparent to me early on that she is very smart and that she picked her battles wisely. She has the gift of being able to ascertain when a battle is worth fighting and when it is better to let something go and move on."
Emerson also focuses on issues outside the courtroom. She's on the state Bar's Construction Law Section Council, where her work includes supporting and mentoring women in the practice area. She's a mentor at her firm, too, leading the way for other women in the predominantly male sector.
"The firm had been founded for 20 years when I came over as the first woman partner," she says. "There was only one other woman working here. Now we have seven women, and two out of our seven partners are women—seven out of 15 attorneys."
On the trail or blazing them, her former boss and professor Allensworth says Emerson is going places.
"She's ambitious," he says. "She takes this thing real seriously."
---
A Few of Emerson's Happiest Trails
Barton Creek Greenbelt (Austin)  
Good Water Loop at Lake Georgetown (Georgetown)  
Backcountry trails at Government Canyon State Natural Area (San Antonio) 
Colorado Bend State Park trails (my favorite series: Spicewood Canyon to Lemons Ridge Pass to Cedar Chopper Loop to Tinaja to River Trail in Bend, Texas)
Guadalupe Peak Trail (to highest peak in Texas, views of El Capitan) at Guadalupe Mountains National Park (Salt Flat)
Search attorney feature articles