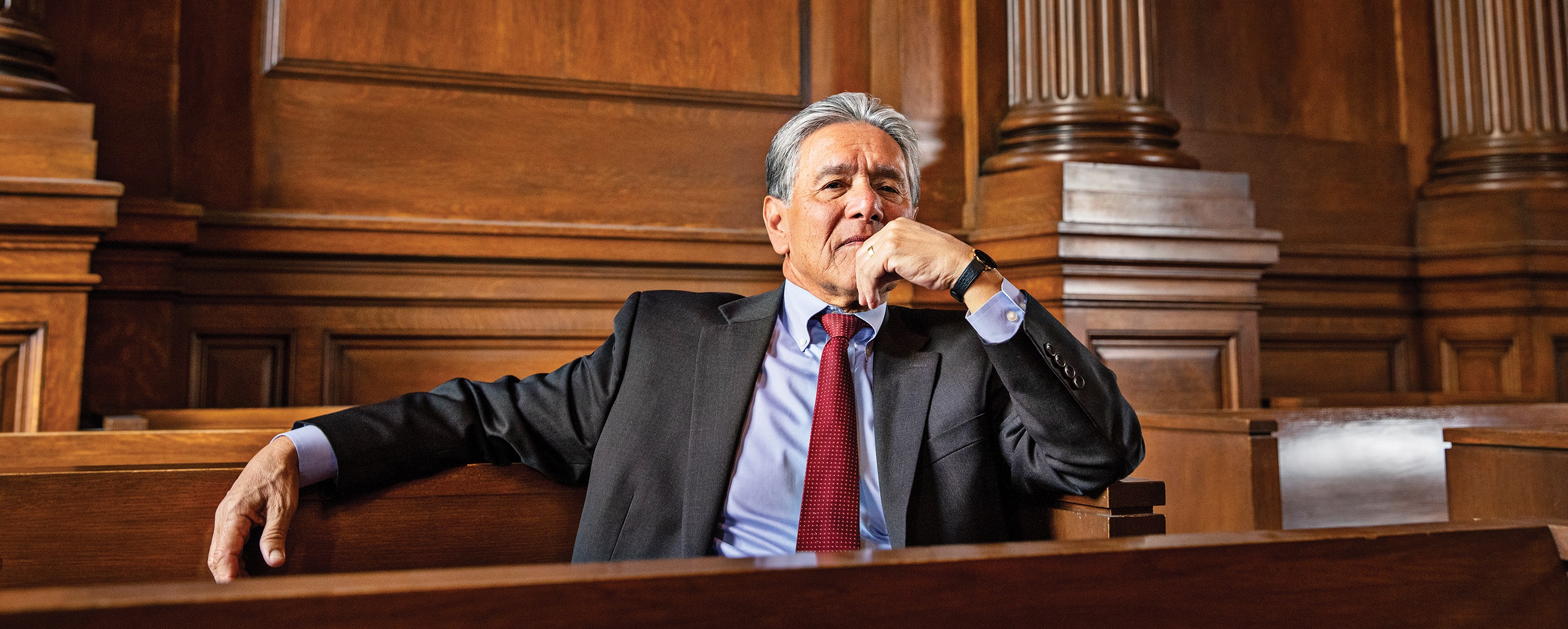 First Served
Sam Alba's long and storied legal legacy
Published in 2022 Mountain States Super Lawyers magazine
By Jessica Glynn on July 12, 2022
In the midst of Sam Alba's two-decade tenure as Utah's first Latino federal judge, he was assigned preliminary work on a racketeering case in which a Black female assistant U.S. attorney was prosecuting a dozen white supremacists. Among their accused crimes: seven attempted murders on behalf of the Soldiers of Aryan Culture, a gang that allegedly ran a methamphetamine ring throughout Utah. Those charged were already serving time in state prison, and Alba had decided to keep them there.
"They didn't like either one of us at all," Alba says. "They had put out a contract for the killing of the assistant U.S. attorney. There's no way that the judicial system can continue with those kinds of threats being out there. She was a single woman and had a child. I was threatened as well. It was really disconcerting."
It was 2004, and Alba—who was chief magistrate at the time—brought the accused and 15 federal marshals to a hearing to address the allegations. In the end, Alba ordered the defendants be isolated in individual cells.
"As soon as I made that ruling in open court, they literally tried to jump over the barrier," Alba says. "The marshals were anticipating that, so they immediately took them all down, and it was quite a melee. Two of the deputy marshals came up to the bench and said, 'Judge, let's go.' I said, 'No, I'm staying here until this is under control.'"
Order was eventually restored, and the incident led Alba to speak at a U.S. Senate Judiciary Committee hearing that authorized more funding for the security of judges around the country.
It's one part of his 50-year legal legacy that Alba, who spoke with us from his office at Snow Christensen & Martineau in Salt Lake City, is particularly fond of. As a Mexican immigrant who became a criminal defense lawyer—and federal prosecutor and judge—he says it's a testament to the rule of law in the United States, as well as an overt example of the subtle racism he has navigated his entire career.
"I was the first person of color to work in the U.S. attorney's office in Salt Lake City. I was the first person of color to serve as a magistrate judge in federal court. I was the first person of color to serve as partner in a law firm in Salt Lake City, and I have been the first person of color to serve as chairman of the board for one of the big law firms in Salt Lake City," says Alba, now a white-collar criminal defense attorney. "Everywhere I've been in my 50 years, I've been one of the first, and it has come with the realization that there are a lot of people watching—and that there are a lot of people waiting for me to stub my toe in whatever it is I do. I would like to think that I have succeeded in spite of all that because of the way I approach the law."
U.S. District Court Judge David Nuffer, who considers Alba a mentor, says he learned to "talk to people like people" by watching the way Alba treated defendants. He's awed by Alba's rags-to-riches story, as well as his tireless outreach to expose young people from diverse backgrounds to lawyers and judges who look like they do and have similar origin stories.
"Judge Alba has been a very prominent advocate for minority participation in the legal profession," adds Mark O. Morris of Snell & Wilmer. "What's impactful and powerful is that someone who came to the U.S. in the humblest of circumstances was able to get a law degree, practice law, become a federal magistrate judge, and now is in private practice at a well-regarded law firm. His life story should be an inspiration to kids."
Alba was born and raised in Piedras Negras, Mexico, a coal-mining community across the border from Eagle Pass, Texas, where his mom was a teacher and his dad was a toll collector on the International Bridge.
When Alba turned 12, his father started bringing him across the border for farm work, meaning he'd miss large chunks of the school year. By the time he was in ninth grade the family had moved to Franklin, Idaho, and he thought he'd drop out for good. "I was lucky to have a chicken farmer we worked for who told my dad I could work before and after school, and on weekends. When school was in session, I couldn't work," he says. "I was ever so grateful."
At Preston High School, Alba learned English with the help of his homeroom teacher. He read and reported on an American classic each week, beginning with Adventures of Huckleberry Finn. He still remembers the first night he dreamed in English; he rushed to tell his teacher about it the next day.
One of the oldest of 12 childern, half of Alba's siblings were born in the United States, and the other half, including Alba, went on to become citizens. Alba became the first to go to college, with all of his young siblings following in his footsteps. "Always in the back of my mind, I could see them all looking at me, and there was no way I was going to fail," he says.
Alba married during his senior year at Utah State, and it was his wife Nancy who suggested law school. After graduating from Arizona State's law school in 1972, Alba received an offer from Snell & Wilmer, then the largest firm in Phoenix. They told him it would be five years before he'd argue in court by himself, so Alba interviewed at the newly established Federal Public Defender's Office in Phoenix and asked the same question.
"How soon do you want to be?" was the answer.
Six months later, Alba found himself in front of jurors in federal court. He had expected to try his first case alongside the head public defender, but that morning his boss had to head to Tucson. Alba was terrified of the task at hand: defending a Mexican man accused of bringing undocumented immigrants into the United States in front of a predominantly white jury. They deliberated for three hours before convicting his client.
It was a hard loss, but Alba continued to defend clients in immigration and drug cases—the majority of the office's workload. Over time, he began asking his superiors for fraud cases, which are "as varied as the individuals that can think of fraudulent ways to obtain money," Alba says. "There was a lot of challenge in that."
In his second year, Alba represented a secretary accused of land fraud in a five-week trial. The other defendants, including the president and vice president of the company where she worked, were charged with conspiracy, mail fraud and wire fraud. Alba filed a motion to dismiss, arguing the government had failed to establish his client was a member of the conspiracy.
"The judge excused the jury and said, 'I want to hear what you have to say.' I made the argument I had prepared, and the judge turned to the lawyers for the government and said, 'What evidence do you have regarding those elements?' They were at a loss, so he granted my motion and dismissed my client," Alba says. "Boy, that was a great feeling. The two other lawyers [one of which was John Flynn, who argued Miranda before the U.S. Supreme Court] tried to make the same argument. The judge said, 'Nope.'"
Alba spent the next four years at Phoenix's first Mexican American-owned firm, Gama, Iniguez, Guerrero & Alba, before family drew him, Nancy and their three kids back to Utah.
At the time, Utah was known as the fraud capital of the United States, and the U.S. attorney's office was hiring. "We had a small stock exchange area here in Salt Lake City, and a lot of small companies were riddled with fraud," says Alba, who became chief of the criminal division. "We would review every case and make a decision on whether to prosecute—because once an individual is charged, the damage is done whether you obtain a conviction or not."
Alba had always intended to return to private practice, but ended up at the U.S. attorney's office for seven years, staying longer while Nancy underwent treatment for breast cancer.
He then moved on to Prince, Yeates & Geldzahler where, five years into defending large corporations, he got a call from the chief judge for the District of Utah about an opening on the court. Alba wasn't particularly interested, but Nancy persuaded him to pursue the opportunity. Two weeks before the swearing-in ceremony, in 1992, she died of cancer. "It was very difficult," he says of simultaneously becoming a judge and a single dad to three teenagers. "It came at a great expense to me, but I hope that I at least afforded an opportunity to others to see that it can be done."
During his time on the bench, Alba weighed in on high-profile cases, including handling the preliminary appearances in the 2002 Winter Olympics bid scandal—for which he released those accused of bribery on their own recognizance after reviewing the evidence. He also reviewed convicted killer Ronnie Lee Gardner's writ of habeas corpus, writing a 250-page denial that led to his execution by firing squad. And in the hearings for Brian David Mitchell—Elizabeth Smart's kidnapper—Alba sent Mitchel to a remote viewing area when he would not stop singing.
The most complex cases were Alba's favorites, particularly Philips Electronics North America Corporation v. BC Technical. In the suit, Philips alleged that BC had stolen proprietary information and used it to sell repair services for Philips' products. As part of discovery, Alba thrice ordered that the defendants' computers be turned over. When they finally were, they were wiped clean.
"It was one of the first cases to deal with the destruction of evidence and spoliation of evidence," Alba says.
Many Salt Lake criminal defense attorneys knew Alba as a prosecutor and judge long before he became their peer. "He hammered some of my clients," says Rodney G. Snow, founding partner at Clyde Snow. "I never thought he was unfair or overreached. Sam is thoughtful and particularly good at analyzing the facts. I liked him as a prosecutor; I liked him even better as a judge."
When Snow underwent a laryngectomy for throat cancer, Judge Alba gave him extra time and compassion. "A lot of judges I was in front of didn't even recognize what my problem was, and of course I wasn't about to bring it up. Sam knew I was going through cancer. He would say, 'Take your time, whatever you need we'll get you through your argument.' Very few judges would do that. He was exceptionally considerate."
"He was my adversary, but [was] the epitome of professionalism and civility and friendliness," adds Walter F. Bugden of Bugden & Isaacson. "He wasn't a bully. He had the facts and a very reasonable temperament—no hiding the ball. In present day, I've worked in concert with him to build a common defense strategy. He's a very clever lawyer and willing to offer advice and guidance."
Bugden also enjoys Alba's sense of humor. As a public defender, Bugden was defending a client Alba was prosecuting over theft and wire fraud. Alba let everyone know his favorite exhibit was a picture one of the defendants had drawn to artistically render his scheme: Mr. Monopoly standing underneath a funnel filled with money, pulling a string to release a shower of cash.
When he turned 65, Alba decided he had done what he had set out to do as a judge, including overseeing the creation of the new federal courthouse as co-chair of the building committee. He left the bench for Snow Christensen & Martineau, where his second wife, attorney Anne Swensen, had worked.
"I wanted to get back into trying cases," he says, simply.
Alba took on two of the biggest cases in the state when he defended former Utah Attorneys General Mark Shurtleff and John Swallow on corruption charges. In Shurtleff's case, the state eventually withdrew charges after three years and a number of motions alleging prosecutorial misconduct in the way evidence was obtained. Swallow was tried and acquitted, then paid a $1.5 million settlement for his attorney's fees.
"Both had civil and criminal components," says Alba. "The allegations were very serious, but as a result of our investigation and the motion practice we were engaged in, we were able to get those great results for them."
In addition to his busy practice, colleague Andrew Morse says Alba trains and mentors young lawyers. Last year, he moderated a three-day webinar for the Utah bar that discussed police force—lawful and unlawful—as well as racism and bias in the justice system. It was attended by 1,500 lawyers via Zoom, the biggest turnout for any event of its kind.
Today, Alba sees himself nearing the end of his career, perhaps finally having more time for woodworking, fly-fishing and golf. He'll continue visiting schools and speaking to minority students, as well as traveling to Latin American countries to train judges, prosecutors and criminal defense attorneys, which he first did about 15 years ago.
At the close of that first trip, having spent 10 days training 125 judges in Colombia, Alba asked his two security guards, "If I come back in a year, how many of these judges will still be judges?"
They guessed 100, noting that the others would likely be killed.
"That really got to me," says Alba. "As a result of that trip to Colombia, I have been to Mexico 10 different times, at least, because this is all new to them. I will continue to do that; I'm not sure I can stop. I've been working since I was 12 years old. I don't see myself quitting."
Search attorney feature articles