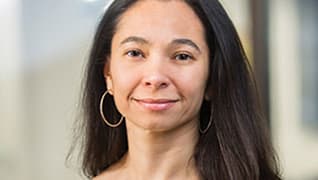 Photo by: August Miller
The Adventures of ScienceLawyer
Tammy B. Georgelas talks science, tech and the beauty of a four-digit bar number
Published in 2015 Mountain States Super Lawyers magazine
By Amy White on June 15, 2015
Q: It's unusual for a lawyer to have a zoology degree.
A: I wanted to be a field biologist. You know how you used to sit in your classroom in school and you'd look out the windows and wish you could be on the playground all day long? The job was like that. I got to play outside all day. The problem with it, though, is you work off grants. At the end of the day, I'd come home and look at my two cats in my tiny one-bedroom apartment and say, "Well, one of us gets to eat tonight. Guess it's going to be you."
Q: What studies did you work on?
A: My big study was on Western gray squirrels. I was hired through my university by the EPA, and the question was if a road could be built through the Fort Lewis military reserve. The concern was an endangered species.
I was supposed to go in and see what it was like there, whether they were thriving and whether I thought [the road] would affect them. So I drove around a big Ford F350—I'm 5-foot-2, so that required a step stool—to set my traps. Part of my plan was to capture these squirrels to understand how healthy they were. Western gray squirrels are larger than Eastern gray squirrels, those little scrawny ones. Western gray squirrels are like rabbits with long tails.
In theory, the little squirrel would go in and try to eat the food, and it would get trapped inside, but it wouldn't get hurt. I laid out all the traps and then I would go around from one place to another checking them every morning to see if anything was in there. There never was! I tried everything. At one point I thought maybe hard-boiled eggs would work, which was a terrible idea because it worked—for possums.
Eventually I captured two squirrels and put little radio collars on them and tracked them. The sad part was that after two months, I had only found these two. So I had to tell the EPA that their population was already decimated.
I did a study on lichen as well.
Q: The moss?
A: [Laughs] Yes. And it was about as interesting as it sounds.
Q: How did the law come into play?
A: I started moonlighting, and I ended up doing marketing for a civil engineering firm. I'd get up at 5 in the morning, go do my field study, and then do marketing for this firm. It was this amazing firm in Seattle that was started by an Alaskan native. And the founder was all about being as earth-friendly as possible, leaving the smallest footprint. But they used to complain that once they would submit stuff to the government to make sure it complied with all the environmental laws, like RCRA and CERCLA, it would come back less environmentally friendly then how they originally sent it. They had an attorney, and he and I used to talk. He convinced me that I should go to law school and lobby for laws that were less red tape and more environmentally friendly.
Q: What do you think he saw in you that made him think, "She'd be great at this"?
A: I'm one of those people that always likes to learn, and I think you have to have that trait to be a lawyer. You have the base line where you understand that the rule of law is set by statutes and case law, but you have lots of different areas of interest that are thrown at you. I'm also a passionate person, and I think he saw that.
Q: You've cultivated an interesting tech niche.
A: As I was coming into law, the concept of e-discovery was becoming popular. The way it used to work was everyone had these old filing cabinets. There would be a big case and there would be a big copy job of these hundreds of thousands of pages of documents. And then it was changing to, "Well, we have these computers now that have information on them, and how do we deal with that? How do the courts deal with document productions? How do you search through your computer and everybody else's computer? How do you corral all that?"
I think because I'm a Gen Xer, I can go between the older and the younger issues. I started to gain more experience in e-discovery and I was helping my firm with that, and I was speaking on it, and it sort of led into conversations with technology people. It was a natural segue from, "OK, we've got these in e-discovery" to, "Well, what else is going on in computers?" One thing led to another. I have a good friend who was really into hacking and cyber-breach legal issues. I found his work fascinating.
Q: Right, so these large-scale data breaches—what keeps going wrong?
A: Simply put, people are putting their heads in the sand. And it doesn't matter the size of the company. There are a lot of small businesses, especially, where whoever's in charge says, "I don't understand these computers. I've got an IT guy that comes in and contracts out work and he makes sure my systems are running. I'm sure he's taking care of it." What they don't understand is there's a difference between IT, information technology; and IS, information security.
Think about it from the standpoint of your house. The IT guy is like your plumber or electrician. He makes sure everything is running, that your lights turn on. An IS person is the alarm company that walls off the house to make sure people don't go in and use your electricity.
Q: If Target wasn't a wake-up call, the Sony hack should have been.
A: The Sony hack is really interesting. With the Target breach, yeah, sure, it gave consumers and businesses a wake-up call that they need to take better care to protect their electronic information. But the Sony hack made people think ahead one more step: It's not just burglars that want to hack into your information systems for financial gain. Governments and other organizations with an agenda are hacking in, too, and for completely different reasons. Whether or not we end up discovering if it was the North Koreans who did it, this should give people a broader perspective that there are a lot of reasons to hack into somebody's information system. Cyber warfare is one of them.
Q: Who is your typical client?
A: Businesses: small-, mid-, Fortune 500. That's one of the great things about Salt Lake City: It's small enough that it's a kinder, gentler bar, but it's still metropolitan enough that you have big clients knock on the door.
Q: What critical advice do you have for them?
A: I actually have the same advice for businesses and consumers: Everyone needs to be aware of what they have, and be diligent in protecting it. You don't have to build up Fort Knox, you don't need to live in fear, but just be safe about what you're doing. Try to have a strong password. Check your bank statements and your credit card statements to make sure nothing weird is going on. Don't just go on autopilot.
A bit of knowledge is helpful, too. Sure, Wi-Fi in Starbucks is awesome. It's fine if you're surfing the web or you're on Facebook or whatever. But if you imagine somebody sitting next to you who literally can just go in and read what you're doing—it's like somebody eavesdropping on a phone conversation. Wi-Fi is the equivalent. You should never open up a sensitive document or log into your office on this open line.
Q: How much time is spent doing cyber work versus the other aspects of your practice, like real estate disputes and bankruptcy?
A: It depends on the day. Today I'm going to be working on receivership work for the SEC. I'll probably be doing some bankruptcy. But because cybersecurity is such a new area of law, I spend an hour or two a day just keeping up with what's going on in the news. It feels like there's always a breach. If a new breach has come up, I want to know how agencies are reacting.
I got to go to a cybersecurity conference in Washington, D.C., last year, where the focus was really on government agencies and their interest in keeping information secure. So when the threat of hacking into critical infrastructure looms, how does the FTC want to handle people who don't protect information like they promised the consumer they would?
There are so many moving parts right now. You've got the government who's concerned; you've got the public who's concerned; you've got the businesses that are concerned. All of a sudden, everyone is on high alert.
Q: Are there many attorneys in the state doing what you're doing?
A: Not that I know of. One thing about cybersecurity law, like any up-and-coming law, is that you have to be willing to devote a substantial amount of nonbillable time just learning it. I think that's the rub for many.
Q: And you're OK with that?
A: Yes. I have a separate MacBook that I use to do all of my cyber research because I don't want anything to affect my law firm's network, obviously. I have to give myself time limits, though, like, "Enough learning for the day; get some real work done."
Q: Does the former scientist come out in the lawyer?
A: I think scientists are always looking at different angles on how to approach things and I use that a lot. On a personal level, if I get a big cut on my hand, I'll put one type of Band-Aid on one part and another type of Band-Aid on another part just to see what happens.
Q: You mentioned earlier about Utah being a "kinder, gentler" bar. What's it like practicing there?
A: I've worked with attorneys from California, New York, Texas, lots of different places, and I think what Utah attorneys realize is that you can be a zealous advocate without being a total jerk. It's a small bar. My bar number is 9,972. California bar numbers are in the 250,000s.
You have to understand that you shouldn't burn bridges here.
Q: What's something your peers in the bar might be surprised to find out about you?
A: Many people that live in Utah are from Utah. I'm not, and I've lived in eight different states and four different countries. That's unique here.
Q: Where's the coolest place you lived?
A: Korea was really interesting. I was there before the 1988 Olympics. It was definitely a Third World country at the time. You'd walk into a store and there wasn't a floor, just dirt. But, honestly, it's hard to beat Paris in anything.
But things changed when I got [to Utah]. I have three amazing children. As much as I do the tech-geek stuff, when I'm with them, we go to museums, we go on hikes. There's an orchard behind our house, and we walk through there and we pick up little acorns and rocks and we look at things. We talk about the birds that are up above, and what they could be eating, and cloud formations.
Q: Sounds like "The Adventures of ScienceMom."
A: [Laughs] I think I can attribute a lot of this to my dad. He was a drill sergeant, but he was also a naturalist, and so he took our bathtub and filled it up with pond water and tadpoles and let us watch them turn into little frogs. I try to give my kids a similar experience, but not involving cats or dogs. Or squirrels.
This interview was edited and condensed.
Search attorney feature articles
Helpful links
Other featured articles
Organizations like The Trevor Project are confronting legislation that prevents trans students from joining teams that align with their gender identity
Why Catherine Mohan helps immigrant children and families
Former Gophers wide receiver Lee Hutton III traded in his pads for a thriving and diverse legal practice
View more articles featuring lawyers
Find top lawyers with confidence
The Super Lawyers patented selection process is peer influenced and research driven, selecting the top 5% of attorneys to the Super Lawyers lists each year. We know lawyers and make it easy to connect with them.
Find a lawyer near you