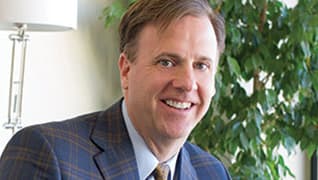 Photo by: Jeff Cravotta
A Star in Star City
Growing up on a tobacco farm, Brett Marston learned the value of hard work. Now he reaps the rewards
Published in 2017 Virginia Super Lawyers magazine
By Bill Glose on April 13, 2017
Brett Marston conveys the confidence of a man who has it all—the easy smile, the athletic frame, the marriage to his college sweetheart, the corner office. 
As the chair of Gentry Locke's construction law practice, he has won scores of significant verdicts and settlements for his clients. And after 23 years, he's still thrilled every time the phone rings.
"No two cases are alike," he says. "You might be filing a mechanic's lien, a lawsuit, a Freedom of Information Act request; making an insurance claim, asking for mediation, getting a case brought to mediation—all of those things are on the menu. It's not a science project; it's an art project in trying to figure out how to creatively solve each problem with all those variables flying around. That's what makes it fun." 
The view from his corner office—on the ninth floor of Roanoke's SunTrust building—sweeps across downtown to the slump-shouldered Blue Ridge Mountains. Atop Mill Mountain is the 88-foot glowing star that gives Roanoke its "Star City" nickname. When Marston was growing up, 70 miles to the east in the tiny town of Red House, Roanoke was "the big city." 
"I knew of Roanoke," Marston says, "because it was where the radio and TV stations came in from." 
Less than a two-hour drive over country roads, in Red House, the Marston family's first home was a single-wide trailer. Marston's parents had a modest upbringing but, through frugal living, saved enough to open a grocery store and eventually run their own tobacco farming operation. 
They kept moving on up. Literally. 
Marston recalls his family acquiring more and more, so every few years, they would move to a bigger house a few miles farther up on the same road. When teachers at his school would ask for his address for various forms for new school years, Marston always gave a different answer. "They thought I kept forgetting my address because the road stayed the same, but the numbers kept changing," he says. 
Once Marston turned 8, he started to work the family tobacco fields. 
"There are a lot of things you learn in a tobacco field," Marston says. "Part of it is just survival. When you wake up at 5:30 in the morning and go into the tobacco fields, you might run across anything—snakes or whatever. You don't get to pick what day you work and what the temperature will be. It's damp, it's hot, it's sweaty—but so what? You've got a task you've got to perform."
Every May, the 6-inch tobacco seedlings would be planted, and all the valuable leaves would be hand-picked and hung in the curing shed before autumn's first frost. Between those milestones, many other things had to happen to nurture the plants from 6 inches to 6 feet: plowing, chemical treatments, cutting back the plant to ensure quality growth, and the painstaking pruning of side shoots called "suckers," which sprouted between the leaves and the stalk.
Until he was 18, Marston worked the fields every summer, popping off suckers, and later plucking the leaves from the stalk. He remembers the satisfying snapping sound—and doing it all barehanded. 
"You'd get laughed out of the field if you even looked for a pair of gloves," he says. "The plants start maturing from the bottom up to the top, so you pick the bottom leaves off first. You do it in waves. You pick the bottom third, then the middle, then the top. You pick until you get a big armful, and then you throw the leaves in a box. Then you take that to a barn where they are cured. And your dad's getting up in the middle of the night to check the barn to make sure that they're the right temperature. And once it's finished curing, it's a matter of putting them into these bundles, and then you take those bundles off to the tobacco market. At the end of the day, they got tallied up, and your dad would get handed a bigger check than you'd ever seen in your life, which was kind of a cool thing."
Marston can't help smiling as he recalls working alongside his father, whom he describes as the hardest-working and smartest guy he ever met—a man who never met a problem he couldn't solve. "He would always say, 'I want you to work this hard in the tobacco fields now because I don't want you to have to do this when you grow up.'"
When Marston applied for a summer internship with Gentry Locke in 1992, managing partner Rudy Austin says he saw in Marston a man who was smart, responsible and industrious. The firm offered Marston a job right out of law school, which he accepted after a short clerkship in Norfolk. 
One of Marston's big early cases was Eddie M. Yates vs. Pitman Manufacturing, a personal injury matter for a worker whose foot had been crushed by a truck's outrigger—the metal pad that presses against the ground to keep the vehicle from tipping over. Marston represented the injured plaintiff, who was no longer able to work or walk properly. He knows the case well; he tried it three times. 
"It was a week each time in Grundy, Virginia," says Marston. "Tried the case, got a hung jury; tried the case and lost; appealed to the Supreme Court, got reversed; and tried it again and lost. Never won the case, but it gave me a lot of hands-on education." 
Two years after Marston's arrival at the firm, the newly opened construction law practice needed an associate. Marston was tapped, and quickly impressed. "We tried a weeklong case together involving a wastewater treatment client," says Austin. "The case had to do with a biological and chemical process for the treatment of sewage that our client had spent a lot of money on. [Marston] was in charge of the technical aspects of the case, cross-examining their expert and putting on our expert. He was calm, authoritative and did an excellent job. We had sued for [about] $1.8 million and change, and the jury gave us every penny."
Marston so impressed that within a couple of years, Austin turned the construction practice over to him. As head of the construction group, Marston has a hand in all the big cases. But he also manages and mentors the other attorneys within his section. 
"Brett really cares about the lawyers who fall under his tutelage," says Josh Johnson, a lawyer who worked for and with Marston for eight years. "He is such a great teacher and a phenomenal mentor. What I gained most was learning how every case requires that you roll up your sleeves and just work hard. And he teaches that by example."
At 48, the slight crow's feet and graying at the temples are the only things that hint at his age. And nowhere is his roll-up-the-sleeves attitude more apparent than in preparation for a case, where he goes to extremes to educate himself and refine his understanding of the technical aspects. 
"This one time we had a wastewater-treatment case," Johnson says. "So Brett ordered a wastewater design engineer textbook and read it. When he questioned the expert during the cross-examination, [the expert] was visibly stunned that Brett knew as much about the topic as he did."
Johnson has moved on to become the managing partner for Johnson, Rosen & O'Keeffe, where he sometimes argues against Marston. "It's obviously not as much fun being across from him as it is being next to him," he says. "The first time that I was up against him, I knew I was in for a good fight. I also knew it was going to be fun, because Brett handles everything in such an ethical, top-notch, first-class kind of way."
It's a sentiment echoed by Phillip Anderson, president of Frith Anderson & Peake, who also grew up on a tobacco farm, though in a different region of Virginia. "Brett is a very likable person," says Anderson. "He fights hard for his clients, as we all do, but he doesn't fight just to fight. Brett knows what things are important to his case. He knows which things he needs to dig his heels in on and which things are not as important. And he is flexible about working toward a solution. He has a pragmatic approach to problem-solving. Just a good amount of common sense."
He says there's also something to growing up on a farm. "You're constantly dealing with lots of different people with lots of different backgrounds and perspectives," he says. "That's true in the practice of law as well. Brett always had that ability to relate well to lots of folks from different backgrounds, experience levels, educational levels. He could relate to just about anyone."
You can see Marston's practice area reflected in his office. Along with thick briefs binder-clipped and stacked on his desk, there is a collection of tiny, yellow construction vehicles—dozers, graders, backhoes, earthmovers—peeking out from a bookshelf crammed with treatises on contract law. If you open the credenza beneath his window, you'll find a hard-hat and vest. 
But the things that bring him peace are the photos of his wife, Colleen; and his kids, and the framed picture of their vacation cabin at Smith Mountain Lake.
"A few years ago, we invested in a property down there," he says, "and we try to go there to unwind as often as we can, spend time with the family, connect with old college friends. You can't get them to come visit you at the house, but if you have a place at the lake, they'll all come sit on the dock and have a drink with you." He laughs. 
Marston enjoys the benefits of the life he's built, but he makes it a rule to remember where he came from. "When I ride down the road now and someone sees [a trailer] and says something derogatory, I'll say, 'I grew up in one of those. It's not a bad place to start.'"
---
Tobacco Terminology
Never heard of "popping off suckers" before? Neither had we. Which got us thinking—what other interesting jargon should we pocket in advance of state bar trivia night? Here's a few:
Button – A flower bud on tobacco
In order; in too high order – Farmers want their tobacco leaves "in order"—in good condition. Not too
dry, not too moist. Sometimes, humidifiers are employed in the drying barns to add moisture; if they add too much, the leaves are in "too high order"
Primings, lugs, cutters, leaf, tips – The leaves from a tobacco plant, from bottom to top—quality is worse at the bottom, best at the top
Top, topping – A verb that means to cut off the flowers growing from the top of the plant
Search attorney feature articles