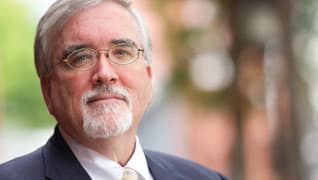 Photo by: Casey Templeton
Great Privilege, Great Responsibility
Litigator and deacon Christopher Malone is committed to using the law to do good works
Published in 2012 Virginia Super Lawyers magazine
By Bill Glose on June 15, 2012
What do you do when a large man suffering from paranoid schizophrenia shows up in your reception area with all his possessions slung over his body in plastic bags? If you're Christopher Malone, the 57-year-old president and managing director of ThompsonMcMullan, you invite him in.
The big, scary fellow in question? Harold Burruss, a homeless veteran with a gentle heart and a tremendous sense of humor. Malone met Burruss while assisting a homeless organization called Freedom House and helped get him into a housing situation in which he could function. Later, when the city housing agency tried to throw Burruss out, Malone had an injunction entered to prevent it. It was the start of a wonderful friendship.
"Harold would show up here all the time," Malone says. "And it would always be when I was thinking too much of myself or I was too involved with what I was doing. The receptionist would say, 'Harold is here.' Which meant: 'Come get him out of the reception area!'" He pauses to laugh. "Harold was a master of corny jokes. He had a speech problem, so he was hard to understand, but whenever you finished with him he would always have a joke to tell you."
One day a Richmond detective came looking for Malone. Burruss had died. On all of his papers, he listed Malone as next of kin.
That's the kind of impact Malone has on people. Lots of people. He not only assists the homeless, he also performs house calls for elderly clients and helps place needy children with adoptive parents. Plastered on the walls of his assistant's office are hundreds of happy faces from families he helped.
"I've always been amazed at the amount of normal client work Chris does in view of the fact that he is so active in his community," says George Hettrick of Hunton & Williams. "He is constantly engaged in efforts, legal and otherwise, to make this world a better place. I don't think I know anybody who is so deeply committed to so many good causes."
"It is a unique and rare privilege that we're given in the opportunity to practice law," Malone says. "And there is a responsibility that attaches to that. It means that we have to be of service to the community in significant ways. I tell the young lawyers [in our firm], 'Find what it is that you're passionate about, what you care about in the community, and then go act on those passions. If it is homeless services, then for God's sake, help solve that issue.'"
But it's not just lawyers in his own firm that he tries to imbue with a sense of community service. "The Greater Richmond Bar Foundation (GRBF) was a fledgling organization just a few years ago," says current GRBF President Brian Marron of Spotts Fain. "Chris has been instrumental in helping to grow the Greater Richmond Bar Foundation to what it is today—the hub for pro bono legal services and legal outreach in central Virginia."
If Malone seems the embodiment of charity and virtue, there's a good reason: It's part of his job description. He's also a deacon in the Roman Catholic Church.
Malone serves at the Church of the Redeemer in Mechanicsville. Over the years, he has baptized children of lawyers at his office or officiated his colleagues' weddings. But he hopes they won't need any of his other liturgical services. "In the Catholic Church," he says, "we have something called annulments, which is an ecclesiastical divorce. And I actually handle those for a lot of people as well. I joke that we can get you married, we can get you divorced, we can get you an annulment, we can baptize your kid; we're a pretty full-service law firm. If you die, we'll even bury you and probate your will!"
After graduating from the University of Virginia Law School in 1979, Malone served a two-year clerkship with the Supreme Court of Virginia and was exposed to numerous cases that were at odds with his faith. He's witnessed everything from death penalty cases to a case of "wrongful birth," in which two parents sued their doctor because they would have chosen to abort their child had the doctor properly performed the tests that would have revealed a genetic disorder.
"It was terribly emotional," Malone says. "I understand the issues on all sides, but it was very challenging … but that's the practice of law. Well, if somebody wanted me to secure their right to get an abortion, I would not be able to do that. But not that many issues arise in the law that create a conflict for me ecclesiastically or personally."
Far from a hindrance, Malone's faith has bolstered his ability to practice law. Clients in crisis view him as exceptionally trustworthy, and he does all he can to help them heal. Once, Malone represented a doctor who had been involved romantically with a patient. "That guy was hurting bad," says U.S. District Judge John A. Gibney Jr. "Chris's approach to it was to, of course, deal with the problems at the Board of Medicine, to deal with whatever other legal issues arose out of that. But he also took the time to sit with him and talk with him and counsel him. In the true sense, he is a counselor at law. Chris helped the guy get through what appeared to be the ruination of his life."
Most of Malone's clients don't know about his position in the Church. No reason they should. His office is on the third floor of a converted tobacco warehouse amid the cobbled streets of Richmond's Shockoe Slip and his appearance—white shirt and tie, gold-rimmed glasses, and a salt-and-pepper goatee—blends right in. Much of his work involves commercial litigation. He especially enjoys large structure cases because they pique his intellectual curiosity and he says he gets paid to "learn stuff."
"Before you can apply the law," he says, "you really need to know what the factual issues are. Sometimes that involves learning engineering and sometimes that involves learning physics. Sometimes we have a client that builds big, honking, industrial boilers. Last week I was out in Nebraska for a boiler problem in an ethanol plant. Now I know a lot more about boiler theory and technology than you could ever imagine. …[And] I learned how to make ethanol. There's no reason for me to ever know that; but the process of making ethanol is very important to understanding what's going on in this case. So we stomped around in hard hats and safety glasses and steel-toed boots for a while to figure it all out."
Malone's philosophy is that if he's going to try a case in court, he'd better know more about the case than anybody else in the room before he opens his mouth. He is methodical in his preparation and takes a big-picture approach to seeking resolution. "Sometimes people can get a sense of urgency that overcomes common sense," he says. "Whether it's litigation or transaction, there's a period of mature consideration that needs to be applied in every case. You can charge off and not know where you're going, or you can be a little more cautious about the path you choose. I prefer being cautious."
Malone loves speaking to juries and engaging judges, but he detests grandstanding. "Sometimes, my best friend in the courtroom is the other lawyer by the way they behave," says Malone. "When other lawyers tend to be a little theatrical, a little confrontational, I'm none too happy to assist them in continuing to act that way as long as they want. The best cases are where good lawyers on both sides know their cases. It's elegant and it's wonderful and it's productive when you have to try a case like that …without hysterics. That's great fun."
His opponents agree. Scott Oostdyk of McGuire Woods once represented a design/build firm that was having a dispute with a construction vendor represented by Malone. "Chris has the gift of disagreeing without being disagreeable," says Oostdyk. "He's able to articulate his positions very cogently. The door is always open with Chris because he never creates the kinds of divides that take parties out of the possibility of resolution."
Both sides of an argument often walk away satisfied when Malone is involved. "I can remember a number of cases in which Chris was able to come up with a win-win solution for people who were at loggerheads," says Judge Gibney. "[His solutions] allowed both to, maybe not be friends, but function in the business world. He has just a knack for doing that."
"Clients in a business dispute can be so fixed in their belief that they're correct," Malone says, "that the only way they see to solve things is to go hard at it and to file lawsuits immediately. Emotion has taken over so much that all they want to do is strike out. That's happened more than once. I'll say, 'Let's talk about this decision. We can sue, but if we do two things are going to happen. One is you're never going to have a relationship with them again, and two is that they're going to cut you off from [the marketplace].'"
When his clients are angry at the opposition, Malone allows them to vent their ire on him. When they're confused, he illuminates the difference between what they can do and what they should do, which is sometimes nothing at all. And when they're helpless, he does everything in his power to fix their problems, whether that's through the courts, the Church or charity.
"He is greatly respected because of his legal talents," says Oostdyk, "but even more so because he's just such a darn good guy."
Search attorney feature articles