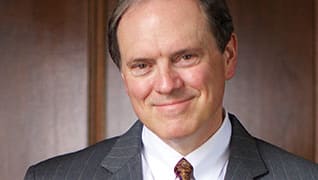 Photo by: Casey Templeton
Media Player
Craig T. Merritt is the first lawyer to call in Virginia's First Amendment cases
Published in 2014 Virginia Super Lawyers magazine
By Bill Glose on June 13, 2014
At almost six and a half feet tall, Craig T. Merritt takes long, slow strides when he walks the hallways of his firm, a gait as deliberate as his thought process. His size advantage might be intimidating but he doesn't use it to intimidate. The opposite.
"His demeanor is polite, professional and very relaxed," says Ginger Stanley, executive director of the Virginia Press Association. "I've watched judges become relaxed by just talking to him."
Merritt, a partner at Christian & Barton, handles some of the largest media law cases in Virginia. Calmly.
Although Merritt seeks quiet resolution, he also delights in going to court.
"Fundamentally I'm wired as a trial lawyer," he says. "I'll take any opportunity to try a case; I don't care what type of case it is."
He has represented media companies on issues ranging from defamation defense to reporter's privilege and access. His work has involved getting 911 tapes ruled as public domain. He wrote an amicus brief to help restrict the scope of "libel by implication," which occurs when a newspaper article does not actually make an explicitly defamatory statement, but may state facts in a way that sends a defamatory message. He also maintains a healthy complex commercial litigation practice and tackles intellectual property and antitrust matters.
"We count on Craig for the expert knowledge of the Freedom of Information Act in Virginia," says Stanley. "He has probably written most of the language that is in there over the last 20 years. He is beyond exceptional. He has taken one of our cases all the way to the Virginia Supreme Court for the Press Association and won."
That case, out of Culpeper, involved the city's board of supervisors, which barred reporters from attending a closed-door meeting. The Star Exponent sued for access and Merritt represented it, arguing that the board improperly used an exclusion to hold closed meetings. The Virginia Supreme Court sided with him in a unanimous decision. "The board of supervisors had attempted a very aggressive reading of FOIA exclusion that permitted them to have a closed session," Merritt says. "In effect, they were using the exclusion for a purpose that it was not intended for."
"He is not only a laser-sharp legal analyst, but he is an extraordinary communicator," says Edward W. Jones, former editor of Fredericksburg's The Free Lance-Star. "And by that I mean he is a storyteller. He is a person who can take the essence of a legislative proposal or a court decision and communicate it in a storytelling way that relates to people. The result is that we have in Craig, on behalf of the Press Association, an advocate who is eloquent, focused, persuasive and civil."
Raised in Charlotte, N.C., by blue-collar parents, Merritt's mother was a second-generation Irish immigrant who worked as a telephone operator. His father, who came from tenant farmers, quit school after seventh grade and began his life of work at age 11. He would eventually earn his G.E.D. in the Air Force.
Merritt followed his father's work example, carrying newspapers and mowing lawns at age 11. By 14, he was working summers for an electrical contractor. But there the similarities ended. Merritt's parents were determined that their five children would stay in school and receive the opportunities they did not. As the oldest, Merritt was the first to graduate college.
After earning a bachelor's from Duke University, he went on to the University of North Carolina School of Law and graduated with a J.D. in 1980. His first job as a lawyer was in the Virginia Office of the Attorney General office in the antitrust unit.
"We were in the era of the highway bid-rigging investigations," Merritt says. "The U.S. antitrust division had grand juries going on here in Richmond. A number of contractors who were doing road-paving work had been getting together a few times a year at various places and allocating work among themselves, which of course allowed them to raise prices. So what we were doing was going behind the federal grand jury and doing follow-up civil cases for the state, basically collecting fines and penalties and damages. … I saw a parade of some of the finest lawyers representing these companies and firms all up and down the East Coast. To be a couple of years out of law school and be in this heady company was very interesting."
In the spring of 1985, Merritt left the AG's office for Christian & Barton. At the outset, he handled antitrust and white-collar defense. Then he met Sandy Wellford, the firm's media law expert. He mentored Merritt and shared his encyclopedic knowledge of First Amendment law. Merritt was hooked.
One of the greatest lessons he learned from Wellford was the importance of making complex matters understandable to a layperson. "In these days when people file these horrendous 30- and 40-page briefs full of string citations and lousy grammar," says Merritt, "Sandy could write a five-page brief that was so perfectly crafted and so persuasive that it said everything that needed to be said. He was a wonderful mentor just as a writer and an analyst because he could get to the essence of things."
As Merritt flourished in media law, the media took notice. So it was no surprise that when a juvenile court judge in Newport News, Va., ruled in October 2013 that journalists could not publish the names of witnesses who had testified in a hearing for murder suspect Antwain Steward, Merritt got the call. Steward, a local rapper who goes by Twain Gotti, was charged with a double homicide that dates back to 2007.
The beat reporters were baffled about the ruling: The witnesses had testified in open court and their names were part of the public record.
"One of the core principles of the First Amendment is that we don't do that in this country," says Merritt. "We don't tell people what they can or cannot publish. We hold them responsible after the fact for poor choices they make if they defame someone. … But speech is such a precious core value for us that it takes extraordinary circumstances for the government to be able to justify saying to a newspaper or a TV station or a blogger that we are going to prohibit you from writing or speaking about this."
Merritt filed a motion with the circuit court to have the prior restraint thrown out, but he also shared the basis for his legal argument with the prosecution. Realizing their position was not constitutionally permissible, prosecutors withdrew their request to suppress the names, and the circuit court judge vacated the lower court's ruling.
The Steward case is emblematic of Merritt's modus operandi—striving to resolve matters behind the scenes before they go to court. "Sometimes by the time something gets to court, it's because you failed and that's the last opportunity," he says. "When you are able to sit down with the other side and creatively get some sort of solution worked out so that nobody would ever have to pick up a newspaper and read about it—those are really your best days."
There's a vague irony in this, of course—Merritt fights media suppression but tries to keep these cases out of the media—but his work is greatly appreciated by his newspaper and television-station clients. So much so that he often vets their stories for them.
"He is a valued resource for those times when a media organization is out on the limb on publishing something it thinks the public should know about but wants to do it in a way that is fair to everybody involved," says Tom Silvestri, publisher of the Richmond Times-Dispatch. "When my editors say they have talked to Craig and he said we could move ahead with our story without making changes, I know I don't have to worry."
Indeed, in 2009, the storytellers' storyteller was feted with an induction into the Virginia Communications Hall of Fame. A fitting tribute for a man whose first job was carrying newspapers.
In a sense, he's still doing that. "A lot of people would be surprised to know that with few exceptions, the press does not have any special rights of access," says Merritt. "The press is simply exercising a right that belongs to the public. Whenever the press makes an FOIA request they are not exercising any right that you or I as individuals cannot exercise. The thing that's important about it is that they are in the business of exercising that right every day on our behalf. And to the extent that they lose that right, you lose it, too."
Search attorney feature articles