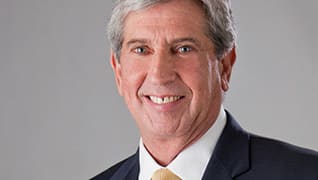 Photo by: Chris Winton-Stahle
The Brain Behind Brain Injuries
Irvin Cantor brings light to the mysteries of traumatic brain injury
Published in 2015 Virginia Super Lawyers magazine
By Bill Glose on March 15, 2015
If you're a client of Irvin Cantor, partner at Cantor, Stoneburner, Ford, Grana & Buckner, be prepared to get a little uncomfortable.
"I've got to be intrusive," says the Richmond attorney, who specializes in brain injuries. "I'm going to ask about their sleep, their sex lives, their bodily functions, their emotions—everything. Brain injury can affect all those things. I've had a couple people look at me and say, 'That's not your business. Why are you asking me that?' Usually I can overcome [their modesty], but sometimes they just think I'm a jerk."
Recognized as an expert in the field, Cantor's cases include more than 400 traumatic brain injuries suffered by clients ranging from attorneys to physicians to claims adjusters—brain injury does not discriminate. And Cantor, say his peers, has a palpable empathy for those whose identities are often distorted by their injuries.
"Irv is truly fascinated by the brain," says Anne McDonnell, the executive director of the Brain Injury Association of Virginia. "He takes on these cases because he genuinely cares about the victims."
"I got him to handle a case for a friend of mine whose husband had died tragically," says retired Circuit Court Judge Sam Johnston. "He felt compassion for the person and cut his fees sua sponte. He charged a lot less than he could have. It was a nice gesture of caring and concern."
Tall and athletic, the 61-year-old is quick with a joke, usually of the self-effacing variety. He doesn't boast about his almost 1,800 plaintiffs' injury cases, 45 of which have received verdicts and settlements exceeding $1 million. He downplays his status and sets people at ease with an amiable, down-home charm.
That's important in his line of work. Part of his job is going to clients' homes and workplaces to observe their everyday routines. He talks to their friends, family and enemies. Especially enemies.
"That's one category of witnesses I like to call at trial: witnesses who don't particularly like my client," says Cantor. "I don't want a person that's close. I want somebody that can't stand my client but has to admit, 'Yeah, she has a problem.' I try to get folks that have no incentive to come in other than to tell the truth, and I build my case around those people." He pauses, his slate blue eyes glinting with devious glee. "I'm a big believer in ex-husbands and ex-wives."
Bringing witnesses who don't have many good things to say about his client might sound like a multimillion-dollar risk, but Cantor isn't big on risk management. He holds out his hand. "I'm a tennis player," he says. "I was not very good. My wife told me, 'I'm sick of picking you up from the emergency room.'" He examines fingers that are still knotted and swollen, years later, from being broken repeatedly in his battle for one more shot.
The year was 1979, and the ink was still wet on Cantor's law school diploma. He had no clients and little experience. He could do the safe thing and score the "glamour job" at a small D.C. firm that was courting him. Or he could hang a shingle. After his third interview in D.C., he pulled his car over off the highway and called law school pal Tom Rilee, another neophyte to the state bar, with whom he'd thrown around the idea of starting a firm. "Let's do it," he said.
That same year, Rilee & Cantor launched in Richmond with zero clients. But Cantor, who did criminal defense work while Rilee handled real estate, devised an ingenious plan to drum up business.
"Back then, the way it worked in Richmond, was they would assign one attorney to the General District Court for every day, Monday through Friday," he explains. "And I went around to all the other attorneys and said, 'Can I have your day?' They all laughed at me, but they said, 'Sure.' So I got just about all the days for the whole month. And I ended up with so many cases it would blow your mind. I was swamped for probably a year and a half. I had two felonies in court on one day and two jury trials on one day."
He supplemented the criminal defense work with small insurance cases referred to him through an underwriter friend working for Lloyd's of London. "I did that for a couple of years," he says. "By the end of it, I hated representing the insurance company. I always identified with plaintiffs."
In 1983, he switched sides. That year, three head injury cases were referred to him. At the time, the literature on brain injuries was scant, so he went to the Medical College of Virginia to learn what he could from the physicians in the brain injury rehabilitation department.
"They taught me and they started referring me cases," he says. "And I started to learn more about traumatic brain injuries. And then I started lecturing with them to other folks and finally to other attorneys. And so I got this little niche. I grew it, and I loved it."
In 1998, a few months after Becky Bro's vehicle was rear-ended by a truck, something strange started happening. She found it impossible to perform her job as an accounts payable manager. She suffered bouts of dizziness, nausea, severe headaches and emotional distress. Routine tasks, like putting groceries away and hanging up her keys, were a mystery; frozen foods ended up in her bedroom closets and keys were deposited in the mailbox.
She had been to neurologists and other specialists, and bills were mounting. Bro, who had already sought legal remedy, was offered a lowball settlement for her accident. The truck driver's parent company promised Bro $15,000 if she would sign a release form. But the money didn't come close to covering her medical bills. So her mom called an attorney in Richmond, who directed them to Cantor.
"In a lot of ways," Bro says of Cantor, "he saved my life."
In their first conversation, Cantor and Bro spoke on the phone for two hours. He then sent her to the National Brain Injury Association website, where she read about other victims.
"It was like reading my own case history," Bro says. "It was such a sense of validation to see there were other people out there with the same symptoms I was experiencing."
Cantor brought her in for an examination at MCV, and the doctors said she had a clear case of post-concussive syndrome. Cantor prepped the case for trial, but just beforehand, he received a new offer, an amount he won't disclose because of a confidentiality agreement, except to say it was "big dollars."
For Cantor, the money was a secondary concern. His true joy came from seeing Bro rebuild her shattered life. Since her accident, Bro has earned a master's degree in education and become the national director of vocational and disability services for a large national disability company.
"Despite all the problems she has," says Cantor, "she's overcome all that and decided to help others. And she's a successful mom, her kids are great, she's still with her husband, and they have a great relationship. And that is what she's doing today with a brain injury. It's amazing."
"My story could have been very different," says Bro. "I am so grateful that, at the moment when I most needed it, my miracle came dressed as an attorney with a heart."
Bro is like many of Cantor's clients with brain injuries—they do not exhibit outside wounds, so they stay quiet about their conditions, worried others will think they're faking, or worse, unbalanced.
Cantor points to a case in which a female soldier on leave from Iraq was hit by a Trailways bus. Her pain and problems were obvious, but she refused to complain. The bus company offered a settlement of $500,000. Cantor advised her not to take it. In trial, he asked the judge's permission to call her to the stand twice: as his first witness, and then at the very end, to pull a confession of sorts out of her.
"I knew I was going to [bring her back up] to ask her, 'All right, Melanie, you're under oath now. Are you in pain?' 'Well, yeah.' 'Tell them what kind of pain you have.' And she basically said one sentence that didn't really describe it. 'Did you sleep last night?' 'No.' 'Why not?' 'I was in pain.' And basically that's all I asked her. And I said to the jury, 'Did you notice I had to bring her back and put her under oath before she even complained about her pain?'"
The jury awarded her $5.6 million.
"To have a client hug me at the end of the case and say, 'If it weren't for you, I wouldn't have been able to make it through this,'" says Cantor. "That is the most gratifying thing about what I do."
Search attorney feature articles