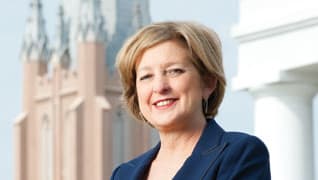 Photo by: Adam Auel
The Can-Do Counsel
When Ann K. Sullivan rolls up her sleeves, problems get solved—by bake sale or legal brief
Published in 2011 Virginia Super Lawyers magazine
By Bill Glose on June 17, 2011
"Clarence Thomas rarely asks questions," says Ann K. Sullivan, a partner at the Norfolk firm of Crenshaw, Ware & Martin. "But he turned around, got something from his law clerk and pointed it out to Justice [John Paul] Stevens." As the employment lawyer describes her experience at the U.S. Supreme Court, a smile fills her heart-shaped face. She mimes the actions, picking up an imaginary book, flipping its pages, then stabbing a finger at the researched piece of evidence. "At that point, I thought, 'If Clarence Thomas is looking in the record to ask a question that's favorable to our position' … I felt we were on the winning side."
Sullivan and co-counsel Elaine Hogan had represented Bridget Hardt in a case against Reliance Standard Life Insurance Co. after Reliance denied disability benefits to Hardt for a nervous system disorder that caused hand and foot pain. Reliance was ordered to pay up, which it did, but it didn't pay Hardt's attorney's fees, and that didn't seem right to Sullivan.
"I called it an access-to-justice question," Sullivan says, "because if you don't have a way to compensate attorneys to battle with the insurance company, you're [putting the burden on] people who are already disabled, already can't work, whose benefits have been cut off. How are they going to get legal representation? That was the issue."
A federal judge agreed with Sullivan and ordered the insurance company to pay Hardt's attorney's fees, but Reliance appealed and the 4th U.S. Circuit Court of Appeals overturned the decision.
"We were disappointed," says Hogan. "But Ann rolls with the punches well. No matter what kind of obstacles you put in her way, she will figure out a way to get around them and to make them work for her and her client. She was determined that if we could find a way to keep going, we could ultimately prevail, because we had a good legal argument and we were on the right side of things."
When the high court decided to hear their case, Sullivan began preparations and her team organized moot courts with several groups. She sat in on the arguments before the Supreme Court as second chair. "We had former law clerks to the justices critiquing the arguments and the nuances of the arguments," says Sullivan, "so there were no surprises. … I had enough sense to hire an [appellate] expert." Then she waits a beat: "We won 9-zip."
It was the second time Sullivan had been on the winning side of a Supreme Court argument, and this time the ruling set a precedent that changed the law to favor the rights of disabled individuals, a concern that matters dearly to Sullivan. In her previous case, in which she sat before the high court as an observer, she'd worked on briefs regarding who should pay when utility lines are relocated. That time, also, the court's decision had been unanimous in favor of Sullivan's team. Not a bad legal record for someone who originally intended to be not a lawyer, but a psychologist.
"I'm not a genius," Sullivan says. "I'm just steady. It's about showing up. Roll your sleeves back, put your boots on and show up." This can-do attitude was forged by a father who told her to never say "can't" and a mother who kept a plaque in their home featuring the famous Calvin Coolidge quote that begins: "Nothing in this world can take the place of persistence."
Sullivan grew up in Virginia Beach back before it became a major tourist destination and blossomed into the state's most populous city. "It was just a small town back then," she says. "Our [primary] school was in an old house on the beach and we had PE on the beach every day, played cage ball on the beach. We had to come to Norfolk to go to the dentist or anything else."
When Sullivan's high school didn't provide a class in psychology that she wished to take, she kept after the director of curriculum until he came up with an idea that would confound most 16-year-olds. "The director said, 'If you will read all of these magazines of Psychology Today, we will have a psychology class for you in the fall.' It was a big stack like this," Sullivan says, holding her hand 2 feet above the desktop. "I read them all, and they had a psychology class for me and a few other students in the fall."
This was an early indication of the words that would become her motto: "There's a solution to every problem," she says. "I haven't found one yet that I couldn't solve in some way, shape or form."
Sullivan went to college an hour up the road at William & Mary, where she majored in psychology. "I didn't want to stay close to home," she says. "I was ready for big adventure. But, with four children, our family economics [ruled that out]."
She worked all kinds of jobs, from waitress to tour guide to babysitter, which would provide serendipitous connections a few years later. But it was a job at a halfway house, working with emotionally disturbed children, that turned her toward a career in law. "I worked with this child all summer who had been abused by her father," Sullivan says. "She wanted to learn how to swim, but she [always wore] eight or nine shirts. I worked with her all summer, got her so she would swim with one T-shirt on. Then I had to give her back to her dad. And I said, 'I can't do this.'"
She hated that feeling of helplessness; she wanted the power to change rules that were unfair.
So Sullivan stayed at William & Mary, attending the Marshall-Wythe School of Law. While there, she interned for the Hampton Commonwealth's Attorney Office and for the ACLU. But her first summer, she had difficulty lining anything up. She decided to check with a solo practitioner for whom she'd babysat. "He said, 'Well, I don't really have enough work for a law clerk,'" Sullivan recalls. "And I said, 'Well, do you have any work for a law clerk?'" Repeating this process with two more lawyers from her babysitting list, Sullivan created a job out of thin air. "I just kept trying to patch a job together," she says. "It was a great experience. I went from babysitter to law clerk that summer!"
Two of those solo practitioners, eventually became judges. Frederick B. Lowe, now chief judge in the 2nd Judicial Circuit of Virginia, calls her a wonderful lawyer. "Ann's best characteristic is patience," he says, "being patient with what she's trying to accomplish, letting things come to her."
And they did. Creative thinking not only created a summer job for Sullivan, it ushered her into her new career. As she was preparing to graduate in 1978, she got a letter from one of the partners at Crenshaw, Ware & Martin requesting she interview with them. Big surprise: She hadn't even applied.
"We were friendly with a number of people at William & Mary, and we would talk with them about the students," says Frank Crenshaw. "They had some good comments about Ann, said she was a bright person and had a reputation of being a pretty good worker. They were right about that."
When Sullivan heard that the law school dean had recommended her, she finally understood what had happened. "[The school] had hosted a speaker who was looking for remuneration [that we didn't have]," Sullivan says. "She was in the House of Delegates, so she controlled the pocketbooks and we did not want to discourage her. So I ran a bake sale and raised enough money to pay her. And the dean thought, 'This girl can solve problems.' So he told Mr. Crenshaw I was a good person and I wound up here. All because of a bake sale."
Shortcake and brownies may have gotten her through the door, but it was her even-keeled tenacity that made her indispensible. "She was always very pleasurable to work with," says Crenshaw. "And when I say 'with,' that's 'with' and 'against.' She handled contentious matters in a nice way so she didn't create a whole lot of extraneous sparks. Always kept her eyes on what she was trying to accomplish and the outcome was always satisfactory."
Determined, persistent, unflappable: Those are the words that keep coming up when people describe Sullivan. One time she got sick during a hearing in North Carolina and ruined her outfit. "I couldn't go back into the courtroom wearing what I was wearing," she says. "I was about the same size as my paralegal [Suzi North-Sheehan], and she gave me the clothes off her back, and she went to Walmart in an overcoat to buy a new outfit, and we finished the case. We bonded that day for life."
Another time, she experienced a severe reaction to her contact lens solution and developed hives on her cornea. Effectively, she was blind in the courtroom. "Yeah, I finished that case, too," she says with a laugh. "I don't have the sense to know when to quit." She shrugs.
Even when Sullivan broke her dominant right elbow, she kept coming to work. "It didn't make any difference," says North-Sheehan. "She was still going to get in there and write with her left hand. And she did a darn good job. The print was a little large, but her dedication to the job is just stellar. … It would've taken at least two broken arms and a broken leg and a broken car to keep her out of the office!"
"She's also very intuitive," Hogan adds. "That really helps her relate to clients and also deal with other attorneys. She's very observant. She's very aware of what other people want and where they're coming from and uses that to her advantage when negotiating with other people or just litigating in general."
Sullivan credits her original career track with honing her perceptiveness. "Psychology is the greatest possible background you can have for law," she says, "because understanding people is crucial to the practice of law. I mostly use [psychology] on my own clients to understand what their barriers are and to get them to their goals. … Sometimes all they really want is an apology. You just have to find out what people want, particularly in the employment world, because it's so personal, almost as personal as divorce."
Says North-Sheehan, "Ann is an emphatic fighter for justice, for the little guy, for the underdog. One of our cases involved a large class action suit, and by winning that case we changed the way that company did business. So anyone now coming in to work for that company is going to get fair pay and fair benefits. So she works to change the world. That's part of the charm of her."
Now Sullivan occupies the 12th floor corner office in downtown Norfolk that once belonged to Crenshaw, who is retired. The view from her window looks down upon the dome of the MacArthur Memorial and the video screen at Nauticus. Law books line the windowsill and shelves, but they are overshadowed by family photos and mementoes from old cases. There's a big golden die from a client who said he would "cast the dice with you any time;" a star-tipped wand from another client who thought she was magic; and, bracketing the room on opposite walls, two framed photos taken approximately 30 years apart at the same location—the Supreme Court steps. In each photo, Sullivan stands shoulder-to-shoulder with her winning legal teams. Her smile, as always, is wide and full. It's the smile of someone brimming with confidence, eager to face her next challenge.
Search attorney feature articles