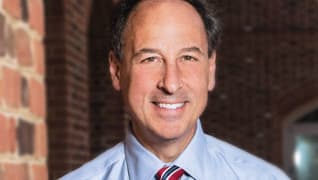 Photo by: Stephen Voss
In Brad Lerman's Submarine
Fannie Mae's general counsel has one rule for his legal ship—work together or perish together
Published in Business Edition Super Lawyers 2013 magazine
By Bill Glose on November 12, 2013
"An outside counsel sometimes believes that the lawyers are the most important thing handling the most important things to any company's success," says Brad Lerman, who, since October 2012, has served as the executive vice president, general counsel and corporate secretary of Federal National Mortgage Association, or, as it's better known, Fannie Mae. "The in-house lawyer gets a different perspective. The ability to marshal resources and get the right decision-makers and understand the risks and the ramifications of options and then make the right strategic choice—that's the skill of the in-house lawyer."
In a typical workday, Lerman, 57, spends most of his time in meetings. Thin, athletic and clean-shaven, his manner is affable and his responses unhurried and well-reasoned. When you're speaking with him, he gives the impression that you are the most important person in the world. Not prone to rash judgments, he often sits with his fingers steepled as he considers what to say next.
"My role as general counsel," says Lerman, "is not to take over somebody else's work but actually to help guide, steer, lead and add value where I can." Then he pauses and adds with a grin, "And know when to stay away."
If humor is one of Lerman's hallmarks, and many say it is, he needed it during the recent—and ongoing—global financial meltdown.
Starting in 2008, before Lerman arrived, Fannie Mae was bailed out to the tune of $116 billion and placed in conservatorship under the aegis of the Federal Housing Finance Agency (FHFA). The agency delegated day-to-day business operations to the company, but it has final approval on major business decisions.
All of which is a bit ironic since Fannie Mae was formed during the Great Depression to buoy the then-sinking housing market.
As part of its mandate as a government-sponsored enterprise, Fannie Mae was required to meet goals set by the federal government to provide mortgages to low- and middle-income families. But in the post Glass-Steagall era, as investment banks began to act as unregulated private securitizers, Fannie Mae backed riskier loans to achieve its goals and compete in the market. When the housing bubble burst, Fannie Mae was pulled down with the banks it supported.
A few rocky years followed. But today Fannie Mae is thriving and more successful than ever. The housing giant is paying taxpayers quarterly checks in the billions of dollars in dividends. A September 2013 payment of $10.2 billion to the Treasury brings the total amount Fannie Mae has paid to $105 billion.
One major factor in its turnaround has been its work to resolve disputes with banks, including billions in financial settlements for Fannie Mae, and to rebuild those relationships moving forward. To help resolve those issues, Fannie Mae hired a new general counsel. True, Lerman had no direct housing finance experience. But he was a star litigator in huge cases for politically unpopular clients, had previously worked in complex arenas and brought knowledge of both the housing and finance industries. He was almost made to order.
One of the most influential men in Lerman's life was an immigrant from Ukraine who never went to school and arrived in the U.S. unable to speak English: his grandfather. "He used to talk about how he was successful in business," says Lerman, "because of his reputation for integrity and his ability to deal with people fairly and get along with them. So he taught me a lot about values."
Those values served him well when Lerman, a 1981 graduate of Harvard Law School, became an assistant U.S. attorney in the Northern District of Illinois. The prosecutor's office operated with what he calls a submarine mentality—the belief that everyone on the team either works together or perishes together. "That's where I really honed my skills as a trial lawyer," he says. "I tried dozens and dozens of cases and did appellate work. You're responsible for soup-to-nuts because you have a limited staff. You investigate the case, you craft the case, you develop the testimony, and you go in front of the jury. It's yours from start to finish."
Some of Lerman's best work during his eight years as a prosecutor, he believes, involved one particularly difficult decision regarding a young woman caught transporting drugs. She had no real link to any drug organization and cooperated with the arresting agents. The Drug Enforcement Agency decided not to charge her, and the case languished for five years until a new agent inherited it and decided to take action. Lerman was the prosecutor.
"In those five years," says Lerman, "she had graduated from college, was a member of her church, and had lived an exemplary life. So now you have this issue of what's fair five years later. On the one hand, drug trafficking cannot be forgiven. On the other hand, look what's happened over the last five years. What value is there now in plucking somebody out of that world and punishing her for something that she's disavowed and clearly moved on from?"
Though he couldn't reveal names or other particulars, Lerman did divulge that the case went forward in a way that he thought was fair to everyone involved. And it is this sense of fairness and big-picture approach that has made him such a sought-after commodity.
"I thought he was one of the finest young lawyers in America and I wanted him here at Winston," says Dan K. Webb, chairman of Winston & Strawn. Webb eventually lured him to the firm, where Lerman became co-chair of the white-collar litigation group.
"His judgment and insights were second to none," says Webb. "Sometimes I will decide that I'm going to do something on gut instincts, and sometimes your gut is not right. Brad is a great check-and-balance where he would walk into my office late at night and say, 'Do you really want to do that?' I would know that I'd better think hard about it and we'd have a discussion, and probably nine times out of 10 I would decide he was right and I was wrong."
In 10 years at Winston & Strawn, Lerman handled a wide array of cases—products liability, financial fraud, accounting irregularity, political corruption and antitrust. He also learned how to handle infamous cases and clients with a deft touch. He represented two former Illinois governors, Rod Blagojevich and George Ryan, in corruption cases; defended Philip Morris USA Inc. in tobacco litigation; and was outside counsel to McDonald's Corporation in obesity-related litigation.
"He became what I call a very strong client-relationship lawyer," says Webb. "He had excellent people skills and an ability to communicate with clients so clients understood what a great lawyer he was."
"What you learn as a lawyer advising those companies," says Lerman, "is that if you make a case that is truthful and factual and calmly reasoned, that many times people will listen. They may never agree, but you can actually make a difference. In the context of Philip Morris, almost nobody likes cigarettes. The product itself is not popular. And yet, in a litigation context, or even in a regulatory context, when the issues are understood and the facts are brought to light and people are put in a position of having to decide things according to rules and legal concepts and all the rest, you can actually have a conversation. Dialogue is possible even under those circumstances."
In January 2009, he went in-house at Pfizer to head the litigation group.
"One of the great strengths of Brad," says Pfizer's executive vice president and general counsel Amy Schulman, "was his ability to manage multiple competing demands simultaneously and effectively. He was a terrific developer of talent and a very strong leader."
Lerman repeatedly and adeptly sidesteps questions about Fannie Mae's culpability in the housing crisis, refusing to lay blame on past administrations or anyone else for that matter. His focus is on fixing problems and moving forward.
"With respect to what role Fannie Mae did or didn't play," he says, "I don't view that as productive conversation. The real question is, 'What have we learned?' And the way to figure out what we have learned is to see what we are doing. If you look at the quality of our book of business since 2009, and if you look at the performance of lenders and of folks in the marketplace with respect to the business that has been written, you'll see that substantial lessons were learned." That book of business includes helping 1.3 million families avoid foreclosure and helping allow 11.4 million mortgage refinances.
"People here have a certain resiliency and courage that is remarkable to me," he adds. "Because this is not a place where we get a lot of praise publicly for what we do. Yet what we do is so important. After what this organization has gone through, that we still believe in ourselves and we still do the right things and we still make a difference, that energizes me."
This year, Lerman has overseen a more than $11 billion agreement with Bank of America, and a $968 million settlement with Citigroup, to resolve issues regarding questionable mortgage loans the banks sold to Fannie Mae.
Instead of dwelling on legacy issues left for him to clean up, Lerman is more interested in the legacy Fannie Mae is building, what he calls a "bridge to the future."
"We don't know what the future state will be," he says, "but it will be different from what it is now. We certainly look at the marketplace where Freddie [Mac] and Fannie [Mae] have a huge share of the market. Everybody agrees that share needs to be brought down; everybody agrees that taxpayer backstop needs to be reduced in the mortgage market. Where it goes? We don't participate in the political process, so policymakers will make their determinations as to how they want things to change. But we're putting together a structure and rebuilding a team that will allow policymakers choices as to how to achieve those goals."
Everything for Lerman is "we" instead of "I."
"I take great pride in the success of our business," he says, "but I don't take credit. It's all part of the team. We're all in this submarine together."
Search attorney feature articles
Helpful links
Other featured articles
Mia Yamamoto spent years working for social justice before finding it for herself
Family attorney Justin Crozier was an Army mental health specialist
Trial legend Gerry Spence on fear, honesty and the value of knowing one's story
View more articles featuring lawyers
Find top lawyers with confidence
The Super Lawyers patented selection process is peer influenced and research driven, selecting the top 5% of attorneys to the Super Lawyers lists each year. We know lawyers and make it easy to connect with them.
Find a lawyer near you