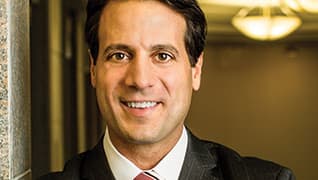 Photo by: Stephen Voss
The Culture Changer
Personal injury attorney Salvatore Zambri remembers the most important thing about clients
Published in 2014 Washington DC Super Lawyers magazine
By Joan Hennessy on April 25, 2014
It happened at rush hour on June 22, 2009. An inbound Washington Metropolitan Area Transit Authority Metrorail train slammed into the rear of another train stopped on the tracks. Nine people died. Fifty-two were injured. One of the injured victims, a young woman, recalled glancing at her ankle, dazed, as the train cars crunched. She noticed her tattoo was missing, along with most of the skin on her lower leg. A first-responder firefighter who arrived on the catastrophic scene described the day as the type he'd only have to encounter once in a career.
For Salvatore J. "Sal" Zambri, partner at Regan Zambri Long and a lead attorney on the Metrorail case, it wasn't just one. He lived the accident on replay for years.
"I was not on that train, so I certainly am not a victim," Zambri says. "But as an attorney intimately involved in every aspect of that case, I was privy to the specific details of the injuries and suffering that occurred. I carried with me every day the responsibility of bringing about some comfort and some measure of justice for all those impacted by this tragedy. It is the very reason why I became a lawyer."
Zambri grew up in Wading River, N.Y., a hamlet on the north shore of Long Island. While a student at the local high school, a teacher told him he should become a lawyer. He had a head for logic.
After Zambri's first year of law school, he took a summer job with a Long Island firm that did business, transactional and contractual work. At the end of the summer, the head of the firm invited him back for the next summer and even offered to hire him out of law school. But Zambri wanted to log courtroom hours. He realized he'd have trouble doing that in contractual law.
Increasingly, he thought of personal injury law. One of the salient memories of his youth was the death of a grandfather. "We all believe he perished because of malpractice," Zambri recalls. "That was a difficult struggle for my extended family."
When he graduated from law school in 1992, he took a job with a firm that handled injury cases, Koonz, McKenney, Johnson & Regan. One of the partners, Patrick M. Regan, remembers, "It was apparent early on that he had a particular knack for civil litigation."
Four years later, not long after Zambri proposed and was preparing to get married, he received his own proposal. Two, in fact—one to become a partner at the firm, and one to leave with Regan and start their own practice.
Undecided, he and his new wife, Mary, flew to Hawaii. There he sat in the sun and pondered the possibilities. The idea of becoming part of a new law firm won out.
"Starting a firm with Pat—someone I greatly admire and respect—was a special opportunity," Zambri says. "I remember fondly our first offices at the Presidential Plaza building." As the firm was being constructed, the Zambri family was building, too. "My wife was pregnant with our first child," he says. "It was a very exciting time."
It's difficult to imagine a father holding a newborn in outstretched palms and debating what a life is worth. But Zambri is required to ask the tough questions. What is the cost—the absolute dollar amount—of human suffering?
Robin Miles knows this firsthand. Fourteen years ago, her son sustained a traumatic brain injury in a diving accident. Zambri's partner, Regan, represented her. During meetings at the firm, Miles met Zambri.
A decade after her son's accident, Miles' parents were killed in a collision. Both were in their 70s, but still active. She had to drive by the spot where her parents were killed each day. It was unavoidable and "wrenching," she says. "Just wrenching."
Zambri heard about the death and called to express condolences, Miles remembers. During the conversation, he offered to represent the family with the insurance companies.
"The thought of having to argue with an insurance company about how much my parents were worth—I could not face that," Miles says. Zambri was able to obtain a favorable outcome.
Zambri is effective, says D.C. Superior Court senior judge and private mediator Nan R. Shuker, because he analyzes his cases realistically. "He is assertive but doesn't overdo it," she adds. "A lot of lawyers take their own persona too seriously. Sal is able to relate, understand and empathize with other people, his clients and even the other side. … He doesn't browbeat people. He doesn't come in with a tremendous sense of importance."
Plus he knows something about tenacity. He once litigated a case for 11 years.
"My client was a passenger in a vehicle operated by his friend. It was sideswiped by another passenger car on Route 95. Both cars stalled in the roadway," Zambri says. "My client left the car and moved to the shoulder."
However, the thought of his friend still in the car was too much for Zambri's client, and he returned to his vehicle to attempt once more to start the car. The car was then rear-ended by a tractor-trailer.
"My client suffered a brain injury. His friend died," Zambri says. "It went up to the federal court of appeals and then back to circuit court to be placed on a trial docket. We were fighting over the applicability of insurance coverage and other hotly disputed matters. We were seeking payments from a primary insurance policy and excess policies."
The settlement is confidential. It was favorable, but nothing could compare to something Zambri's client did. "Midway through the litigation, long before the resolution, my client changed his name to Zambri," Zambri says. "I can't put into words how that made me feel."
At times throughout his career, Zambri has kept more-or-less ordinary hours, coaching his daughters' soccer and basketball teams and spending time talking to students about the perils of distracted driving.
At other times, he has worked without lifting his head.
It was this way with the Metro case.
A year after the wreck, National Transportation Safety Board investigators reported that the probable cause of the crash was "failure of the track circuit modules … that caused the automatic train control system to lose detection" of the train that was stopped on the tracks.
Zambri says the nature of the injuries and the final moments of those who lost their lives, as later recalled by survivors, profoundly affected him, but it was the avoidability of the crash that kept him up at night.
According to a National Transportation Safety Board Railroad Accident Report, five days before the crash, a Metrorail crew team  replaced a key piece of equipment that functions to prevent crashes. After installation, the crew leader reported that she spoke with her supervisor about the problems they had while making track circuit adjustments. Her supervisor instructed the crew to observe two train movements to see if the track circuit would properly detect trains passing through; that morning, the crew leader said it did. But at the time of the collision, it didn't.The NTSB's report listed "lack of a safety culture" as a contributing factor to the deadly accident.
"Lawsuits help promote positive change to be safer," Zambri says.
Unsurprisingly, Zambri is against tort reform, or "tort deform," as he puts it.
"[Reform] closes access to the courthouse by procedurally putting in place rules that make it very difficult for people to file their claims and advance them, whether it be a shortening of the statute of limitations, whether it be putting a cap on recoveries, where legislators want to dictate what the value of the case is, and not leave it to a jury," he says. "It's contrary to the Constitution."
In March 2011, Zambri put in 200 hours on the Metro case. His workload steadily increased to 300 hours in July, 350 hours in August and 415 in September. 
As a matter of routine he would spend 12-, 14- or 16-hour days reading briefs on computer screens. The work was sometimes difficult to delegate to other attorneys. He knew too intimately the many moving parts, the characters and the science of the case. Depositions were frequent and lengthy—often eight hours, occasionally 14 hours and, in some cases, two days. It was not uncommon for him to get two hours of sleep.
Mitch Lambros, a Baltimore-area personal injury lawyer who also put in long hours on the Metro case, remembers the ding as lawyers would file briefs electronically at midnight. Zambri was good at getting witnesses to be forthcoming, Lambros says. "Some witnesses were playing games," he adds. "[Zambri] was good at pinning them down."
The case presented "amazing levels of work," Zambri notes, specifically, nine million to 10 million pages of documents.
The workload caught up with him. He developed a sty in one eye and had trouble focusing. He would hold a hand over his left eye, test it against the right eye, and conclude that at 45, he was already losing his vision. "I was able to see out of it, but distance was blurry and up close was blurry," he says. Concerned, he scheduled a doctor's appointment and was told he just needed rest—the one luxury unavailable.
He put exercising on the back burner and lost six pounds of muscle weight. Weight loss can be a good thing. For the already-lean Zambri, it was a bad thing. He admits that he worked in a way that was unsustainable.
But thinking about the victims—like the mother who left behind six children; the budding 23-year-old beautician set to fling open the doors of her first salon; a former commander general of the D.C. National Guard; a beloved chaplain—kept him focused. "I never felt overwhelmed," he says. "I knew I could work through it."
The case culminated in 2012. Zambri is unable to talk settlement amounts.
"I am at peace with the way the case was litigated," Zambri says. "It is work I am proud of. The case was so important to me, given the number of victims, including grieving family members; the extent of the harm done; and the impact our litigation has had on train systems and transit agencies throughout the world, including [new procedures on] how they are designed, installed, inspected, managed and operated."
Some talented lawyers get lost in the weeds, says Regan. "They forget the most important thing about clients—no matter how much anyone likes you, they don't want to be your client for one minute longer than necessary. People walk into law offices to get results, problems resolved. [Zambri] gets that."
Search attorney feature articles