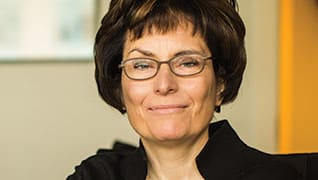 Photo by: Stephen Voss
The Queen of Consensus
If you build it, disparate parties will come to the table. At least, they will for Deborah Garza
Published in 2014 Washington DC Super Lawyers magazine
By Bill Glose on April 25, 2014
Deborah Garza has reason to brag. Consider the presidential appointment, her reputation as a colossus in antitrust law, not to mention her impressive career, 33 years and counting, which includes landmark cases such as the $81 billion merger of Exxon and Mobil, U.S. v. Microsoft and the USFL's suit against the NFL.
But bragging isn't what she does. With short-cropped hair and reading glasses that sway from her neck, the soft-spoken Garza brings to mind a friendly local librarian. Diminutive and attentive, she is comfortable sitting quietly as her green eyes puzzle out a situation.
Shortly after starting at the firm in 1990, "I had a research project that had to do with international antitrust issues," says Thomas Barnett, who, along with Garza, serves as co-chair of Covington & Burling's global antitrust and competition law group. "I started researching and figured out that the most significant document that had been created in the U.S. on those issues was the 1998 Antitrust Enforcement Guidelines for International Operations." While working with Garza, Barnett had no idea that she was one of the key people who had developed the document at the Department of Justice. "It was an early sign of the depth and breadth of her antitrust experience and expertise," he says.
Garza gained this expertise by alternating between private firms and three stints with the DOJ, where she was appointed acting assistant attorney general in charge of the antitrust division. Far from being slowed down by all of the competing interests at the DOJ, Garza learned how to operate within governmental bureaucracy and satisfy its disparate elements, earning a reputation as a consensus builder.
"She wasn't the typical backslapping, hail-fellow-well-met fellow who works in the agency," says Ken Heyer, deputy director of the Bureau of Economics, Federal Trade Commission. "She genuinely cared about people. She paid attention to everyone and made everyone feel valuable. … She's one of the most genuinely nice and caring people I've had the pleasure to come across."
Outside Garza's office window stands a statue of General Casimir Pulaski. A Revolutionary War hero, Pulaski was a Polish immigrant who became the father of the American cavalry. It's a reminder of her own story.
Garza, half-Polish, half-Mexican, grew up in Mundelein, Ill., a small, northern suburb of Chicago surrounded by glacial lakes.
"As a kid, learning about history and government was always very interesting to me," she says. "I noticed that a lot of the people I admired were lawyers, and I told my teachers I wanted to be a lawyer, and they encouraged that. As I grew older, it became clear to me that judges and lawyers were important people in the community who were empowered to help people. … I think it's really important for young people of diverse ethnic backgrounds to go into law, to have those people that you look up to in the community who look like you."
Garza's first job as a lawyer was with Jones Day in 1981, and one of her first cases was helping to advise the first ATM networks. The issue was whether rules adopted by the bankcard exchanges would restrict the freedom of individual banks to participate in the ATM network. It was the first time Garza was exposed to an antitrust matter. The interplay of an intricate set of rules that blended economic regulation with the best interest of the public fascinated her. She was hooked.
A few years later, Rick Rule, a former classmate of Garza's who worked for the DOJ, recommended her for a position, even though there was a hiring freeze at the time. One problem: He didn't exactly tell Garza he did it.
"I was a second-year associate sitting at my desk," says Garza, "and I got a call from J. Paul McGrath, the assistant attorney general himself. I was convinced it was one of my associate friends playing a prank, so I was completely relaxed. He told me that there's a hiring freeze, then he said, 'The good news is I'm looking for a special assistant and I'd like to talk to you about that. Would you like to come down?' 'Okay, sure,' I said, still thinking it was somebody playing a prank. So we arranged that and I was about to go ask my friends down the hall which one of them did it when I got a call from Rick, and he said, 'Deb, what's wrong with you?'"
She walked into McGrath's office feeling relaxed and walked out with a job as the special assistant to the assistant attorney general.
"So I told my mom," Garza says, "and she said, 'Let me get this straight: You're an assistant to an assistant?'" Garza shakes her head and laughs. "I don't think my parents really got what the heck I was doing. All they knew was I was always busy, and I was always tired."
Says Heyer of Garza on the way up, "She made a point of attending going-away parties for staff. It's a small thing, but it speaks to her respect for everyone and her ability to make those around her feel their contributions matter."
During her first stint at the DOJ, between 1984 and 1985, three words struck fear in the heart of the American workforce: Made in Japan. "There was a concern in the 1980s that U.S. antitrust laws were being enforced in a way that made it hard for U.S. companies to compete on a worldwide basis with Japanese and other companies. So it was a time of transition for antitrust enforcement."
Garza became involved in revising the U.S. merger guidelines. She gained a wealth of knowledge from the introspective examination. She also learned a lot about government by working on major cases. The Consolidated Rail Corporation, or Conrail, for example, had been formed a decade earlier when the U.S. took over bankrupt rail lines to keep the trains running. By the mid '80s the rail lines had become profitable again, and private companies were vying to take them over.
"[Working on Conrail] allowed me to see how things worked at the executive branch level," says Garza, "because we worked a lot with the Department of Transportation, which was led by then-Secretary of Transportation [Elizabeth] Dole. I actually was able to observe her close-up in meetings and watch her testimony and work with her. Liddy Dole was a very strong woman, very highly respected, and there weren't that many women lawyers with her status at the time. She had certainty and she was decisive, but she was never harsh and she was very gracious."
Flexibility was a requirement to be effective at the DOJ. The issues that came before her were often politically sensitive and backed by stakeholders who were vested in furthering their own party agendas. She had to find the common thread that would bind both sides together.
"It's unusual in that you've got this potential divide between the political and the nonpolitical staff," she says. "So how do you make things work so everybody is pulling the same train?"
She managed. "The amazing thing about her is that she listens and is willing to change her mind," says Heyer. "Most lawyers make up their minds and cannot be counted on to modify or change them much in response to new facts or arguments. She was always pretty transparent as to what she was thinking and what kind of information might be needed to persuade her about things. It certainly makes people feel that they've been heard and are part of the process."
It is unusual that a case will cross Garza's desk for which she cannot find a solution that is amenable to all parties involved. Barnett cites one instance in which Garza was brought into a case late where the DOJ and the companies involved were headed toward litigation. "As Deb always does, she immediately identified the key issues in the transaction," says Barnett. "She understood what was important to the agency and was able to educate the clients in a way so they could restructure what they were doing and the way that they were doing it. The transaction had been headed into a fight, but within a matter of just two or three weeks of her getting involved, discussions were back on track. Soon thereafter, the parties were able to proceed with their transaction under an approach that assured the agency that the transaction would not harm consumers."
When the government broke up AT&T into seven regional Bell companies in 1982, that landmark decision laid the groundwork for what would take up most of Garza's time during her second stint at DOJ, from 1988 to 1989.
"At that time," says Garza, "there was no cable, there was no wireless; there was just the phone line into your house. The notion was that the local telephone companies had a bottleneck monopoly, and the thought was that we should divorce the Bell operating companies from the long-distance company." This, the DOJ accomplished, resulting in the multiple-carrier system we use today.
By 2004, the government turned its attention to the Internet. The Web had been around for more than a decade, and questions had been raised as to whether antitrust policy and enforcement needed to be changed to account for new technology changes. So an Antitrust Modernization Commission was formed to make recommendations on how to apply antitrust law to new high-tech products and systems. One-third of the 12-member panel was appointed by the president, one-third by the Senate and one-third by the House. Without a strong and unifying leader to chair the panel, the bipartisan commission would fail. So President George W. Bush called on Garza.
"Everybody said, 'I feel sorry for you because this is going to be highly contentious and it's not going to work.' I didn't want to go into it with that attitude, so I actually did a very Deb thing and I bought a lot of books on how to build consensus," she says.
Jonathan Yarowsky, partner at Wilmer Cutler Pickering Hale and Dorr, was then the AMC vice-chair. "Where I think we really benefited from her leadership was her vast experience," says Yarowsky. "Her perspective is so well-rounded about the larger issues of competition policy and the intersection of antitrust laws with other areas of law. Antitrust can be construed small or writ large, and Deb had the ability to do both."
After three years, the AMC produced a 449-page report on antitrust reform that recommended a revised system for antitrust litigation, new policies for mergers and more effective means to enforce those policies to compete effectively in domestic and global markets.
"I don't think anyone on the commission was shy. They had strong views," says Garza. "There was a little bit of sparring in the beginning, but it was obvious that everybody wanted the same thing: something they could be proud of."
She believes antitrust enforcement on the whole has been largely nonpartisan.
"The AMC report supports that," she says." [Assistant Attorney General for antitrust] Bill Baer also agreed with that assessment in a recent speech he gave in New York. That does not mean there has not been difference in rhetoric. There has. And Republicans and Democrats may also differ with respect to their faith in the benefit of government intervention. But their objectives—to protect the integrity of the competitive process—are the same."
Search attorney feature articles