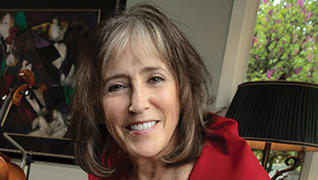 Photo by: Rick Dahms
Playing By Heart
Victoria Vreeland has made a career of championing the powerless
Published in 2020 Washington Super Lawyers magazine
By Carol Tice on July 16, 2020
When Victoria Vreeland became the first female judicial clerk at the Washington State Court of Appeals Division III in 1976, a surprise was awaiting her in the break room: Her name had been added to the posted roster of secretaries who were supposed to brew up the coffee every day.
Her response? Vreeland bought a new Mr. Coffee machine and installed it in lieu of the old drip machine. She posted usage instructions with a new rule: Whoever drinks the last cup makes the next pot. 
When you're a woman whose law career began in the '70s, not all your wins happened in the courtroom. 
The woman who quietly taught judges to make their own coffee would go on to land major wins and settlements in cases of race and sex discrimination, sexual abuse and hostile work environments. Over time, she's come to think of her practice, a mix of plaintiff's employment and civil rights litigation, as "abuse-of-power law." 
"Having come of age in the '60s, I have always been for the little guy, the underdog, and the individual who is just trying to survive in the world and have a decent life," she says. "When someone in a position of power takes unfair advantage of another individual, then I search for a remedy." 
Vreeland, 71, has secured more than $65 million in awards and settlements for her clients, including an $11.7 million verdict in a 1997 gender-discrimination suit. This year, she was named Lawyer of the Year by the King County Bar Association. Women with established law careers have a responsibility, Vreeland believes, to show younger women that you don't have to be an alpha male to be a successful trial lawyer.
"We need to help them stay strong, to dispel any limitations or fears they may have," she says. "We can help them find and use their own voice with its broad power and perspective. They can learn from our mistakes and retool to improve on our successes." Vreeland has led legal organizations including the Washington Employment Lawyers Association and the Washington State Association for Justice, and served as a governor of the state Bar. And in 2007, she became the first private-practice attorney to receive the Myra Bradwell Award, presented to a Gonzaga University School of Law alum for furthering women's and children's issues. 
Launching her career, Vreeland herself found few female role models. When she started doing trial work at the attorney general's office, she recalls, "I'd never argued a motion or done a trial, or even seen one, much less seen a woman do one. I just had to go and do it." 
She moved to Gordon Thomas Honeywell, where she stayed for 28 years, until starting her own firm, Vreeland Law, in 2011. Early in her career, she found success in insurance and banking law. It was a chance to learn how the business world worked—knowledge that has served her well. 
Vreeland also volunteered with the King County Sexual Assault Resource Center, staffing the rape hotline and learning about victim trauma. During one trial, she found herself on the opposite side of rape victims, defending an insurance company that covered sexual assault in its homeowners policies. "I went to the insurance company," she says, "and worked on educating them about victims and victim response, and sex abuse."
In the mid-'80s, Vreeland took a case with a young adult sexual-abuse victim. She made a decision: "I did not want to continue to just get money from one big company's pocket into another big company, but rather to help those who were abused. That includes persons hurt and damaged by domestic violence, sexual abuse, workplace harassment, wrongful termination, or victims of any kind of discrimination or civil rights violations."  
Being sensitive to wrongdoing goes back to the days of her hardscrabble childhood in the Tri-Cities. She grew up as one of two daughters of a single mom who came out from the Midwest in the 1950s to work at Hanford Nuclear Reservation. She saw how Bernice Schmale Sadler struggled, as an unmarried woman, to rent a house or get a credit card. Becoming an attorney felt like a way to fight injustice.
As she battled for her clients—in the early years, often as the only female attorney in the courtroom—she became one of the most widely respected and well-connected women on the local legal scene. Vreeland worked with former Gov. Christine Gregoire at the attorney general's office, and later—as a private attorney—was appointed special attorney general for the insurance commissioner by Gregoire's office. Vreeland also served along with current Seattle Mayor Jenny Durkan on the state Bar's board of governors. She worked for future U.S. Sen. Slade Gorton at the attorney general's office, tried cases for then-Insurance Commissioner Deborah Senn, and served as an inspiration for Washington State Supreme Court Chief Justice Debra Stephens, who, as a law student, watched Vreeland argue a state Supreme Court case held at Gonzaga. 
"I'm just a farm girl from Eastern Washington who happens to know folks," Vreeland says with a laugh, referring to the years when she helped out on her stepdad's farm in the Kennewick area, driving the tractor and setting sprinkler pipes. 
As a sole appellate attorney working on behalf of the now-WSAJ Foundation, Stephens tried cases with her mentor, and filed a brief for an amicus organization in Korslund v. Dyncorp Tri Cities Services, Inc., in which Vreeland represented three workers who claimed they had been unlawfully terminated by a global services company operating at Hanford, negotiating a confidential settlement against a major government contractor. 
"Vicky takes really hard cases, usually fighting some big monolith," Justice Stephens says. "Her skill is in preparation and interviewing. She comes off as a normal person who's very easy for people to talk to—a real skill for a trial lawyer. She'd take on impossible cases, and then make you see they weren't as impossible as you thought."
Vreeland's big breakthrough came representing a female national sales manager in 1997. In Passantino v. Johnson & Johnson Consumer Products Inc., Jennifer Passantino accused the personal-care company of repeatedly passing her over for promotion, retaliating against her for complaining, and urging her to take a lesser position. She was a dream client, Vreeland recalls: a conservative, churchgoing, dedicated worker who never quit her job, even as the suit dragged on. 
In closing arguments, Vreeland didn't give the jury a dollar figure. She did ask for compensation for emotional distress, even though Passantino toughed out her experience without ever seeing a therapist.
When the jury came back with a then-record $11.7 million verdict, Vreeland recalls, "I couldn't breathe." She raced for the pay phones in the Tacoma county court rotunda to tell colleagues, but was so stunned she couldn't recall the amount of the award. Though the federal cap on punitive damages later reduced the total, Vreeland still tears up recalling that moment. 
"The justice system worked the way it was supposed to," she says. "We had great facts and a great witness, and my client was vindicated." 
She believes the system also worked in the 2015 race-discrimination case David Gillum v. Safeway Inc., in which she represented an African American man who said he experienced a hostile work environment, including a pattern of racist comments. The case was confidentially settled on the eve of trial.
While her courtroom wins have been many, Vreeland believes that justice is sometimes served in other ways. In her 1992 case Victoria C. v. the Cincinnati Bengals, Inc., a woman accused 15 players of gang rape and other crimes. The highly publicized case was dismissed due to a release the victim had signed—but Vreeland says the Bengals players were met with public scorn, and NFL players' behavior became a topic of public discussion.
"It raised awareness," Vreeland says. In his book Public Heroes, Private Felons: Athletes and Crimes Against Women, author Jeff Benedict writes that one juror at the trial commented to a newspaper that most of the jury believed a rape had occurred.
A good student-turned-rebel who married straight out of high school and had her first son at 21, Vreeland had only enough money to apply to one school. She picked Gonzaga. 
Getting a loan for law school was tough. Vreeland found success only after friends steered her to a receptive local female bank-branch manager.
"One male loan officer even asked me what kind of birth control I used," Vreeland recalls. "He said, 'These loans are supposed to be for people who plan on finishing school.'"
Those loan officers had no idea who they were dealing with. Vreeland's teenage marriage broke up, and she worked multiple jobs while juggling childcare in an era before day care centers were a thing. She still ranked first in her class all three years.
When the biopic of Supreme Court Justice Ruth Bader Ginsburg, On the Basis of Sex, came out, Vreeland watched it at a theater—and heard young women in the audience gasping at the sexism Ginsburg had endured. Vreeland was hardly shocked. 
"That was my life, too," she says. "You got asked all the time what you'd really done for your professors, to earn all those A's."
When she opened her own practice, she vowed she would never ask an assistant to buy a gift, pick up her dry cleaning or make her coffee. She oversaw the office décor, choosing soothing warm tones and original wall art from the WWI and WWII eras of Lady Liberty and other female figures. 
It's no surprise that Vreeland serves on the Washington State Supreme Court Gender and Justice Commission, a post for which she was nominated by her predecessor in the role, longtime Seattle litigator Judith Lonnquist. The two have known each other for 30 years. 
"Vicky is indefatigable," Lonnquist says. "She's the consummate professional—smart, dedicated, hardworking, and a good feminist."
At this point in her career, the consummate pro has her habits down. Always overpreparing for cases, for instance. Wearing her court uniform of what she thinks of as her Sunday best—a suit with a skirt, never pants: "Just how I was raised."
As for her notebooks? They're always white. "Because," she says, "we're the good guys." 
---
Inner Harmony
When a tough trial is getting her down, Vicky Vreeland hits the keys. She studied piano as a child, and later found it helped beat law-school stress. 
"I taught myself different difficult Chopin pieces, all through law school," she recalls. "My mother shipped my old Kingsbury upright—she bought it for $100 when I was 8—to me for my birthday, because she knew how much I loved to play and needed it to survive."   
She still has that old upright, but has added a prized 1948 Steinway grand piano. Early in her career, she would come home from work and play. If youngest son Cole complained, she would joke, "Let me do this—or mommy'll need to go drink." 
Vreeland often shares her piano passion with others—she's played for church choirs and many other venues. When her mother went into an assisted-living facility, Vreeland became a regular Sunday concert fixture for six years, playing '30s, '40s, and '50s music for residents who sang along from the 200-page songbook she created for them. 
"Music heals, lifts you up, allows expression, and is essential to a great life," Vreeland says. "During trials when I am staying at home, I seem to need to sit down at night and pound away."
Search attorney feature articles