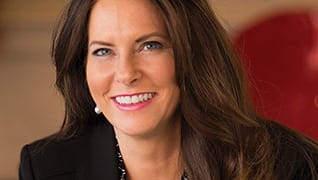 Photo by: Richard S. Lee
Insurance Quotes
Insurance coverage attorney Lee M. Hall on contracts, the happy side of failing, and why she knows West Virginia's golf courses better than you do
Published in 2014 Virginia Super Lawyers magazine
By Amy White on June 13, 2014
Q: So why the law for you?
A: I've always struggled with that question. I'd like to be a person who says, "I was greatly influenced by the desire to do well and to have a positive influence on the community," but the truth is my mother was a legal secretary. She had such a great respect for the men she worked with—and I say men because at that time, it was all men. But she spoke with tremendous admiration about their intellect and dedication to their clients. I was influenced by that. Then when I was a freshman in high school, I joined Law Explorers, which was a division of 4-H that allowed you to go into a law library and a courtroom and look at cases. Since that first time I got into a courtroom, I set my sights and really never looked back. But I'm not sure that's always the best way—that laser focus.
Q: Why not?
A: Because we mature. We experience different factors that influence our decision- making process, and you really close off other possibilities when you're so focused and narrow in what you want. I love the law—that's true. But there might have been a dozen other things I'd love to have done. I think I'd love to teach history, for example. I'm really interested in English history, and increasingly in all European history. I love to garden and experiment with different landscaping techniques. But I had a vision of what an attorney did, and I thought that was what I wanted to do.
Q: What kind of lawyer did you imagine yourself to be?
A: Performance was something I enjoyed, so I did see myself as a great trial lawyer. I was a thespian in high school, I was in community theater, and did a lot of productions. 
Q: What was your favorite role?
A: I had a barmaid role in a community theater production of The Drunkard that I loved. I had a bit part in it, but the music was fun, the actors were talented, and it was set right in the middle of Prohibition.
You know what? L.A. Law was a great influence.
Q: That is officially my first recorded L.A. Law reference.
A: That's probably because it's embarrassing. Almost all of my influences were fictional. The only blueprint to the law I had was the men my mother worked for. Of course, there was also Atticus Finch, Perry Mason, and Paul Newman in The Verdict. But they were all men, too. The first time I really saw women I could identify with as lawyers, it was the television characters on L.A. Law.
Q: So how did the thespian end up in insurance coverage?
A: [Laughs] No kidding! I think I can trace it to law school: The one class that I always just got was contracts. It felt intuitive. Even [Uniform Commercial Code] type contracts: I understood codes, their relationships to each other, and it was a comfortable place for me.
Q: Was your fluency in contracts surprising?
A: It was. I was never someone interested in numbers and fine print. I was interested in concepts.  I studied philosophy, economics and history—no fine print there.
There's also the fact that right out of law school, I was offered a position at one of the biggest and one of several prestigious firms in Kentucky at the time. I was placed on a team working on a huge insurance coverage case arising out of a mine disaster. I ended up working on this rescission claim for millions of dollars in policies based upon a failure to properly identify a risk in a policy application. And I just learned it. I worked with a man who passed away, Steve Schmidt, one of the most brilliant insurance coverage lawyers who ever practiced in Kentucky. He explained to me why what I thought was so grossly unfair—that is, of course, the rescission—was in fact appropriate under those circumstances. He understood the policies behind underwriting, and what the provisions say and how the policies were priced. It sounds very dry, but it was something I had learned and it set me apart from other people. Most young attorneys didn't have that knowledge. So when other people had a tough question about insurance coverage, they'd come to me.
Q: Speaking of fine print: How do you balance the emotion between people and paper?
A: You have to look at it from a broader standpoint: that if every carrier paid [out for] every sad story—and of course, many times, the claims we're presented on are very sad—it just wouldn't work. First, not every carrier denies coverage. Often we find that there is coverage or there is a question that should be presented to the court. And in those cases where coverage is denied, or we recommend it, it's because a claim is not covered under the policy. It would be nice if every insurance policy provided every insured indemnity and defense for every claim that was made, but the carriers would go out of business pretty quickly and there would be no insurance industry. Policies have to be interpreted according to the terms of the policy. So if you say, "I have two employees and I've got this tiny little business with 300,000 in gross sales," and we later learn you were involved in an entirely different line of business and you have 50 employees … it's not reasonable to expect an insurance carrier to pay those claims. Having insurance available in the marketplace is in everyone's best interest.
Q: What was your toughest lesson as a young lawyer? Maybe it was a failure of some kind.
A: Let me tell you something: I went from a Kentucky firm of 150 people, to Jenkins Fenstermaker, which probably had 12 litigators. It was very challenging to go from a firm with so many resources to a firm where I didn't know the state law, and I hadn't been to law school with anyone in the area. And then of course the legal climate at the time [I moved] was very different. Within two years, of this firm of 12 litigators, eight had left. One group left within two weeks of my arrival and another group left around a year later. I was still a very young attorney and was practicing general insurance defense and general litigation defense, and it was me, an associate who was one year more experienced than I was, and one junior partner. And we literally had to do everything. Trust me, if there was a mistake to be made, I probably made it, and I figured my way out of it. And I think that's probably what has made the difference in my practice today.
Were those failing moments? I don't know. But I do know most failures have a teaching point. If you think you've dropped the ball, just step back and use your brain. Failing gives you the opportunity to be creative.
Q: What's a typical day for you?
A: I start every day with a list of goals. I try to work those goals down. Goals like, "I want to have a strategy session on this case, set our discovery plan for the case, get motions for summary judgment filed on this case." Every day I get calls from clients who are facing problems or concerns that they need immediate help with. Sometimes its long-time clients; other times it's someone I've never spoken to before who is totally unfamiliar with state law, and so we spend quite a bit of time talking about the influences that have shaped the law, what our law is on a particular point or a particular provision or exclusion.
Q: What do you love most about your job?
A: I love the firm I work with and the people I work with at this firm. That's first and foremost. I love the fact that my days are unpredictable and have highs and lows, and that I'm able to help people with what they perceive as a crisis almost every day. Often when people call me, I hear the panic in their voice; by the time we talk through the issues, I hear that the panic is abated. I like knowing that I did that.
Q: What do you now know about your job that you wish you knew when you started?
A: Honestly? Everything.
A more direct answer: I wish I had known about the commitment. I think that this job, for me, at least, is a full-time, 365-day-a-year career that never sleeps, and that requires nerves of steel because you have to take some gutsy positions. I think I believed when I started that you could practice all day and go home on the nights and weekends and approach it more like a job job. But you can't.
Q: Does this mean you don't get out much?
A: [Laughs]  I do get to hang out with my sons, who are 15 and 18, and my husband, who is also a lawyer. All three play golf all the time, so in my free time, I walk the golf course with the boys and try to attend all their tournaments. It's quiet and peaceful.
Q: How do you see your practice evolving?
A: I definitely want to continue the insurance work. And I think there's an endless capacity to do that. The marketplace in West Virginia has opened up quite a bit because of some of the tort reform. I think that there will be more carriers issuing policies within the state. I've been really interested in the excess and surplus market. Those policies are unique and usually involve endorsements written specifically by and for the insurance carrier. Those change with the risk presented, and there's always room for interpreting those.
Q: What's something your peers in the Bar might be surprised to know about you?
A: That I can find a place to have a conference call on every single golf course in the state.
Search attorney feature articles