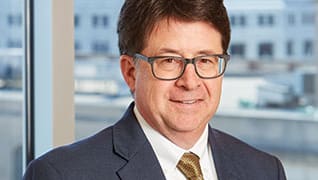 Photo by: Corey Hengen
Dean Strang Has the Mic
Making a Murderer has brought him, and the justice system, to the national stage
Published in 2016 Wisconsin Super Lawyers magazine
By William Wagner on November 11, 2016
It's showtime at the Chicago Theatre, and a throng has turned out to see America's newest sensation: Strang & Buting.
They take the stage amid spirited applause. The venue is known for hosting musical acts, not suits from the legal community, but this isn't a show in the traditional sense—it's serious business. In fact, the stakes couldn't be higher.
To most, Dean Strang and Jerry Buting are the lawyers who defended Steven Avery, whose controversial murder trial from a decade ago was depicted in the 2015 Netflix documentary Making a Murderer. The 10-part series became a pop culture phenomenon and so, in turn, did Strang and Buting. So, here they are on the latest stop of a national speaking tour, microphones in hand.
"Jerry and I were getting on with life, minding our own business," Strang, 56, explains to the eager Chicago Theatre audience. "Then Making a Murderer came out. Effectively, Jerry and I were handed a microphone. We thought that, while we have it, we should use it."
A few weeks later in a setting more within Strang's comfort zone, his office at Madison-based criminal defense firm Strang Bradley, he expands on this point.
"Jerry and I really were handed a microphone, because suddenly people were interested in what we might have to say," he says. "Given my debt to the legal profession, I think it's a matter of obligation to use the microphone to useful ends: furthering a conversation about the strengths and weaknesses of our justice system, thinking about ways we ought to be improving the administration of justice. I can point to 100 other lawyers who might do a better job with the microphone than I would, but for the moment, it got handed to me."
Despite his heady aspirations, Strang can't seem to escape his new station in pop culture. When he's reminded that The Guardian called him a sex symbol, he winces. And when it's pointed out that a Tumblr called StrangCore deemed him a fashion icon, he winces again and squirms in his desk chair for good measure.
Robert Henak, who cut his professional teeth alongside Strang in the early '90s at the renowned Milwaukee criminal defense firm Shellow, Shellow & Glynn, laughingly provides a more accurate rendering of his former colleague: "He was definitely a nerd. That hasn't changed any. He was a bookish kind of nerd."
One of Strang's mentors, Stephen Glynn, says he stood out from the moment he started working at Shellow, Shellow & Glynn.
"Dean was someone who had an interest in bigger and more important issues," recalls Glynn, who is now mostly retired. "He recognized that criminal law is where the Constitution is the rubber hitting the road."
Strang's overriding objective following his graduation from the University of Virginia School of Law in 1985 was to do some good in the world. As corny as that may sound, it's undeniable. Strang is in the business of changing lives.
Exhibit A is James Rostron, a former member of the Outlaws Motorcycle Club whom Strang represented in 1997. Rostron was charged with RICO violations and conspiracy as part of an alleged crime spree, and after approximately two months at trial, Strang orchestrated a plea bargain that lessened the charges to one count of a violent crime in aid of racketeering and carried a three-year prison sentence. Rostron believes his sentence would have been double that had it not been for Strang.
"I was in a group trial," says Rostron. "Of the whole group, I had the least amount of charges, the least amount of things to worry about. But I know Dean put more effort into my case than any other lawyer for any other defendant. There was another defendant in the case who was looking at life [in prison]. He got appointed a public defender, and this public defender would show up in court with just his lunch bag and a little yellow legal pad. And Dean, representing the client with the least amount of charges, would show up with two huge book bags. When he was in the courtroom, he was prepared."
Strang's prep tells only part of the story. The relationship he developed with Rostron reveals the full scope of his sensibilities as both a lawyer and a human being.
"Meeting Dean opened my eyes to what a good person is," Rostron says. "I couldn't imagine anybody with better morals or ethics. He actually cared about Jim Rostron—I didn't feel like just another client. That made him a valuable person to have in my life, so I kept in touch with him. He's been a friend. We get together for lunch every year or two, and I always feel like he's genuinely happy to see me."
Since his release from prison in 2002, Rostron has tried to pay it forward. In the aftermath of Hurricane Sandy in 2012, he drove to New Jersey and volunteered for two weeks cleaning up wreckage. He's performed other similar deeds, including providing relief in Washington, Illinois, and Moore, Oklahoma, following devastating tornadoes in 2013.
"Dean cared for me so much, I feel strongly that I can't let that go to waste by letting him, and the others who believed in me, down," Rostron says.
Strang says Rostron has fully succeeded on that front: "I really respect what he's done with his life since getting out of prison," Strang says. "He has been a credit to his community, and someone who has proven that he belongs in the community."
For Strang, the Rostron case evolved into something more than helping to secure the wellbeing of just one person. It was a seminal moment in his career, prompting him to attempt to reform Wisconsin's criminal defense system. In August 2000 he became the first federal defender of the newly created Federal Defender Services of Eastern Wisconsin, Inc. (later named the Federal Defender Services of Wisconsin, Inc.), an organization whose mission is to ensure that indigent defendants receive adequate legal counsel.
"Because of what happened in that trial, Dean changed the public defender program in Milwaukee," Rostron says. "Dean sat in that courtroom for nine weeks and saw the crap representation that some of the defendants had, and he was appalled by it. So after the trial, he went to the trouble to try to make a change. And he stayed in that program [for five years] before he moved on. I'm sure he didn't make anywhere near as much money doing that as he would have if he had stayed a private lawyer. He took time out of his life to make a change. What does that say about somebody's ethics?"
The Steven Avery case didn't sit well with Strang from the outset. More than a decade later, it still doesn't. "He's doing life without parole, and he should not be," he says.
The well-known saga began in 1986, when the Manitowoc County resident was sentenced to 32 years in prison for a rape conviction. He was exonerated in 2003 when DNA evidence proved his innocence. Avery filed a $36 million civil suit that threatened to bankrupt the county and, in 2005, as the civil suit was nearing its crescendo, Avery was charged with the murder of photographer Teresa Halbach. Along with Buting, a formidable criminal defense attorney from Brookfield, Strang accepted the case, and their strategy centered on showing police misconduct, including the planting of evidence. It was a perilous path to navigate.
"There was a time when those of us who try criminal cases would be very concerned if we offered testimony that was contrary to what a law enforcement officer had provided," says Glynn, who represented Avery in his civil suit before it evaporated because of the murder charge. "For the vast majority of jurors, anything a law enforcement officer said was to be believed, and anything an accused person said was to be disbelieved."
The trial generated an outsized amount of media coverage statewide, making Strang and Buting's task even trickier.
"There are distractions in a case that's being closely followed by the media, and you have to learn how to manage them," Strang says. "You're aware that missteps will be seen publicly by many more people. And I think you have to be mindful all the time of how, within ethical bounds, you can help shape the media narrative. It's a constant dynamic process."
Additionally, the inflammatory nature of the case placed the two attorneys directly in the crosshairs.
"There was a good deal of hostile reaction [during the Avery trial], by emails, letters, and in person," Strang says. "An example is when Jerry and I were at a restaurant in Appleton one Friday night during the trial. We were waiting for our table in the lobby of the restaurant, and parents were shooing their small children away from Jerry and me."
When Making a Murderer was released, the attention resurfaced and intensified. Most of it was beyond positive, but there has been pushback from other corners. Some have alleged that the series withheld pieces of information and that it is inherently slanted in Avery's favor.
Strang shrugs off these criticisms: "The criticism of the editorial choices of the filmmakers [Laura Ricciardi and Moira Demos] is almost entirely unfair. The police and the prosecution were given repeated opportunities to participate, and they chose not to do that. The filmmakers took 140-plus hours of evidence and gave just the Avery trial itself a generous three-plus hours of time. They managed in those three hours to cover all the arguments and evidence that both sides were contending were most important at the time."
To this day, Strang firmly believes in Avery's innocence and is pained by the plight of his former client. But in a broad sense, he's heartened by the good that has come out of Making a Murderer and other true-crime series.
"I think progress comes," he says. "And the speed at which progress comes is accelerated when the public begins to pay attention to how their police departments are serving their communities, how the judicial system is functioning, and whether public resources are being expended well and wisely and achieving a reliable, fair system for all of us. I see reason for guarded optimism in the public response to documentaries like Making a Murderer, The Jinx and Serial."
Strang sees reasons for guarded optimism all around him.
He has taught law at Marquette University and University of Wisconsin-Madison, and says, "I see students who are increasingly going to law school for the right reasons. They're not necessarily looking for the pathways that lead to wealth, but rather they have public service in mind. I started noticing it around 2008, about the time of the housing crash and recession."
He sees reason for guarded optimism in the public discourse.
"We're having a robust dialog about the relationship between police agencies and the people they serve," Strang says. "The robustness on all sides of the debate is very healthy. Even when it's raucous and seems fractious and divisive, I think it will help in the long run."
He sees it in shifting societal views toward incarceration.
"There are systemic [changes] in states like California starting to roll back three-strikes-and-you're-out [sentencing laws]," he says. "And citizens are broadly becoming discomfited and unhappy that state corrections department budgets now are exceeding state university budgets. Across the political spectrum, people are asking what possible sense that can make. President Obama has issued an unparalleled number of commutations, and the public has been largely supportive of that."
Strang sees it in his law firm, too, which he has deliberately stocked with young upstarts.
"I'm the oldest person in the firm by 22 years," he says with a chuckle. "They're more willing to change and grow [than older attorneys]. They're more attuned to where American culture is going."
As for his own heightened profile in the wake of Making a Murderer? "All of that has already tapered off dramatically," he says. "I don't think over the long haul it will change the trajectory of either my professional or personal life."
That seems unlikely. He spent some of his summer in negotiations to host a criminal justice investigation TV series, Road to Justice; a follow-up season of Making a Murderer is in the works; there's talk of a feature film based on Making a Murderer, with stars ranging from Kyle Chandler to Stephen Colbert rumored to play Strang; he hopes to publish his second book by 2018 (the first, Worse Than the Devil: Anarchists, Clarence Darrow, and Justice in a Time of Terror, came out in 2013); and Glynn believes he may well become an appellate judge someday.
The mic won't be taken away from Strang anytime soon.
---
Partners in Criminal Defense
What sets Strang apart in the eyes of one of his closest colleagues
I've known Dean for more than 25 years now. We never worked together in the same law firms,
so the Avery case was my first chance to work with him on a daily basis. It was a wonderful experience 10 years ago, and the whirlwind year of travel we've done for our speaking engagements has been a great way to reunite that close friendship. I couldn't have asked for a better partner to share this experience with.
Dean's strengths are many, especially in legal writing and analysis, and his civil and scholarly approach to the practice of law has lifted the profession to higher standards in many ways. But the viewers of Making a Murderer saw his remarkable talent speaking beautiful, fluid, unrehearsed prose as well. My favorite line was when the prosecutor complained about having to start off "swimming upstream" if the judge gave a curative instruction about the prejudice of the press conferences and the added charges the state knew they couldn't prove. Dean's reply is a classic, and it was completely extemporaneous:
"All due respect to counsel, the state is supposed to start every criminal case 'swimming upstream.' And the strong current against which the state is supposed to be swimming is the presumption of innocence."
–  Jerry Buting
Search attorney feature articles