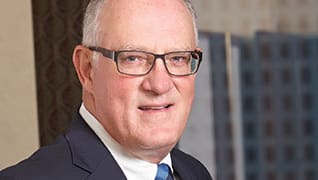 Photo by: Corey Hengen
On the Variety of Things
To general litigator Dean Laing, it's a new day every day
Published in 2014 Wisconsin Super Lawyers magazine
By Angela McManaman on November 7, 2014
You might call it the day Milwaukee stood still.
"It was just kind of eerie," recalls Dean Laing, who was nine or 10 hours into a typical 12-hour, 12-soda day at the firm when he heard the news. "When you drove through the streets in Milwaukee, almost no one was on them. … Milwaukee did stop for a day."
Everyone who remembers the day, July 14, 1999, knows it was warm and windy.
It came after nearly a decade of should-we-or-shouldn't-we debate, after a controversial tax on five southeastern Wisconsin counties followed by a major-league decision and three years of construction. The 567-foot Lampson crane—known citywide as "Big Blue"—erecting the new Milwaukee Brewers stadium had collapsed. A late-day lift of 450 tons of the stadium's retractable roof combined with afternoon winds and an accelerated lift speed compromised the crane. The crane and its single-panel load slammed 2,000 tons of steel into the nearly complete Miller Park. Three ironworkers died in the crash.
For those first hours, Laing was on the sidelines with the rest of Wisconsin. Hours later came a phone call that put him into the mix on behalf of Mitsubishi Heavy Industries America Inc., which was in charge of the roof construction.
"By 7 p.m., we had set up a meeting for the next morning [with Mitsubishi]. It was very intense, obviously, for the families who had lost loved ones. The union had made death threats to the person in charge at Mitsubishi who had decided to do the pick. And so it was very intense for everybody."
Laing and his colleagues at the midsize Milwaukee powerhouse O'Neil, Cannon, Hollman, DeJong & Laing referred out some work, including possible criminal defense, as the catastrophe at one of Wisconsin's largest construction projects morphed into a massive legal undertaking. Jim DeJong, firm president and transactions/mergers expert from the firm's business law group, would manage the relationship with Mitsubishi.
Laing's specialty was that he had none—he'd amassed an eclectic, complex, deep portfolio in broad-based litigation from medical malpractice to shareholder disputes to bet-the-company corporate litigation. He would operate as lead attorney for Mitsubishi when Southeast Wisconsin Professional Baseball Park District sought damages of $50 million.
"Our firm was there for the whole time because the question becomes: 'Who's going to pay for the damage to the roof?' Then the next piece of it was that the roof wasn't working. … [The plaintiff] was looking to get millions and millions for what they alleged were defects in the roof, and that's where I was helping."
Laing is currently 31 years into his career as founder of the litigation practice at O'Neil, Cannon, Hollman, DeJong & Laing, a firm he proudly calls the only midsize general practice firm in town, at a manageable 38 attorneys.
"If somebody doesn't want to go to a big firm or is too big for a small firm, we're it. We're the only game in town right now, and we have been able to attract major clients that might go to other, bigger firms because of the successes we've had. … But this place started out small and remembers its roots and is a real nice environment."
Ask for a description of his own practice within the firm and you'll hear a quick recitation of what Laing won't do: securities litigation, criminal litigation, and this: "I don't represent insurance companies defending personal injury claims. I couldn't do that. I just couldn't because of my background. That's just not in the cards for me."
Always in the cards, though, was a legal career.
One of the first signs was when Laing, a star point guard, shadowed the Greenfield High School debate team in the early '70s. Alas, his athletic schedule kept his interest in debate from getting too serious. "Athletes weren't debaters then," he remembers, "so I had to quit debate. But I really, really loved it."
The son of a homemaker named Sandie and a union man named William who financed his family's 1,000-square-foot home on a salary from Miller Brewing, Laing bounced between Eckerd College in Florida (too far from home), and UW-Platteville ("the only place to eat in town was Hardees"), before finally landing at University of Wisconsin-La Crosse, where he dropped the basketball and got more serious about grades and a future in litigation.
He settled on a social work degree, aiming for a solid GPA that would help him field a successful law school application.
It worked. Trading undergrad for Marquette University Law School and his basketball jersey for an engagement ring, Laing hit his stride and quickly found his professional passion: litigation.
"Being a trial lawyer seemed very similar to being an athlete in the sense that it's very competitive. Everybody wants to win. You fight as hard as you can. You work harder than the other guy. You're always a gentleman. You understand they're trying to beat you. You're trying to beat them."
There was only one problem when the 1983 grad arrived at the firm as a new associate: Of the 13 attorneys at the corporate-focused firm, only three were litigators—Tom Barrett, George Burnett and himself. All the new guys.
"Really, Dean was the first [litigator]," remembers DeJong, now the firm's outgoing managing partner. "He started when he was a law clerk, doing tax memos and all other kinds of stuff, but his passion was always to be a litigator … and we weren't really that kind of firm."
Before long, Barrett left for politics and Burnett left for Green Bay. "Ultimately we didn't have enough work," Laing remembers. But he stuck around anyway.
Ask folks what makes Laing remarkable, and you begin to get a sense of why, as a 26-year-old, he believed he could build a litigation practice from scratch.
"Very thorough," says longtime opposing counsel and sometimes co-counsel Matt O'Neill.
"He's extremely methodical," says retired judge Patrick Snyder.
"Always, always, always a hard worker. He just pours himself into whatever he's doing," says his wife, Tammy Laing.
"When he decides to take something on," DeJong explains, "I think in his mind he's got pretty much a framework for a strategy of how he sees it and how he is going to go. It's always interesting to sit back and watch. It doesn't happen by chance with him."
Except maybe, one time in 1983, chance did happen. One night, when his father was hospitalized with Guillain-Barré syndrome, Laing sat in the hospital intensive care unit next to a man named Jerry Albert. They talked. Albert was an ICU dad; his young son, Danny, had sustained a severe brain injury after being clipped by the sideview mirror of a passing car as he ran into the street outside his home.
Six months passed before Albert called Laing with a simple question: "Would you take my son's case?"
"I said, 'Sure, I'd love to,'" Laing recounts. "'You've got to understand that I've just graduated law school. But I've got the passion and I've got the love and I'll do what I can do.'"
Laing's claim against the driver's insurance company resulted in $100,000 for the Albert family. Then came the difficult step of filing a claim against the Alberts' homeowners insurance, which was alleging parental negligence. Another $100,000.
But Laing understood that 9-year-old Danny Albert needed more than $200,000.
Laing had been studying GM cars, looking into various safety features and engineering techniques. If the driver's car had featured the breakaway, spring-loaded side mirrors common in higher-end vehicles like Volvo and Mercedes-Benz, Danny's injury might have been a minor one.
"If somebody came into the firm today and said, 'I'm going to sue GM,' I'd say, 'No you're not—not without a tremendous amount of investigation,'" Laing says. "But part of that was my jock personality coming out, part of my competitiveness. So I sue GM."
After two years of litigation and just before trial, GM and the family worked out a $5 million structured settlement. The company began installing spring-loaded sideview mirrors in some low- and mid-priced models. And Laing had a general litigation practice.
"I love the variety of things," Laing explains. "To me it's a new day every day, it's not the same thing. You're not cookie-cutter. You're learning new things. You're challenging yourself. Those things are really, really interesting to me. So that's half the story. That's why I do what I do."
How Laing does what he does is the rest of the story.
"When I take a case, I need to know more than any expert on that case in a limited issue. … It's a high bar."
To reach it, Laing reads, reads, reads. Then he organizes.
Thirty medical textbooks and 150 articles on placenta previa informed his representation of a child with spastic quadriplegic cerebral palsy. First the articles were bound in chronological order. He read every line, making a new pile of the most relevant documents. From there, two new binders formed: "Articles that help me and articles that hurt me." 
By the beginning of trial, "I knew more than the doctor who delivered the kid."
Really?
"Well, the doctor is not going to read 150 articles on placenta previa," Laing says. "He knows what it is and how to handle it, but he's not going to be an expert and read every journal and every article that's ever been published. But I will. I need to, because when he makes a statement, I need to be able to say: 'Isn't that kind of disputed in the literature?' [The doctor] says 'No,' and then I impeach him with the literature."
"I know Dean and I know how he works," says Snyder. "I always said he outprepared any opponent. Good courtroom manner, he doesn't get emotional. He just works hard."
For nearly a decade, Matt O'Neill, shareholder at Fox, O'Neill & Shannon, represented plaintiff and Northern Labs minority shareholder Steve Einhorn in Einhorn v. Culea. As opposing counsel, O'Neill and Laing litigated the case all the way to the Wisconsin Supreme Court in 2000, then came a 20-day trial, followed by subsequent hearings. Laing took four days to depose Einhorn. The case ended in a split decision, but O'Neill knows what it's like to lose to Laing, and he says he picked up some finer points of exhibit presentation and trial organization going head-to-head with him.
"You know he's going to be very thorough, very aggressive," says O'Neill. "He's going to get under the skin of your clients, which you know is an effective thing for him. You've got to be in charge of your game." 
You only need to spend a few hours with Laing to know he's got three topics ready at all times: family, work and sports.
His children, Jessica and Michael, are, like their father, accomplished athletes. She was the No. 2 ranked barefoot waterskiing champion in the country. He played basketball at the University of Dayton. They're both engineers, and Michael is now working on a law degree at Marquette.
Their uncle, Mark Laing, will be a groomsman at Michael's upcoming wedding, a sign of the family's closeness. 
Every spring, now that Mark has retired from the IRS and Laing has learned to cut back on the 362-day work year, the brothers travel to Laing's second home in Phoenix for Brewers' spring training games. Laing's wife, Tammy, says trips to Phoenix still are accompanied by boxes upon boxes of law journals, case prep and the aforementioned binders. Closer to home, the brothers might sit in the best seats the BMO Harris Bradley Center has to offer. "I love my Marquette basketball," Laing says.
When it was Laing's turn at center court, Mark was always in the stands. "He was my biggest fan. He would come to games and be lifting his crutches and cheering."
Mark is half the reason Laing can't represent insurance companies in personal injury cases. The other half is Billy, Laing's late elder brother. Both were born with cerebral palsy. Laing says their cases stemmed from birth injuries, then quickly adds, "There were never claims. You didn't sue your doctors back then."
What his mother did instead inspires Laing to this day.
"Billy was unable to really do anything. He couldn't talk or walk or express feelings. … But my mom's old school. She believed that's your child, he should live in your household."
Doctors told her Billy would live to age 10. He died at 58. Laing is sure that being exclusively cared for at home, raised alongside his two brothers and sister Jackie, made the difference. "That taught me so many things about people being equal despite their disabilities. It taught me about love and affection and how that can impact somebody."
A harder lesson to learn is stepping back and dialing down. "I work like a fool," he says. "I work like I'm crazy." He says it with a smile.
He did it for Mitsubishi from 1999 to 2005.
"You know that kind of took over his workload and almost his personal life for many years," says Tammy Laing. "But it passed. Everyone has their busy times, and that one lasted for quite some time."
"We'd have an over/under bet when Dean went into court," says DeJong, in the laid-back style one might expect from the managing partner of a firm with a written "no jerks" policy. "It would be Dean and maybe one other person from here, and we'd always try to guess how many lawyers would be collectively on the other side. It would often be 15 to 2, or 20 to 2."
Some other numbers to consider: 162 depositions in three countries, more than a million pages of documents produced just by Mitsubishi, $140 million in claims.
Mitsubishi wound up paying nothing on Southeast Wisconsin Professional Baseball Park District's claims, and instead received $18 million on top of the roof contract amount on a counterclaim. The settlement came less than a week before trial was set to begin.
There was one thing Laing refused to do in preparation for the trial. His clients at Mitsubishi wanted him to see the mechanized roof up close and in action. They felt it was important, and he agreed with that. His acrophobia did not, so he sent a colleague up to the roof with a video camera.
Laing prefers the view from his own seats.
"I was at a ballgame last week where they had to close the roof. It was starting to rain. It takes something like seven minutes to move these huge chunks of steel so smoothly no one can hear it. You watch it glide and you sit to yourself and you think: 'That's unbelievable.'"
Search attorney feature articles