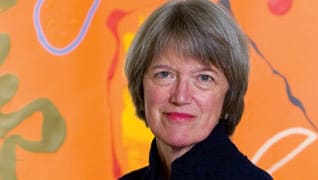 Photo by: Corey Hengen
Professional Calm
Daphne Webb stays level in the emotionally charged area of family law  
Published in 2011 Wisconsin Super Lawyers magazine
By Jim Walsh on November 14, 2011
"There is one piece of advice that I would give everybody," says family law lawyer Daphne Webb, leaning forward in her chair. "In fact, I'd put it across their forehead backward so that when they look in the mirror they'd see it every day. And that piece of advice is: Don't take things so personally."
The windows of Webb's orderly ninth-floor office at Stafford Rosenbaum look out over Madison's two biggest lakes and the state Capitol dome, where a historic fight between workers and Gov. Scott Walker has played out since February. For months, Webb has watched as a parade of protesters, marching bands and media traipse to and from the Capitol rotunda.
Webb, 62, has found herself in the middle of warring factions before, of course, but she's learned to keep her head while others around her are losing theirs.
"That's how my clients feel," she says, pointing to Vertigo, an abstract painting of a screaming lost soul that hangs above her computer. "That's by Ken Shaw, a Chicago artist. I put it there because it reminds me of what [my clients] are going through. You can't do this for 38 years and take things personally and get upset. Clients are upset enough already; they don't need a lawyer who's upset."
Clients and colleagues have noticed.
"She can remain emotionally detached in an emotionally charged situation," says one client, who prefers to remain anonymous, and whose divorce was finalized last year. "What she does is sit back—she knows it's basically a business deal—and doesn't let the emotions get in her way. And she didn't let my emotions get in the way."
"I'm an entrepreneur, type-A person," says another client, who was divorced five years ago, "and we were an excellent combination because she's very paced and steady. Emotions can run deep, whether it's dealing with your children or the separation of assets, and Daphne was very good at processing those matters. At the end, what we arrived at was entirely fair for both parties."
"Daphne is level," adds David Joanis, a family law attorney with Balisle & Roberson in Madison. "She's level and she's careful and she's prepared. She always contributes to the solution and she never contributes to the problem."
Joanis and Webb have a history. Not only have they been opposing counsel, but he's acted as mediator on her cases and vice versa. He says, Webb "relies on persuasion rather than argumentation. Meaning she gently guides people to a solution. Rather than presenting a formal argument—'You must do it this way'—she says, 'Let's think about how we might get to a solution that works out best for you.' It's a situation of persuading someone to enter into an agreement rather than expecting them, in the throes of all this emotion, to logically line up the facts and come to the right conclusion."
"You do have to be in both roles," Webb says. "The clients really need to know that you're there for them, you're in their corner, you're totally on their side, you're thinking about how to problem-solve for them. Yet you have to keep that detachment so you're not making things worse for them."
The youngest of five girls born to
a doctor and designer, Webb credits some of her professional calm to a family propensity for composure—even if her parents didn't raise her to be a professional.
"They wanted me to be educated but they didn't expect me to go to law school," she says, noting that there were only five women practicing law in Madison when she graduated in 1973. "My first year of law school, they sweetly confessed that they had no idea what I was doing. It was just such a different era. Their attitude was that I would be taking a job from a breadwinner, which meant a man."
Law school was an unexpected choice for her, too. She knew no attorneys growing up, never thought of a career in law. But while Webb was an undergrad at the University of Wisconsin-Madison, an older friend, who had gone on to law school, visited her and encouraged her to do the same. Webb, an art history major, wound up loving it. "It was like going into the big world where real things were happening," she says.
Webb's graduating law class from UW-Madison included the largest number of women to that point—20—and she did what a lot of fellow graduates were doing: She typed up copies of her résumé, visited the downtown firms, and told them she was interested in clerking. She received exactly one offer. In Cleveland.
"There were only a handful of women in private practice," she remembers. "So from that, I thought, 'Well, I'm probably not going to get hired by a firm [in Madison].' I never really tested it thoroughly."
Instead, in the summer of 1973, she started sharing office space with a relatively new firm: Hauser, Glover & Casey.
A good indication of the world Webb came from, a world she helped change, was an early class action lawsuit she worked on with the Center for Public Representation, a public interest firm in Madison.
"There used to be a law that said if you were a pregnant woman and you got fired late in the pregnancy, you could not get unemployment benefits because you were, per se, unemployable. Because you were pregnant," Webb says. "It was a terrible law, a state law, so we challenged it in federal court." And won.
"I did a number of civil rights, civil liberties cases for many years," she says. "Divorce was … oh, I enjoyed it, but it was more to just fill in the practice. Then I decided I'd like to do divorce full time."
Her own divorce was finalized in 1988 but her reason for focusing on family law was pragmatic.
"I had a small child and no family in town so I thought I had to simplify things a bit and pick one [practice area] or the other," she says. "I thought, 'Family law has a lot of contact with people and every day is different; and you don't have to go out of town to do depositions for days and days at a time. You can be local. Your hours are predictable.'"
Asked what her clients thought of their divorce lawyer getting her own divorce, she seems taken aback. "Oh, I can't imagine clients knew I was getting a divorce," she says. "It's not about me, it's about them."
"She listens," says a third client, who is currently going through a divorce. "She's strong but in a soft way. She's one of the warmest, kindest persons I've ever worked with."
"You really have to like people," says Webb, who became a fellow of the American Academy of Matrimonial Lawyers in 1998, joined its board of governors in 2006, and became president of the Wisconsin chapter in 2007. "Part of the art of doing this for a long time is that we're sympathetic to our clients but we're not trained counselors. That's part of the normal intake that we do with people when they come to us. Do they have enough support? It's good to have support, someone neutral, and not just rely on family and friends who love you. So I try to stay out of that counseling role, but I'm there to give advice if needed.
"You just have to be honest with people. Here's what I tell my clients, and this is true: If somebody's sitting across from me, they're my client, but really my client is the person they'll be five or 10 or 20 years from now. I want that person to say, 'Oh, I'm so glad that Daphne gave me that good advice,' and not have different feelings about it."
Joanis echoes this sentiment. "She is trying to get the best outcome for her client but mindful of the fact that you have to have both a long-term and a short-term [solution]," he says.
"My boundaries are very clear," Webb adds. "Maybe my first couple years I didn't quite know how to be there for people and still be professional, but now it's part of who I am."
As Webb has changed, so has family law. In 1986, Wisconsin became the first state in modern times to enact community property law. That, Webb says, changed everything.
"When I started, it was much lower stakes because women did not have an expectation of getting 50 percent of the divisible property," she says. "Women got a third, maybe a half. If you got half the estate for your female client, that was a huge victory.
"When we got equitable property division, people had to get sharper. You really had to value things, you couldn't just roll over, you had to know what you were doing. So we hired accountants to value businesses and make sure everything was fair."
This is another area where Webb excels, say her clients.
"I had hired an attorney before Daphne and was not impressed by her ability," says the first client. "My divorce was complex, with multiple businesses, and Daphne was able to see everything quite well. The opposing attorney had to draw little balloons and interlink them as to who owned what. [But Daphne] analyzed things quickly and came to a great conclusion."
As divorce became more expensive, though, more people have had to go without representation.
"In our county," Webb says, "in about 50 percent of the divorces there are no lawyers involved. But I don't handle cases where there's not a lawyer on the other side. I prefer for the other spouse to be represented. There is a risk that an unrepresented party may later wonder if he or she made bad choices in the divorce or was taken advantage of. There can be bitterness in the future.
"It's better to do it right the first time."
Webb, who has been with Stafford Rosenbaum since 1985, taps into her art history background to procure artwork—originals and prints—for the firm in Madison. Whatever reluctance she has talking about her clients' cases disappears when the subject turns to art.
"We have a picture in our main lobby by a man who died a few years ago," she says. "His name was Ellsworth Snyder, and he was a musician who taught at Milton College and was the music director of the Unitarian society here. He was also an artist who liked to work with paper. A lot of people in Madison knew him. He was a just a very sophisticated person, but a warm, friendly person. He was in a nursing home two blocks from my office, and I would go over there—people who liked him would go over there—and we would take turns fixing him lunch. And I bought this wonderful picture for our lobby that everyone likes. I just wish I could've brought Ellsworth over to look at where we had it. I think he would've enjoyed it so much."
Search attorney feature articles
Helpful links
Other featured articles
The Tampa attorney is a master at keeping bankrupt companies in the game
Stuart Somach is in water law for the long haul
Seattle lawyer Anne Bremner says missing woman's parents finally have justice for murdered grandsons
View more articles featuring lawyers
Find top lawyers with confidence
The Super Lawyers patented selection process is peer influenced and research driven, selecting the top 5% of attorneys to the Super Lawyers lists each year. We know lawyers and make it easy to connect with them.
Find a lawyer near you