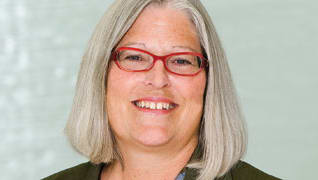 Photo by: Corey Hengen
The Human Side of Law
Elder and family law attorney Margaret W. Hickey guides people through disasters both natural and emotional
Published in 2013 Wisconsin Super Lawyers magazine
By Angela McManaman on November 1, 2013
In July 2010, the second major storm in seven days dumped four inches of rain on Shorewood, a suburb of Milwaukee. More than 160 homes were seriously damaged in the resulting flash flood and rainwater swallowed cars. Village of Shorewood president Guy Johnson returned home from vacation to find his refrigerator, dryer and other appliances floating sideways.
"The emotional temperature in Shorewood was high," Johnson remembers. Meetings were scheduled to address the flooding and its aftermath. Board members needed someone comfortable in crises and familiar with policy to moderate.
Enter Margaret W. Hickey, an elder and family law attorney at Milwaukee's Becker, Hickey & Poster. Hickey had lived in Shorewood for nearly two decades, and served as a village trustee for five years. The board gave her the mic.
"She was just so good at it," Johnson says. "I can't imagine Margaret getting upset. She's so driven toward finding a solution. When people do lose their cool around her, I just think she sees it as an even bigger opportunity to achieve a solution.
This is true whether we're talking about the natural disasters of her neighbors or the emotional ones of her clients.
"She's not a game player. If you go to court with Margaret you know exactly what to expect," says Carlton Stansbury, a shareholder at Milwaukee's Burbach & Stansbury, who has crossed paths with Hickey as opposing counsel in divorce cases and through membership in the American Academy of Matrimonial Lawyers.
"Her ethics are stellar," he adds. "She serves on many committees, is always prepared, and takes her advocacy for bar activities and the profession to the same high level as her advocacy for her clients. Her style is to be a strong advocate, and firm, but what sets her apart is that she will listen to both sides and balance her advocacy for a client with a good resolution that will ultimately help her client."
Adjournments, discovery documents, depositions—Hickey urges clients to deal with the unpleasantries of the legal process quickly, fully and in good faith.
"I'm a believer in the Golden Rule," Hickey says. "We're going to get a lot more done if we can work with the other side. People might think I'm getting along with opposing counsel to be nice. Well, I'm doing that because it works. It's the right strategy."
As one of Wisconsin's few firms specializing in elder care, Becker, Hickey & Poster closely follows myriad state and federal laws that regulate Medicaid, estate recovery, taxation and representation for its older clients. Disability law often enters the picture. Hickey has established trusts to provide for adults with disabilities whose parents can no longer be the primary caregiver, and trusts for older adults whose mental faculties fade as dementia takes hold.
"Elder law is challenging because it's the cross section of probably about 15 different areas of the law," Hickey says. "You have to understand retirement accounts and the laws that relate to them. You have to understand business and how to transition businesses. You have to understand federal laws and state laws relating to public benefits. You have to understand division of property and income."
Heather B. Poster started with the firm as a clerk during law school in 2001, and was named partner in 2009. "With Barbara [Becker] and Margaret, I saw the smart, articulate, aggressive, human side of law, and those elements were really key to me," she says. "I saw it in cases where they represented a lady who was ending her 30-year marriage due to abuse, a husband putting his wife in a nursing home."
Poster adds, "You need to be tough for those people."
"Many elder law attorneys might do 80 to 100 hours," Hickey says. "We go to a lot of seminars, a lot of training. … I'm pretty sure if you ask my staff, they'd tell you I'm demanding. I'm kind of a perfectionist."
"I send all my elder law clients and questions to Margaret," says Stansbury.
It's a beautiful day in June and Hickey is talking about her weekend plans. In two days she'll be heading to Door County, the peninsula that juts into Lake Michigan, where there is a string of resort towns, state parks and cherry orchards.
"What I'll be doing there is called an 'unprogram,'" Hickey explains, "which sounds kind of weird, but basically means a bunch of attorneys get together without a lot of structured learning to exchange ideas."
From the back-corner conference room where she's sitting, all feels calm and quiet. During the interview, Hickey doesn't check her iPhone or step out to confer with colleagues. Instead, in long clear sentences, she describes the joys of her job. "One of the surprises for me is how much I enjoy listening to people's stories. … They talk about the Greatest Generation, and it's just been wonderful to work with people who have amazing life stories."
She gets personal when asked. Coffee, kayaking, weaving and rehabbing homes with her husband are a few of the things that keep her balanced and focused in the midst of a demanding career. "If you can lay wallpaper with someone, you can probably stay married to them," she says with a laugh.
"She does it at like midnight, on weeknights," her daughter, Madeleine Schulz, says later by phone. "She gets obsessed with projects and is a pretty motivated person."
"I'm very Type A," says Hickey. "Not good at relaxing."
Even words she takes seriously. Especially words.
"I hear this in conversation all the time, and I hear it in the news: 'That person is really schizophrenic.' To say that someone in the news has changed their mind on a couple of issues and flip-flopped, then call them 'schizophrenic,' is demeaning to people who have schizophrenia, which is a terrible, terrible illness," says Hickey. "Those kinds of language issues do matter."
Person-first language is a part of her vocabulary. "I try to talk about people with disabilities, not disabled people. That kind of vocabulary is important to recognizing this person is much more than their disability, whatever that might be."
It turns out that this, too, is personal. Asked about books, courses and factors that inspire the human side of her practice, she pauses.
"I have a brother who's mentally ill, so I have real-life training," she says. "I think a lot of lawyers who work in this area have had their own family or personal experience with someone with a disability."
Hickey was born the fifth of six children in an Irish Catholic family in Beaver Dam, northeast of Madison, and had, she says, a classic, outside-all-day, small-town childhood. "Even though my parents did not have a lot of money, they made sure all six of us went to college," Hickey says.
At 17, Hickey left home for a year abroad in Colombia; she remains bilingual—and a bit of a coffee snob.
"I had never had a cup of coffee before I lived there, but then I found out that to not drink coffee would be rude and I've been addicted to it ever since," she says.
She didn't particularly like law school (Wisconsin-Madison) but she was good at it, and imagined a career in civil litigation. Barbara Becker talked her out of it. "She wanted me to work in family law and elder law," remembers Hickey. "I told her I would try it."
Hickey found herself drawn to an emerging field whose clientele range from World War II veterans to long-married couples on public assistance; from an 80-year-old Alzheimer's patient in residential care to her boomer-aged children. She now is the immediate past chair of the Wisconsin chapter of the National Academy of Elder Law Attorneys.
"It's very rewarding to try and help people who are sometimes the most in need of help because there are not a lot of resources for them," Hickey says.
Consider young children whose best interests get tangled up in divorce proceedings. Consider an older woman who won't admit she's being taken advantage of by an adult child, and who refuses to be deposed. Hickey says these cases are the hardest to lose. 
"For my mother, it is not just about being a lawyer," says Schulz, who was born during Hickey's first year of full-time practice. "She takes on very personal cases. … She's always there to talk to someone if that's what they need.
"I remember going to my mother's office a lot," Schulz adds of Hickey's early days at the firm. "I didn't always understand what my mother did, but I always felt something important was going on. … She's helped a lot of women out of bad situations, and helping older people advocate for themselves is huge in a society where they don't have a lot of power."
At the Door County gathering in June, Hickey and other elder law attorneys discussed proposed laws that expand the state's claim to property owned by Medicaid recipients after they've died. Not only are survivors potentially responsible for long-term care repayments to the state after a beneficiary's death, but the proposed legislation targets more marital property—including marital property assessed up to five years before Medicaid enrollment.
"More divorces may be an unintended consequence of this legislation," Hickey says. "Those changes could push people to legally separate their finances to protect their assets." She added that they've already started seeing this occurring.
Poster and associate Megann Senfleben Hendrix were among those who voiced their concerns to Madison about the estate-recovery provisions in the 2013-2015 budget bill. In the end, in the final days leading up to the budget's June 30 signing, a stay on implementation was included as part of an omnibus budget amendment. The stay should allow for the development of clearer policies to help beneficiaries, attorneys, realtors and other affected parties understand and implement the new law.
"It's delayed, which I think is a good thing," says Hickey.
Poster shares her partner's limited sense of relief about the law's temporary stay. "We may not be able to change the law or prevent the new law from being enforced," Poster says, "but we can minimize the impact on our clients with good advocacy."
"Elder law attorneys might be nice," Hickey says, "but we're not pushovers."
Search attorney feature articles