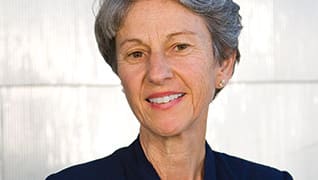 Photo by: Corey Hengen
The Silent Part of the Conversation
It's just one reason why Marie Stanton thrives as a mediator
Published in 2014 Wisconsin Super Lawyers magazine
By Jim Walsh on November 7, 2014
From her fourth floor office in downtown Madison, with its inspirational view of the state capitol dome to the left and Lake Monona to the right, Marie A. Stanton of Hurley, Burish & Stanton has witnessed historic protests and speeches, the filming of the Johnny Depp movie Public Enemies, and the bustle of the Saturday morning farmer's market, where dairy cows share space with Planned Parenthood and PFLAG booths.
"It's the nicest office I've ever had," she says. "And the nicest office I'll ever have, quite honestly."
The setting is also helpful in her work as a mediator in alternative dispute resolution cases.
"When people come to this location," she says, "they've been engaged in three, four years of litigation, and they're going to be with me for as little as three hours and as many as 10. … Seeing the rest of the world for a few minutes—people moving around the square, in and out of the capitol—that sometimes is a silent assist and a reminder that life moves forward, closure has value, peace is possible."
Madison is, of course, named for James Madison, father of the U.S. Constitution, while its streets are named for the document's signers: Charles Pinckney, Thomas Mifflin, Daniel Carroll, Abraham Baldwin. It's a fitting locale for Stanton, a pioneer in Wisconsin law. She was the first full-time female assistant district attorney in Outagamie County, then the first female partner at a Green Bay law firm. In 1994, she was the first woman to be admitted to the Wisconsin chapter of the American Board of Trial Advocates, and in 1999 she became the first woman elected to the Wisconsin chapter of the American College of Trial Lawyers.
It would be tough, though, to find anyone less impressed with this string of bona fides than Stanton herself.
"I was the first at a lot of things because there weren't a lot of women, but we didn't really dwell on it," she says. "We had our own goals, and one of the goals was not to be a pioneer. There was too much work to do to think about what you were doing; we were just doing it. I litigated. I was in court. I didn't really ruminate on my place in history, because I was doing the work. On reflection now, I look back and I certainly appreciate what's happened. Think of it: I entered law school in 1972, and there were 12 seniors who were female. By 1981, half the enrollment was female. The gates really opened."
At the University of Wisconsin Law School in 1972, Stanton says, "I felt welcome. And it was that time: We had come through Vietnam, we had come through the women's revolutions and birth control pills and all of that. I remember seeing Gloria Steinem at my college in 1971. I went to a speaking engagement with Angela Davis during law school."
Stanton has the countenance of someone who's heard it all before—she says dryly, "People can always be counted on to commit crimes"—but who's willing to be surprised by the human condition. She is, by design and experience, a good listener.
"I don't learn very much by talking," she says. "Listening to someone attentively is more than just what you hear. It's what you see, what you feel, the speed of the conversation, the pauses, the appearance, the body language, all that. People are sending me signals, both in voice and reaction and presence, about what they need. I can't get these cases settled unless I know what people need.
"In our [modern] world, we don't have the literal conversation that often. The conversation is last week's dinner. We blog, we email, we leave voice mail, or worst of all we multitask. What is multitasking? Poorly doing many things all at once. The conversation is a focus. One thing at a time. That attention-giving can be so productive, and I'm not really doing anything. In fact, maybe that's the best thing: Shut up and sit there. It gets done."
Born and raised in Cleveland, Stanton first began thinking about the law because of her older brother's example. "Graduating one off the bottom of his law school class at Detroit," she notes, "he was the fixer and go-to guy for a small Michigan community. A year into his practice, everybody downtown called him by name."
After working as an assistant district attorney for two and a half years, Stanton worked for 15 years mostly on insurance defense cases—representing people sued in auto collisions and farm accidents, as well as medical providers facing allegations in hospital, doctor and nursing malpractice claims.
By the early 1990s, she began to thread in some personal injury plaintiff's suits. It balanced her perspective. "As a young defense attorney, I assumed most plaintiffs were eager for their day in court and a jury trial," she says. "They were gonna win and win big, and I better get prepared. Well, I still need to get prepared but I had an eye-opener. I could see that many claimants wanted their cases closed and were not necessarily anxious to have a trial. In fact, many were very apprehensive of a trial, and if possible, preferred a settlement."
This balanced perspective proved helpful when a colleague, out of the blue in 1993, asked her to mediate a case. She discovered she liked it and was challenged by it. She liked it for some of the same reasons the Wisconsin Legislature, that same year, passed statute section 802.12, which allowed judges to order parties into alternative dispute resolution: Years of litigation could be resolved in a matter of hours. "It was very gratifying to be a part of the process," she says. "I wanted another try."
She got it. She's still an advocate on both sides of the civil equation—representing injured plaintiffs and professionals in disciplinary and employment matters—but the brunt of her work is now in ADR. She's one of the most sought-after mediators in the state.
"Marie is fully tuned in to what is really going on in a mediation," says Ralph Cagle, also of Hurley, Burish & Stanton. "She knows that a mediation is a dynamic and human process, and she also knows that it is some measure showmanship. She is so good at reading between the lines to discern what people really mean from what is merely spoken. She is masterful at reading the tea leaves of each mediation."
"I believe my clients like the fact that Marie combines a sympathetic ear with a crisp, no-B.S. approach," says Michael Davis, an attorney at DeWitt Ross & Stevens, who went to law school with Stanton and who has served with her on arbitration panels in personal injury dispute cases. "Clients have the impression that she is doing right by them when she goes off to caucus with an adverse attorney. They feel she is tough enough and prepared enough to not be unduly swayed by seemingly more powerful insurance companies."
Joan T. Schmit, a faculty member at the Wisconsin School of Business at the University of Wisconsin-Madison, has frequently enlisted Stanton for mock mediations conducted on highly complex legal issues culled from real-life events. "She's an outstanding observer of human behavior, an excellent listener, a deep thinker and a terrific communicator," Schmit says. "She comes sufficiently prepared to leave the students with solid knowledge, yet also is able to go with the flow so that she responds to the given demands of the group. She is funny and thoughtful and holds our attention completely. … Marie [who is small] sometimes comments that she instructs the people she works with never to send materials that weigh more than the mediator. It's a great line. She also asks us about ethical dilemmas she encounters and forces all of us to think on our own."
Alternative dispute resolution has proven so successful in Wisconsin that, instead of a backlog of civil cases as there were prior to 802.12, the fear now, as around the country, is that there are too few trials.
"You're looking at a thinning breed here; there aren't as many lawyers with trial experience," Stanton says. "It's a dramatic decrease. In 2012 in Dane County, it was reported that less than 2 percent of the civil cases were tried by a jury, excluding medical malpractice cases. … So there's less experience of trial, and frankly less experience of negotiation, because we're bringing the conversation that you and I as opposing counsel would have to a third party, and we're all in different rooms now.
"Those are big losses, even though I'm a part and cause of it."
An avid fisherwoman, biker, hiker and reader, Stanton married her partner of 34 years, Linda VandenPlas, six years ago in California, because same-sex marriage was banned in Wisconsin until recently. The couple's main off-duty passion is spending time with their daughter, son-in-law and their three grandchildren.
With her petite frame, slightly graying hair and perfectly calm demeanor, it's difficult to imagine a more receptive audience in mediation than Stanton. She loves helping people in times of crisis and change, and every day presents a new opportunity to do so.
"The law, like everything else in this day and age, has to be fast, it has to be digital, and yet at the same time it's really slow," she says. "It takes forever, and it's expensive. Litigants often don't get a chance to really say what happened, or how they feel, or why they're angry, or why they should be compensated, or why money isn't enough.
"What draws me to mediation is to have that conversation, and then help people within the framework of the facts and law that they have to work with, to help them get to a resolution. And it's two resolutions: One is legal—one is the case—but the second resolution is the real issue, and that's whatever it is along the way that they haven't been able to finish.
"It's a very gratifying feeling when you can do both, because as a lawyer you tend to finish things more on the law, even though there's emotion to that, but you're always being a lawyer. But as an outside mediator, you're not charging these people for years, you're not giving them necessarily bad news, you're not failing to return a phone call. You're a person for a day, in my case, who's willing to have the conversation and be part of the other half of the conversation, which is the listening. It's the silent part of the conversation. That's what's gratifying: the silent part of the conversation."
Search attorney feature articles
Helpful links
Other featured articles
How Ankit Kapoor went from cop to family lawyer
"Lifetime Detroiter" Saul Green fights every day for his city and its people
For more than a decade, Cody Allison was a sideline reporter for the Tennessee Titans
View more articles featuring lawyers
Find top lawyers with confidence
The Super Lawyers patented selection process is peer influenced and research driven, selecting the top 5% of attorneys to the Super Lawyers lists each year. We know lawyers and make it easy to connect with them.
Find a lawyer near you