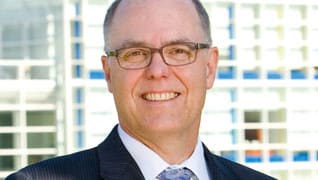 Photo by: Corey Hengen
The Things He Carries
Stephen J. Meyer's clients tend to be good people who have screwed up once
Published in 2013 Wisconsin Super Lawyers magazine
By Jim Walsh on November 1, 2013
"There are certain cases that you live with," says criminal defense attorney Stephen J. Meyer, rolling his shoulders in agitation. "To this day, there are ones that follow me around. There's one that I think about way too often."
The walls of the Meyer Law Office on Doty Street in downtown Madison are a testament to his life's work in clearing the names of thousands of clients. There are thank-you notes, wall hangings, baubles. Two Chinese brothers who were under investigation for tax fraud sent him the Chinese symbol for good luck; he has letters from football players, fellow attorneys and other notables. But one client and one case stands out for Meyer, and not for its happy ending.
Fourteen years ago, a father was accused by a Dane County social worker of sexually assaulting his 6-year-old daughter. Before seeking Meyer's counsel, and to prove his innocence, the father offered to take a polygraph test. The case went to trial, during which the daughter testified that the father had touched her vagina—one time, with ointment, for medical reasons.
"Some people see evil when they want to see evil, or they see a crime when they want to see a crime," says Meyer. "I told the jury, 'Of course, parents medically treat their children.' Some friends of mine who watched the trial said, 'Steve, that guy was [innocent]. We would've voted to acquit him right away.' And the jury convicted him. I think the jury didn't want to be wrong."
Meyer blames himself.
"I think, in part, the prosecutor gave a better closing than I did," he says with palpable remorse. "In part, it was a novice jury, the first time they'd sat on a case and nervous about, 'Do we let this guy go?' I've lived with that, because now he's on the sex offender registry and God knows the damage it did to the family. That one bothers me to this day, and probably way too much.
"It haunts you. I wonder how he's doing. We can't change what happened, but I wonder how he's doing as a human being, and I wonder if the family ever reconciled. So what it said to me was, 'Look, you always have to be at the top of your game in trial. There's no room for second best.' It's part of why I do what I do: I don't want it to happen to somebody else."
The youngest son of a salesman (his father) and a teacher (his mother, who died of cancer when he was 11), Meyer learned to look out for the other guy while attending Catholic Central High School in Marinette. When the Vietnam War ended, Meyer was a junior at the University of Wisconsin, and he recalls the cumulative effect on him and his classmates.
"After Vatican II, there was a huge focus from the church on fairness and social justice, and the encyclicals being written coming out of Rome were about improving people's lives and people having fair opportunities," Meyer says. "So you take that Catholic movement of the late '60s, and the Civil Rights movement, and you mix it in with, 'Hey, all you males on campus [don't have to die in Vietnam],' and that's part of my makeup. That's why we're here: to try to make things fair, and give people opportunities."
When he was in high school, his brother Greg enrolled in law school. Meyer visited him several times and always had questions. When he went to law school himself at the University of Wisconsin-Madison, he did so with great passion. He interned with the now-defunct Public Intervenor's Office, which was an arm of the State Department of Justice tasked with protecting the environment, and also worked with trial lawyer Jack W. Van Metre, whom he greatly admired. As a result, when he graduated cum laude from law school in 1979, he decided trial work was his calling and environmental law took a backseat. He started his own firm in 1994.
"Ninety-five percent of the work is representing individuals who are either accused of crimes under investigation or subject to some type of professional license disciplinary action," Meyer says. "A lot of my clients are good people who have screwed up once. That's who ends up being in my office. When you have that type of situation, you typically have a lot more to work with to help your client. They have a stable family situation that's a support group for them. They might have medical insurance that allows them to get an alcohol assessment and alcohol treatment right away, rather than waiting. That gives you more tools to get a good result for them."
"Steve is honest, hardworking, well-prepared, skilled in trial rules and evidence, and has a good presence in the courtroom," says Meyer's longtime courtroom opponent U.S. Attorney John Vaudreuil. "He cares about his clients."
Perhaps because he's a father of two, and a friend or acquaintance to many of his children's friends' families in the Madison area—"Sometimes it's 'I've known this kid since he was 4 years old'"—Meyer says he feels an abiding need to make sure one dumb mistake doesn't derail someone's future. He recalls how that almost happened to one University of Wisconsin student.
"He and some guys ended up outside of Camp Randall after a [Badgers game] and they took the football cart, with the UW football logo, and they were driving it up and down Regent Street that night, giving their buddies rides from bar to bar," says Meyer, fighting back a smile. "They all got caught."
"A number of them took what was offered. I knew my client was the one that wanted to teach and I knew the school district he wanted to teach in, and I could only live with the case being dismissed—without any first-offender penalty. Fortunately, I had a prosecutor who understood that. He said, 'Steve, why aren't you accepting what everyone else has agreed to?' I go, 'I can't. I've gotta fight this one to the teeth. How about my guy does 50 hours of community service, we just keep the case open, and he finishes?' He goes, 'Maybe we can do that.' My guy did the 50 hours, case dismissed, he's teaching today, and his career is back on track."
Meyer himself is a teacher these days, an adjunct professor teaching evidence at the University of Wisconsin Law School; he's also thinking about spending more time on environmental issues, as he finds himself immersed in more conversations about fresh water and fracking.
"I grew up in Northern Wisconsin and spent a ton of time in the woods during my youth, including Boy Scouts," Meyer says. "Numerous rivers and Lake Michigan were part of my soul. In undergrad the focus of my major was public sector economics, and I really enjoyed a course taught by Charles Chichetti entitled Environmental Economics: finding a balance between the economy and the environment and how to best achieve that balance. My law school essay on my admissions form focused on that public policy issue."
All of this comes as no surprise to Meyer's colleague, criminal defense attorney Steve Hurley.
"Steve's always aware of the bigger picture within which the entire trial fits," says Hurley. "He understands, for example, that the sentence which he obtains for his client in a given case may be precedent for the next defendant. So when he advocates for his client, and without giving ground, he can also move a judge to consider the larger consequences of his or her decision.
"By way of another example, if he advocates for a 19-year-old African-American man who was charged with, or convicted for, selling marijuana to his contemporaries, Steve understands that his client is part of a larger, darker, shameful statistic of Wisconsin, which ranks nationally above all others in the incarceration of African-American males.
"Steve, sometimes through sheer force of will, employs this knowledge, often subtly or unnoticeably, to obtain a better disposition for his client while making prosecutors and judges change their general points of view. He always has two clients: the one who's been charged, and the legal system of which he's a part. Neither suffers for the other; rather, he deftly manages to improve the lot of both."
Ask Meyer to look out his office window at Lake Monona and assess what he's done with his life, and how he would like his epitaph to read, and the question leaves him momentarily stammering.
But he recovers and talks about his marriage, his successful kids, and his good fortune to have had parents and two brothers who believed in him and in education. Then he looks out at the lake, sparkling in the summer sun, and the city bustling beneath him. Then, and only then, does he come up with the epitaph he'd like to see on his tombstone:
"He tried to make it better for people. And sometimes he did succeed."
Joe Awe would agree with that. A 42-year-old Iraq War veteran, Awe was charged as party to arson with intent to commit insurance fraud after his bar, J.J.'s Pub in Harrisville, burned to the ground.
The pub fire happened in 2006, Awe was charged with the crime, lost his case in 2007 and was sent to prison. Awe's family then contacted Meyer, who had been keeping tabs on the matter as he worked on another arson case. He agreed to represent Awe during his appeal.
"It was tough, knowing my client was in prison," he says. "He'd been in prison almost two years. You know what he said to me? A lot of people, when I take their case, they go, 'Can you get me out? Can you get me out now?' I said to [Awe], 'Look, this is going to take a while.' He goes, 'This is about what's right and wrong, Steve. I want to clear my name.'"
Meyer hired a first-class team, including fire-science expert John Lentini and electrical engineer Mark Svare, and worked on the case for a year. "Fire investigation standards had changed since the trial, and under the new standards, [we argued] the state couldn't use the theory that they had used to convict him originally," Meyer says. Finally, after Awe had served nearly three years in prison, Meyer got word that Awe would soon be a free man; he was entitled to a new trial. The court later dismissed the case and decided not to retry Awe.
"My wife and I were flying to visit our daughter," he says. "She was doing overseas studies in London. I'd been up for 24 hours. We landed, we checked into the hotel, and I got the message that the judge had issued an order for a new trial. I literally fell on the floor, crying. The emotions were just overwhelming."
He looks out at Lake Monona, and this time he needs no prodding.
"It was partially jet lag, but I just lost it."
Search attorney feature articles
Helpful links
Other featured articles
Carl Poplar is still tougher than anyone else
Julia Yoo represents the female prisoners and others society has written off 
Lawsuits will increasingly be about the technology designed to prevent accidents
View more articles featuring lawyers
Find top lawyers with confidence
The Super Lawyers patented selection process is peer influenced and research driven, selecting the top 5% of attorneys to the Super Lawyers lists each year. We know lawyers and make it easy to connect with them.
Find a lawyer near you