What Does the Ohio Equine Immunity Statute Mean?
The legal implications for horse owners, businesses, and riders
By Super Lawyers staff | Reviewed by Canaan Suitt, J.D. | Last updated on May 2, 2023 Featuring practical insights from contributing attorney Maribeth Meluch
Use these links to jump to different sections:
People are required to accept some inherent risk when riding a horse. In Ohio, there are specialized legal rules and regulations in place that limit liability for certain equine activities. Most U.S. states have enacted some form of equine immunity.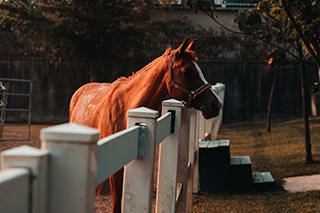 The general purpose of these laws is to provide some basic liability protection for horse owners and equine professional organizations that operate in the horse industry.
Under Ohio law (Ohio Revised Code Section 2305.321), horse owners and other parties are protected against liability for injuries that occur as a consequence of an inherent risk of equine activity.
Key Points about Equestrian Law
Here are four things to know about Ohio's equine immunity law:
The Term "Equine Activity" is Defined Relatively Broadly. ORC § 2305.321 only applies to equine or horse-related activities. That being said, the statute defines equine activity in a broad manner. Among other things, it includes horse shows, horse competitions, recreational horse riding, training of horses at facilities, teaching or training of riders, boarding of horses at facilities, and replacing of horseshoes.
"Equine Activity Participant" is Also Defined Broadly. A person does not have to ride a horse to be covered by the state's immunity law. In fact, Ohio courts have ruled that spectators at horse shows/events are still covered by the law.
Immunity Only Applies to "Inherent Risks." In the statute, the term is defined as "a danger or condition that is an integral part of an equine activity." What constitutes an inherent risk depends on the specific circumstances of the case.
A Horse Owner or Property Owner May Be Liable for Negligence. It does not provide full protection against every cause of action. It only provides immunity protection against inherent risks. An accident caused by negligence could lead to a finding of liability against a horse owner or equine industry business.
What the Statute Means in Practice
A law may say one thing but, in practice, be applied very differently. In the case of Ohio's equine immunity statute, says Maribeth Meluch, an attorney at Isaac Kohrman Jackson & Krantz in Columbus, there's a lot that is unclear.
"It makes no sense that you still need written releases to be signed," she says. "I don't know why you would need that if you have this law, but given some of the language in it, it says you need one."
The courts have yet to decide many of these unclear elements, she explains, because most cases settle out of court. Meluch assists equine businesses with legal issues, and says the conservative approach would be to continue using releases, get them resigned every year, and have an attorney revisit their language regularly.
"The courts have never really interpreted this law, so it's hard to know when you're protected. Like you get a farrier that comes to shoe your horses, should they sign it? Maybe they're part of the statute because they're part of the equine activities like vets and trainers. If you want to be the most conservative, you'd have anybody that comes on your property that would put themselves in a purposeful way in front of or near a horse sign a release."
It becomes even more complex when it comes to children. "Generally in Ohio, you cannot release your children's claims. So if you sign a release agreement for your child that says, 'I won't sue you because I fell off this horse or the horse kicked me,' that's not valid in Ohio. Now that we have this statutory immunity, does that apply to all children? We don't know. So what we usually do on releases is we have the parents indemnify the horse owner or the facility of their claims of their children 18 to 20 years from now," Meluch says.
Commonly, she says, facilities with horses often have dogs running around. This can also complicate legal matters. "The courts have gone either way about that as to whether a horse spooks because there's a dog. Who is liable if there's an injury? Is that an equine activity, or is that a separate defense or a separate tort under the revised code where you have to keep your dog under control?" she says. "So if you have dogs, put them on a chain. Don't take the risk."
Horse injury cases are notoriously complex. While Ohio state law provides some protections to horse and stable owners, they can still be held liable for harm caused by negligence.
"It doesn't cover everything," Meluch says. "If you're a trainer and you provide a horse and the tack and it's broken, you're not going to be covered. If you are advising as to what particular horse a person should be riding, given what they've told you about their experience, and you've given them too high of a spirited horse or a spooky horse, you can still be liable. There are things that are sort of exempted out of that statute—anything that's willful and wanton is excluded."
While nobody is likely to hurt someone on purpose, Meluch says, "they can still be grossly negligent. So you need to be careful."
Merely relying on the equine immunity statute isn't going to cut it. You need signed releases and, possibly, an experienced Ohio animal law attorney. For more information on this area of law, see our overviews of animal law, premises liability and personal injury.
What do I do next?
Enter your location below to get connected with a qualified attorney today.
Attorney directory searches
Helpful links
Find top lawyers with confidence
The Super Lawyers patented selection process is peer influenced and research driven, selecting the top 5% of attorneys to the Super Lawyers lists each year. We know lawyers and make it easy to connect with them.
Find a lawyer near you