Rights and Bites: The Growing Field of Animal Law
Pets are beginning to have similar rights to their human counterparts
By Joel Warner | Last updated on March 20, 2023
Use these links to jump to different sections:
Jennifer Reba Edwards
tells people she's an animal attorney, she gets some odd looks. "How do you get paid?" they ask. "Do the animals pay you?" Not yet—owners and other humans still write the checks. But that doesn't mean business isn't booming.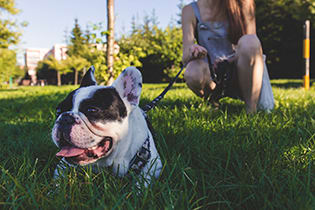 Edwards, who runs the Animal Law Center in Englewood, Colorado, is one of a growing number of attorneys devoting all or part of their practice to animal law, even as more state bars are launching animal law committees. The range of cases is growing, too: custody disputes and trusts; disputes over "no pet" housing policies; animal cruelty incidents; police shootings of companion animals; and, of course, injuries sustained by aggressive animals. Much in the same way that, 50 years ago, the environmental law movement became a force to be reckoned with, animal advocacy supporters say it's only a matter of time until animal law stops being the stuff of puzzled expressions and punchlines. For many people, after all, pets are the most important part of their lives. Shouldn't they be treated as such by the legal system? "I think the court systems are starting to catch up with the way we feel about our animals," says Edwards. "These animals are part of our families."
Fighting for Fido
Which leads to the inevitable question: What do you do when that family breaks apart? As
Cari Rincker
, a New York-based attorney who devotes 10 percent of her practice to animal issues, can attest, divorce and separation cases involving families with pets can be nearly as thorny and fraught as child custody cases—with opposing parties butting heads over custody rights and visitation schedules. "I had a four-day trial about the ownership of a dog between an ex-boyfriend and ex-girlfriend who had cohabitated together, and it took a year and a half to get to trial," says Rincker, whose client did not prevail. "You can only imagine the type of attorney fees that developed." Edwards often tries to resolve pet custody conflicts through mediation. One shared-custody agreement necessitated a pet spending half its time in Denver and half in Steamboat Springs—three hours away. The animal was constantly being shuttled back and forth. "It's intense," she says. Figuring out what to do about pets once their owners pass away can be equally intense. In 2007, the death of famed heiress Leona Helmsley drew international attention when her beloved lapdog, Trouble, was bequeathed $12 million. Such exorbitant inheritances for pets are more common than people realize. Edwards once worked on a pet trust stipulating that, once the client passed away, special baby food had to be imported from overseas to feed the animals. Another trust ordered that the deceased client's home in Pebble Beach, California, remain untouched until the pet that lived there passed away—much to the consternation of the client's heirs. Indeed, in these situations, it's still the humans you have to watch out for. Edwards tries to ensure that the caregiver (assigned to look after the pets) is separate from the trustee (in charge of managing the property and money). Such a checks-and-balances system helps avoid scenarios in which a pet seems to live forever—since Edwards says unscrupulous caregivers have been known to replace dead pets with lookalikes to keep the money flowing.
No More Free Bites
According to a survey taken by the North American Pet Health Insurance Association, roughly 68 percent of U.S. households now own a pet, up from 56 percent in 1988. And that means more opportunities for things to go wrong. According to the Centers for Disease Control and Prevention, approximately 4.5 million
dog bites
occur every year.
Donald Eby
, a real estate attorney in Castle Rock, Colorado, represents a handful of victims in such cases every year. He says the number of bite cases is growing—and not just because we have more pets. Colorado is one of many states to get rid of the so-called "one free bite rule": the idea that pet owners typically aren't liable for damages the first time their animals hurt someone. At that point, the reasoning went, who knew the animal was dangerous? Now Colorado and many other states have strict liability dog-bite laws. "Whether or not a pet has previously proved to be dangerous, the owner is still responsible for damages that might be caused," says Eby. In most cases, homeowners or renters insurance will cover much of the liability from animal attacks, even if an incident occurs when the dog is being walked. But this arrangement, too, is starting to change. Insurance companies are experiencing sticker shock from all their animal-attack payouts, says
Stephen Schultz
, a personal injury lawyer in St. Louis, who often works with dog-bite victims. According to the Insurance Information Institute, dog-related injuries accounted for more than a third of all homeowners liability-claim dollars paid in 2016, in total costing insurance firms more than $600 million. The average payout per animal attack set insurance companies back $33,230, a cost that's risen 70 percent since 2003. Why? Emotional damage. "If you have a car-wreck case that has $5,000 in medical bills, that case is often worth between 10 and 20 grand," says Schultz. "If you have a dog-bite case with $5,000 in medical bills, it can be worth upwards of $100,000." Some insurance companies are trying to limit those expenditures by restricting dog breeds from coverage: not only pit bulls and Rottweilers but German shepherds and chows. "We are seeing an increase in cases where injuries are uninsurable," says Schultz. "That is dangerous for everybody." Schultz recommends pet owners do their due diligence. Not only should they double-check that their insurance policy covers their breed, they should also attempt to mitigate potential problems by installing fencing and by keeping dogs on leashes. Pet sitters should be similarly cautious. If someone else's pet goes on the attack while it's staying at your home, both you and the pet owner could be liable for damages. For victims of
animal bites
, Schultz recommends taking photos of the injury as soon as possible, and filing a report with both animal control and your local police department. And contact a lawyer, even if the pet owner is a friend. Often the matter will be handled by the pet owner's insurance company, meaning you won't be staring down your buddy in a court of law. "I often say to potential clients, 'I don't want to come between you and your friend. Let's call them together,'" says Schultz. "It can defuse the situation."
Emotional Damages
That said, in modern society, humans tend to do greater harm to animals than vice versa. There are endless instances of animals being injured—or worse—due to negligence or outright animal cruelty; but because the courts traditionally view pets and other animals strictly as property, the consequences have long been limited. "Right now, if someone kills your pet dog and you prove they're liable, the damages are basically the damage value of replacing the animal," says Florida-based environmental attorney
Ralph DeMeo
, who, over the past 10 years, has taken on more and more animal-related cases. "You don't get emotional damages or the kind of pain and suffering damages you would get if someone hurts you or another human." DeMeo and others have been working for years to pass state laws to expand the definition of domestic violence to include threatening or harming the family pet. "What you are seeing are people who will pick up the family pet and threaten to throw it against the wall," says DeMeo. "This happens with alarming frequency." Cracking down on animal abuse won't just help animals, adds DeMeo, since "there is a well-documented connection between people who abuse animals and people who abuse humans later in life. When you talk about stopping animal abuse and prosecuting it more fully, you are helping our society, too." Some attorneys are already finding ways around legal limits for harming and abusing animals—pushing the courts to award damages commensurate with the impact pet owners feel. In Colorado, Edwards was one of the first filers in a 2007 federal class action lawsuit against pet food manufacturers for selling pet food contaminated with melamine, a dangerous chemical that led to many animals becoming sick or dying because of kidney failure. The eventual $24 million settlement included up to $900 per claim for undocumented damages. "We fought for $900 in undocumented damages to cover things like missing work because [the pet owner was] so upset," says Edwards. "I wanted to try to make it a stepping stone into emotional distress damages."
Cary Hansel
, a Maryland trial attorney who focuses much of his work on civil rights cases, has found a different way to circumnavigate damage limits in animal cases. "Instead of reclaiming value as a negligence claim, we treat them as a constitutional claim," he says. That way, he argues his clients were deprived of their rights because their property (in this case, their pet) was taken from them without due process—an approach that allows Hansel to fight for pain and suffering damages. It's worked. In 2012, Hansel helped a Maryland couple win more than $600,000 after a sheriff's deputy shot and injured their dog while executing an arrest warrant for their son. The award was the largest verdict ever handed down in the country for a dog shooting … until last year when Hansel won a $1.26 million verdict after police shot and killed his client's dog in 2014. While the payout was eventually reduced to $200,000—the maximum amount allowed in individual civil judgments against government entities in Maryland—Hansel believes the judgments send a strong message. "I think we are at the vanguard in this movement," he says. "It's important to understand that the law in relation to animal rights and pet rights really lags behind our current morality."
Legal Standing
The next step—a doozy—might be legal standing for animals.
Attorneys
would work directly on their behalf: advocacy for the animals' best interests in custody and trust disputes, ensuring they're placed in safe environments, and fighting for justice if they're abused or killed. Insurance policy exclusions for certain dog breeds might be challenged as discriminatory. And while Edwards doesn't think the same elevated legal standing would ever apply to livestock, she adds, "If it did in some way, I believe it would create a more humane farming and meat industry." Germany and New Zealand have already granted some animals various levels of legal rights. In New York state, advocates have repeatedly tried to obtain writs of habeas corpus for captive chimpanzees. And in 2015, People for the Ethical Treatment of Animals (PETA) filed a lawsuit on behalf of Naruto, an Indonesia macaque, arguing the animal deserved ownership of a "monkey selfie" Naruto had taken when happening upon a wildlife photographer's camera in 2011. Last fall, PETA settled the lawsuit, with the photographer agreeing to donate 25 percent of future proceeds from the photo to organizations that protect macaques and their habitat. Meanwhile in Florida, DeMeo has founded Pets Ad Litem, which is dedicated to providing a legal voice to animals. "Animal welfare advocates would argue this is no different than a human child being assigned a lawyer to ensure their interests are being properly respected," he says. Indeed, it wasn't until 1967 that the U.S. Supreme Court ruled that juveniles in delinquency proceedings must be afforded many of the same due process rights as adults. "Children's legal rights have come a long way, as should animal law," says Edwards. "They're like our short, furry children." For more information on this area of law, see our
animal law
 section overview.
What do I do next?
Enter your location below to get connected with a qualified attorney today.
Additional Animal Law articles
State Animal Law articles
Attorney directory searches
Helpful links
Find top lawyers with confidence
The Super Lawyers patented selection process is peer influenced and research driven, selecting the top 5% of attorneys to the Super Lawyers lists each year. We know lawyers and make it easy to connect with them.
Find a lawyer near you