Constructing a Solid Legal Foundation: Managing Risks in Construction Agreements
Legal tips for businesses looking to expand or remodel
By Nicole Robinson | Reviewed by Canaan Suitt, J.D. | Last updated on November 17, 2023 Featuring practical insights from contributing attorneys Matthew C. Herstein and Mark L. McAlpine
Use these links to jump to different sections:
Most people know very little about the potential dangers of the construction process until it's too late. So when businesses look to expand or remodel their facilities, a seasoned construction law attorney can act as a safety net.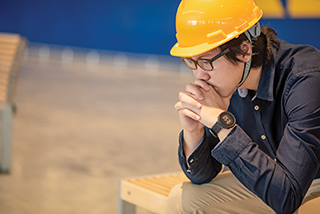 "The level of quality between contractors can be astounding," says Matt Herstein, an attorney with Deneweth, Dugan & Parfitt in Troy, Michigan. "Like anything else, you have some who are exceptionally good at it and some who you wouldn't want doing [the job] at all."
Preparation is Key in Construction Projects
With construction projects, preparation is key. It makes the process easier and also allows owners to focus their attention on what's most important, such as defining what you are getting and at what cost.
"Paying attention to the scope and defining it at the beginning is probably one of the most critical ways to avoid a dispute later on," Herstein says. "Nobody wants ambiguity because that's ripe for litigation."
Don't Rush the Design Process
Mark McAlpine is the founding principal and managing partner of McAlpine Attorneys and Counselors, based in Auburn Hills, Michigan. In his experience, one of the biggest and most common mistakes is that owners tend to rush the design process, which can lead to schedule delays and increased costs.
This is especially relevant on larger projects that have several subcontractors or suppliers who are providing structural, mechanical, and electrical design, as well as HVAC. When an owner rushes the design, it's harder for the construction manager to appropriately coordinate these different elements of the project, and "failure to do so could lead to conflicts during construction that are very expensive to resolve," McAlpine says.
Allow Reasonable Time to Complete the Project
Another common mistake is planning a tight construction schedule. McAlpine often sees this when property owners decide to expand in response to market conditions as opposed to projections. "In many cases, they're in a hurry to get this new facility up and running to take advantage of current opportunities."
Whether rushing the designers or the contractors, inflexible or unrealistic schedules are the breeding ground for litigation, he says.
Have a Legally Sound Construction Contract
However, it all comes down to the contract, and there are many professional associations and organizations providing templates that can be used for construction projects. These can be customized for each project, and it isn't unheard of for either party to adjust the contract documents to shift risk to the other side.
"In their base form, they are good, fair baseline documents that can get a project up and going and give everyone a level of comfort that this document has been prepared in a fair way that's reasonable for all sides," Herstein says. "The key is to have someone take a look at the contract for you."
McAlpine agrees. Customizing standard contracts requires a great deal of expertise that even a company's in-house attorney may lack. One major reason for this is that construction contracts incorporate outside documents, such as building codes or testing standards, and it's hard to fully know how one change could affect other provisions.
"There's a lot of complexity to how these documents interact with each other," he explains. "When you modify one, if you're not careful, there can be a ripple effect. There are multiple layers of documents that have to be taken into consideration."
Navigating Price Escalations, Delays, Shortages, and More
Increasingly, attorneys specializing in construction are helping clients navigate issues around price escalation, supply delays, and labor shortages. How you allocate risk for these issues should initially be addressed in the contract phase. "These problems really didn't exist as much three years ago, certainly not to the extent that they do today," Herstein says. "Many older forms don't really have this spelled out."
To cope with price escalation, an owner may be tempted to avoid risk by locking in a price, McAlpine says. However, by doing this, general contractors may in turn try to cover their bottom line by building in contingencies for the increases. One solution is for one party to cover a certain percentage of an increase, say up to 10 percent, with the other paying anything that goes over.
Owners don't usually like this approach, so McAlpine's firm has recently developed a more palatable solution. "There are a handful of commodities that are the most volatile right now, so in some cases, we're putting in price escalation clauses that are key to those specific commodities," he says. Said commodities depend on the job and the day—sometimes the hour—such as lumber, steel, and roofing materials.
Willingness to negotiate goes a long way toward successfully resolving an issue, and it's rare that contractors and private owners go to litigation. However, patience is vital right now as the construction industry copes with supply and labor shortages.
"There's tremendous pent-up demand in the industry," McAlpine says. "It's going to be an interesting couple of years ahead of us."
Find an Experienced Construction Lawyer
For help navigating the complex legal aspects of a construction project, visit the Super Lawyers directory to find an experienced construction law attorney in your area. An attorney can also provide vital legal help if there is a dispute, such as a breach of contract or nonpayment, or the need arises for arbitration. To learn more about this area of law, see our overview of construction litigation and related content on real estate law.
What do I do next?
Enter your location below to get connected with a qualified attorney today.
Additional Construction Litigation articles
State Construction Litigation articles
Attorney directory searches
Helpful links
Find top lawyers with confidence
The Super Lawyers patented selection process is peer influenced and research driven, selecting the top 5% of attorneys to the Super Lawyers lists each year. We know lawyers and make it easy to connect with them.
Find a lawyer near you