What Do I Need To Do Before Filing a Discrimination Lawsuit?
The preliminary steps, according to employment attorneys
By William Wagner | Reviewed by Canaan Suitt, J.D. | Last updated on October 4, 2023 Featuring practical insights from contributing attorneys Randall B. Gold and Cynthia H. Hyndman
Use these links to jump to different sections:
There are many laws at both the federal and state levels designed to protect employees from discrimination and retaliation. Together, they serve a valuable purpose.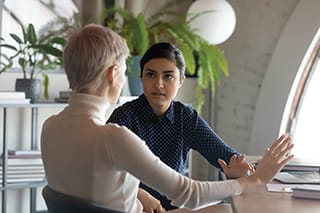 "A discrimination- and harassment-free working environment is one of the key features of our country. It's a fundamental civil right that all Americans enjoy," says Randall B. Gold, an employment attorney with Fox & Fox S.C. in Chicago.
Under federal and state law, you are protected from discrimination on the basis of:
Race
Color
Religion
Sex (including sexual orientation, gender identity, and pregnancy)
National origin
Age (the Age Discrimination in Employment Act or ADEA)
Disability (Americans with Disabilities Act or ADA)
Genetic information (including family medical history)
You are protected from retaliatory actions on the basis of:
Reporting discrimination;
Participating in a discrimination investigation or lawsuit (for example, as a witness);
Opposing discrimination;
Reporting safety issues;
Reporting fraud (such as overbilling);
Taking medical leave as protected under the Family and Medical Leave Act (FMLA);
Other legally protected activity.
The Employment Law Complaint Process: Initial Consultation
So what should you do when your employer runs afoul of one of these protections by taking an adverse employment action against you?
Often, the first step is to contact an employment lawyer. In the initial consultation, which typically lasts between one and two hours, you and the attorney sift through the circumstances and documents relating to the harassment, firing, layoff, or whatever the issue might be.
If you decide to work together, you then can file a charge with either the federal Equal Employment Opportunity Commission (EEOC) or your state agency—for example, where Gold practices, the Illinois Department of Human Rights (IDHR). Generally, this must be done between 180 and 300 days of the incident.
Drafting the Charge of Discrimination
"As a plaintiff's attorney, you help draft the charge for the client," says Cynthia H. Hyndman, an employment attorney with Robinson Curley in Chicago. "You then talk to the investigator at the agency to respond to questions and help them move things along to get their job done. You're advocating for your client like you would in a court case. It's just a little less formal."
Hyndman notes that an attorney isn't required to file a complaint of discrimination with either the EEOC or state agency.
"The agency is designed to help people who don't have an attorney navigate the process. You can always just go to the EEOC or state agency if you suspect your employer has taken some adverse action against you: They fired you, they didn't promote you—something along those lines," she says.
"Because of your membership in a protected class—your race, gender, sexual orientation—there are a lot of different protections. Illinois law tends to protect a little more broadly than federal law does, but you can go to either of these agencies and talk to someone there."
What Happens in the Discrimination Complaint Process Once the Charge is Filed
Nevertheless, an attorney can make a potentially intimidating and complicated process a little less so.
Once you've filed your charge, the agency sends it to your employer and conducts an investigation. Based on what is uncovered, the agency determines whether there's evidence that a violation occurred.
If the case is being handled by the state IDHR, there's an additional step: A fact-finding conference occurs in which you and the employer, as well as your attorney if you have one, meet face-to-face with the investigator.
But even if a case is decided in favor of the plaintiff, justice doesn't necessarily come swiftly. "It could take anywhere from a year to two years, maybe even longer, depending on the complexity of your case," Hyndman says. And if the case winds up going to trial? Tack on another year or two. Gold estimates, however, that about 95% of these cases are resolved before trial.
The Importance of Taking Legal Action Against Discrimination
Despite the long and winding road, Hyndman says the journey is worthwhile. Like Gold, she believes safeguards against workplace discrimination and retaliation are essential.
"It's important for employees to be able to challenge their employers since in Illinois and in most other states, 'at-will employment' is the law, meaning that employers can fire you for really any reason at all," Hyndman says.
"You want to keep employers honest and not have them making employment decisions on the basis of your race or gender or sexual orientation. Title VII [of the Civil Rights Act] has been around since 1964. These laws protecting people from discrimination have been around a long time. Yet it still happens."
Find an Experienced Attorney for Legal Help Filing Your Discrimination Claim
If you have experienced discrimination or retaliation in the workplace—whether through termination, demotion, a hostile work environment, or other adverse actions—reach out to an employment law firm for legal advice about the next steps in reporting discrimination or filing a lawsuit.
For more information on this legal area, explore our overview of discrimination law or related content on sexual harassment and wrongful termination.
What do I do next?
Enter your location below to get connected with a qualified attorney today.
Additional Discrimination articles
State Discrimination articles
Related topics
Attorney directory searches
Helpful links
Find top lawyers with confidence
The Super Lawyers patented selection process is peer influenced and research driven, selecting the top 5% of attorneys to the Super Lawyers lists each year. We know lawyers and make it easy to connect with them.
Find a lawyer near you