Divorce Is Complicated in Washington State
Splitting up is as complicated as it is gut-wrenching. Just ask a divorce lawyer
By Matt Villand | Reviewed by Canaan Suitt, J.D. | Last updated on June 14, 2023 Featuring practical insights from contributing attorney Thomas G. Hamerlinck
Use these links to jump to different sections:
For divorce lawyer Gail Wahrenberger, watching couples feud over who gets more time with the kids is just part of the job.
But during a recent case, the splitting spouses didn't have children. Instead, they got into a custody battle over a beloved Lhasa apso. So, Wahrenberger, a partner at Stokes Lawrence in Seattle, included pictures of her client and the dog in her legal brief. She prepared a spreadsheet outlining which spouse spent more time walking the dog. She even called on the veterinarian to supply records showing which partner escorted the dog to its appointments.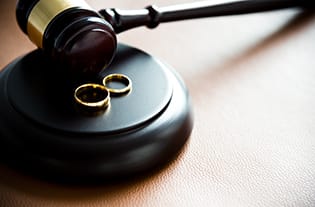 In the end, Wahrenberger's client got the dog. "The woman didn't come to me saying, 'This is a dog-custody case,' but believe me, the hot-button issue rose to the surface pretty fast," she says, stifling a smile. "It was a real struggle, but we were able to get the dog with its rightful owner."
Tom Hamerlinck is a divorce attorney in Seattle. Over roughly 20 years, Hamerlinck says he's seen hundreds of cases that have made him shake his head in disbelief.
Hamerlinck recounts a case in which he represented the wife of a manufacturing-company president. When the husband became romantically involved with his secretary, Hamerlinck's client moved out of the family home and filed for divorce.
She did not take any household goods or furnishings when she left, saying she didn't want anything in her new house that reminded her of "that slimeball." But when Hamerlinck's client later learned that the secretary was pregnant, she changed her tune.
While the husband and his pregnant secretary enjoyed a romantic weekend out of town, Hamerlinck's client hired a moving van and emptied the family residence of all its contents, including the light bulbs. The client came into Hamerlinck's office the following Monday and confessed to everything she'd done. Hamerlinck, peeved that his client had sabotaged their case in this manner, was prepared for the worst.
"I fully expected the husband to file a motion with the court to sanction my client and to require her to return the personal property that she had removed," he remembers. "To my surprise, the husband did nothing, and my client later heard through the grapevine that her husband considered the 'housecleaning' the price he had to pay."
So Long, It's Been Nice To Know You
Divorce is becoming almost as American as apple pie — or so it seems. In the first 15 years, 43 percent of first marriages end in separation or divorce, according to the National Center for Health Statistics. The U.S. Census Bureau indicates that 10 percent of the population is currently divorced, up from 8 percent in 1990. And only 59 percent of Americans are married, down from 72 percent in 1980.
Nobody understands divorce better than those who deal with it every day. Here in Western Washington, there are more than 100 divorce lawyers, according to the Washington State Bar Association. You might think divorce law is a thankless job; helping two spouses duke it out after the end of a failed marriage certainly takes its toll. Still, Wahrenberger says she can't imagine working in any other legal field, because at the end of the day, she's helping her clients when they're most vulnerable.
"Practicing this kind of law, I honestly feel like I can do good [for society] and make a really difficult time in people's lives better," says Wahrenberger, who specialized in commercial law until 1991. "Divorce can be difficult, but when it's clear both parties will be better off apart, it's also very rewarding."
Divorce Cases 101
A spouse does not have to prove wrongdoing to get the court to grant dissolution of marriage. This "no fault" system is intended to help spouses settle matters without unnecessary bitterness or resentment. Though many issues can be ironed out through mediation, many separating spouses enlist the help of attorneys, especially in cases that are contested or that involve children and property. Without lawyers, things can often get ugly.
Many times, even with lawyers things get ugly. Washington is a "community property" state, which means both parties own marital assets. Still, there is no fixed method for determining how property should be divided. Washington laws provide for "just and equitable" division of property acquired during a marriage, meaning that all assets — real and personal, tangible and intangible — must be distributed once a marriage is dissolved. According to Wahrenberger, the vague nature of legalese doesn't always result in an equal division.
"If you have a situation wherein a husband makes a lot of money and the wife has either been unemployed or minimally employed, the court may not distribute property evenly," says Wahrenberger, who notes that under extraordinary circumstances, the court may even award some separate assets — like property you owned before the marriage and money you inherited while married — to the other party. "The word 'equitable' is quite different from the word 'equal.'"
As Wahrenberger explains it, courts divide property without regard to marital misconduct, meaning that if one spouse cheated on another, the infidelity will have no bearing on the division of the stuff.
Instead, courts consider the type and amount of joint and separate assets, the length of the marriage, the financial position of each party, and who will pay the bills for debt incurred during the marriage. All liabilities must also be divided, and to do this, the court considers both the types of debt and the circumstances under which they arose.
Child Custody & Visitation Issues
In just about every divorce involving kids, the children are the most hotly contested issue. Who gets to spend more time with them? Where will they live?
When children are involved, the divorce can't be finalized unless both spouses agree to a strategy for raising the kids. The state Parenting Act of 1988 requires this strategy in any proceeding for annulment, legal separation or marital dissolution. It is known as a "parenting plan"; the phrases "custody" and "visitation" are no longer used.
Splitting parents may agree on a parenting plan, or the spouses may propose opposing plans. The court will consider the best interests of the children. Every plan must contain a schedule for residential care, and the parents must agree on who will be the primary residential caretaker. This parent has the ultimate responsibility for decision making and resolving future disputes involving the kids.
The law also includes provisions for restricting or denying access to the children in cases of parental abuse or neglect, domestic violence, and extreme parental conflict that impacts the children.
Though mothers typically get to spend more time with their children than do fathers, there is no rule in Washington state that says this must be so, says Mary Wechsler, a partner at Wechsler Becker in Seattle. Each case is worked out separately, and each set of parents must agree to a plan. If they can't — as happens in 3 to 5 percent of Washington divorces — the case goes to trial for a judge to decide, says Wechsler.
"The parenting plan encourages creativity in scheduling, which in turn keeps both parents involved," she says, noting that, when one spouse simply won't accept the other's suggestion, Wechsler Becker sometimes calls in a psychologist to make a parenting evaluation.
Of course, both parents have a duty to support their children financially.
Child support is based on the Washington Child Support Schedule, which adds up the costs of providing a home and general care for children, then tabulates each parent's share of that cost according to their income. Child-support payments are usually required until a child is 18 years old or graduates from high school, whichever is later.
In some cases, Wechsler says postsecondary support may also be required for a dependent child's college or vocational education expenses or for a disabled child.
Money Matters: Child Support & Spousal Maintenance
Child support isn't the only money spouses may be required to pay out following a divorce; in certain cases, one or both exes also may have to shell out "spousal maintenance," formerly known as "alimony."
These funds may be awarded if one spouse is needy and the other has the ability to pay. Spousal maintenance will not, however, be awarded or withheld as punishment for marital misconduct or infidelity. The focus is not on the circumstances that led to the divorce but on making sure both parties can survive following it.
In determining spousal maintenance, courts consider:
The financial resources of each spouse
Their age and physical condition, the duration of the marriage
The standard of living established during the marriage, and
The work experience and earning prospects of each spouse, including consideration of the time needed by one partner to train for becoming employed
Hamerlinck says that, despite what some of his clients say they've heard, there's no standard formula for spousal maintenance, and every case is entirely different.
"People come in here saying, 'I've heard you get six months' maintenance for every year of marriage,' but it's just not true," Hamerlinck says. "The truth is that, if you each get a large enough property settlement, there may not even be a need for [spousal] maintenance."
Another issue that comes into play when calculating who gets maintenance is the question of who pays attorney fees. The spouse who is more capable of paying fees is expected to shoulder a majority of the burden. But the other spouse must pay something as well.
With this in mind, Wechsler says the hardest part of any divorce proceeding is the process of "valuation," the procedure through which the assets accumulated during the marriage are tallied up. Because this process is critical to other financial issues, attorneys split hairs here to get the most favorable assessment.
Once valuation has been done, the toughest part of a divorce is the negotiation, or mediation. Wechsler says she likes to hammer out specifics of a case in one day, and she negotiates most of her cases for an average of eight hours. Wechsler remembers negotiating one settlement from 9 a.m. until 2 a.m. the following morning.
"You don't want to leave," she notes, "if you're making progress."
Speak with an experienced Washington divorce lawyer for legal advice about your situation. For more information on the legal process, see our overviews of family law, divorce, and mediation and collaborative law.
What do I do next?
Enter your location below to get connected with a qualified attorney today.
Related topics
Attorney directory searches
Helpful links
Find top lawyers with confidence
The Super Lawyers patented selection process is peer influenced and research driven, selecting the top 5% of attorneys to the Super Lawyers lists each year. We know lawyers and make it easy to connect with them.
Find a lawyer near you