DUI vs. DWI: What is the Difference?
The charges and penalties are separate, albeit similar, in Maryland
By S.M. Oliva | Last updated on January 19, 2023
Use these links to jump to different sections:
Maryland Department of Transportation
. On average in each of those five years, the state had 7,884 crashes involving impaired driving, leading to 171 deaths and 4,026 injuries each year. Suffice it to say: Drunk driving is a serious crime in Maryland. If the police stop you on suspicion of drunk driving, you may be charged with either driving under the influence of alcohol (DUI) or driving while impaired by alcohol (DWI). While some states use DWI and DUI interchangeably to describe the same thing, in Maryland they are distinct offenses with their own legal penalties.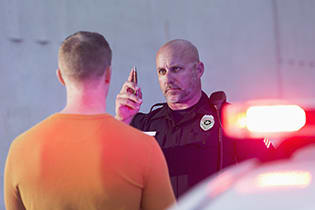 "Maryland is one of a minority of states that have a two-tiered drunk-driving statute," says
Leonard Stamm
, a
criminal defense attorney
in Greenbelt. "You have different penalties that apply if a person is really falling-down drunk, or if a person is driving while buzzed."
Driving Under the Influence
DUI is the more serious offense. Maryland state law defines driving "under the influence per se" as operating any motor vehicle with a blood alcohol content (BAC) of 0.08 percent or higher. Police officers typically establish BAC by performing a portable breathalyzer test. There are immediate consequences to failing or refusing a breath test. If the test reveals a BAC of at least 0.08 percent—and this is your first or second offense—your  driver's license will be suspended 180 days. If that sounds harsh, consider the penalty for refusing to take the test at all is even more severe: a 270-day suspension for a first DUI charge, and 2 years for any subsequent offense. A license suspension is an administrative remedy, so it is treated separate and apart from any criminal DUI prosecution. If you are tried and convicted for a first-time DUI in court, the judge can sentence you to one year in jail and fine you $2,000. These penalties double for a second offense, and triple for a third or succeeding offense. There are also enhanced penalties if you are caught transporting a minor while committing a DUI; a first offense in those cases can lead to a two-year jail term and a $2,000 fine.
Driving While Impaired
Police can also arrest you for DWI charge if a breath test shows a blood alcohol concentration of .07 percent, or there is evidence that alcohol or drugs have affected your normal condition while operating a motor vehicle. Police officers can establish grounds for DWI charge by performing a variety of field sobriety tests. "The difference between DUI and DWI is really very slight," says Stamm. "In most cases, when you submit to the test, if it's enough above a .08, they can comfortably charge both offenses." As with DUI, a first-time DWI conviction can lead to a six-month suspension of your driver's license (one year if you are under the age of 21). But the maximum criminal penalties are significantly lower: only two months in jail and a $500 fine. For a second offense, the potential jail term increases to one year. If you are transporting a minor during the commission of a DUI, the first-offense penalties increase to six months in jail and a $1,000 fine.
Ignition Interlock Device
In 2016, Maryland adopted "Noah's Law" (The Drunk Driving Reduction Act of 2016), which was named after a Maryland police officer killed by a drunk driver during a traffic stop. Noah's Law mandates the installation of ignition interlock devices (IIDs) for anyone convicted DUI, DWI while transporting a minor under the age of 16, or of homicide or "life-threatening" committed in the course of a DUI or DWI. Eligible drivers may also choose to install an IID in lieu of serving a mandatory suspension following a failed or refused blood test. If you refuse a test and receive a DWI, the IID must remain installed for at least one year. For other first-time offenders, installation is mandatory for six months. If you'd like more general information about this area of the law, see our
DUI/DWI law overview
.
What do I do next?
Enter your location below to get connected with a qualified attorney today.
Attorney directory searches
Helpful links
Find top lawyers with confidence
The Super Lawyers patented selection process is peer influenced and research driven, selecting the top 5% of attorneys to the Super Lawyers lists each year. We know lawyers and make it easy to connect with them.
Find a lawyer near you