What You Need to be Eligible for Arizona Long Term Care System?
Breaking down income limits, resource requirements, and medical criteria for ALTCS
By Super Lawyers staff | Reviewed by Canaan Suitt, J.D. | Last updated on May 4, 2023 Featuring practical insights from contributing attorney Emily R. Taylor
Use these links to jump to different sections:
Long-term care services are notoriously expensive. The Arizona Long Term Care System (ALTCS) is part of Arizona's Medicaid program that is designed to assist disabled individuals and seniors on a fixed income get access to much needed level of care and support.
Notably, ALTCS has strict financial and medical eligibility requirements. Here, we offer an overview of the qualification standards that an applicant must meet in order to receive ALTCS benefits.
ALTCS Eligibility: Residency, Income, Resources, and Medical Criteria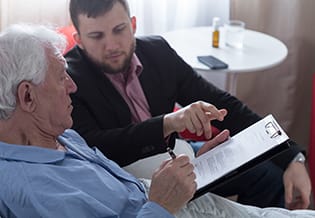 "The benefit of retaining counsel for going through the Medicaid application process is that we're able to help folks preserve some of their resources," says Emily R. Taylor, an attorney at Taylor & Lihn in Phoenix.
"The primary response when you call the Medicaid agency is: You have too much money, spend it down. But they don't exactly tell you how to do that. Frankly, their rate of denial is super high, and it can be for any of the reasons."
Residency Requirement
First and foremost, the ALTCS is only open to Arizona residents. You must live in the state of Arizona and be a United States citizen or have proper immigration status to apply. Non-legal residents of Arizona are not eligible for benefits through the state's long-term care program.
Income Limits
The ALTCS uses a strict income test. Your income can be no higher than three times the Supplemental Security Income (SSI) Federal Benefit Rate for the current year. As of January 1, 2023, this means that the maximum monthly gross income you can have to be eligible for benefits through ALTCS is $2,742 as an individual
"With income, if you're a penny over, they're not going to be flexible with that limit," says Taylor. "People may feel they qualify for resources and medical, get partway through the application and realize that, because their gross income is a dollar or two more than they thought or knew, they'll get disqualified and they'll have to reapply. It can really slow down the process."
If your income is currently too high, there are some options available that might help you to reach qualifying levels. First, you may be able to transfer some income to a non-benefit spouse for the purposes of the income test. Further, you may be able to set up a specialized type of trust to preserve eligibility. As both of these strategies can be complicated, it is best to seek professional help.
Resource Limits
Beyond monthly income limits, the ATLCS also uses a resource test. To be eligible for coverage through the program, you must have no more than $2,000 as an individual in countable assets. To be clear, certain assets are exempt from this test. For example, the value of a primary home—up to a certain amount—and the value of a primary vehicle may be excluded from the calculation for asset limit.
"A common misconception is that the state is going to take your house, and you're not allowed to have anything," Taylor says. "While in some cases that is true, it isn't always true. Working with any attorney can give you some options to preserve your primary residence, and certain resources under other circumstances."
Medical Criteria
The ALTCS program is designed to provide benefits to people to people who need long-term care—either in a nursing home, assisted living facility or another location. To qualify for benefits, an applicant must undergo a functional and medical assessment. If this assessment determines that they need care, even if it is only part-time care in their own home, then they will satisfy the medical criteria for coverage.
Have Questions About Eligibility? Seek Professional Guidance
Navigating the ALTCS application system can be complex and confusing—especially if you are putting a plan in place to protect and preserve your right to obtain services in the future. Professional legal guidance is available to those who need it. If you have any specific questions about your eligibility to get coverage through ALTCS, contact an experienced Arizona health care attorney for support.
"Talking with an attorney prior to being in crisis is always ideal—of course, we can't always plan for that," Taylor says. "Being aware of what they're looking for, and making sure you have the records they need, that can really reduce the likelihood you're going to get denied."
For more information on this area, see our overview of elder law and estate planning.
What do I do next?
Enter your location below to get connected with a qualified attorney today.
Attorney directory searches
Helpful links
Find top lawyers with confidence
The Super Lawyers patented selection process is peer influenced and research driven, selecting the top 5% of attorneys to the Super Lawyers lists each year. We know lawyers and make it easy to connect with them.
Find a lawyer near you