When Seniors Talk, Money Walks
When  seniors talk, money walks
By Christine Schuster | Last updated on January 19, 2023
Use these links to jump to different sections:
Stuart C. Bear
, an elder law and estate planning attorney at Chestnut Cambronne in Minneapolis, recalls working with an elderly woman who needed financial protection from her grandchildren. "I would see her in the nursing home and at one of our visits she said, 'Stuart, I'm so glad you're here. You've got to help me. I feel as I've become the family ATM machine,'" Bear says. "'Help me protect myself.'"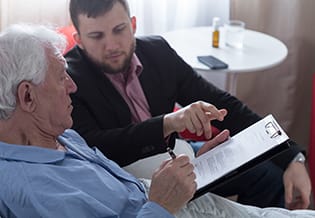 Many senior citizens are victims of financial abuse and scams perpetrated by adult children or other loved ones. Assigning a power of attorney is one way to protect against it.
Power of attorney
is a document in which one person (the principal) establishes that another adult (the attorney-in-fact) will have equal control over the principal's financial decisions. It appoints a concurrent authority while not surrendering any personal rights to property and finances. The document appoints a trusted person (or persons) to ensure the elder is making decisions in their best, long-term interests. However, it may not be enough protection or the right kind for vulnerable adults.
"I've had lots of cases where kids are stealing their mom's money and don't seem to think that's wrong in any way, shape or form," says
Mary Joki Ebb
, an elder law and estate planning attorney at Mary Ebb Law in White Bear Lake.
If financial exploitation, a form of elder abuse, at the hands of family members is suspected, know the characteristics of the different types of power of attorney documents.
The Different Powers of Attorney
A
durable power of attorney
is effective when signed and continues until the person revokes it or dies. "The beauty of a durable power of attorney is when the representative notices that a senior may need some assistance, they can instantly step in," Bear says. The other beauty: It's a fairly straightforward document that only takes about an hour of an attorney's time (and as such should cost under $500).
Everything is put into words with a durable power of attorney document, allowing for detailed arrangements to be made. "It has more clout in a lot of situations," Ebb says. "Especially if you have a lot of assets, it just has more punch."
If the attorney-in-fact is suspected to be conducting financial mistreatment, they can be changed at any time by creating a new power of attorney. A springing power of attorney "springs" into effect when the principal is deemed incapacitated in some way. Bear typically advises against this type because its effectiveness hinges on a clear, sudden change in health, such as a stroke. It can be harder to utilize the document when faced with a gradual loss of mental and physical capabilities.
The simplest option is called a
Statutory Short Form
—a document created by the Legislature that only needs to be filled out instead of written. The form cannot be modified but it does allow the principal to select whether or not they want to the power of attorney to continue or end when they become incapacitated.
Conservatorships
A
conservatorship
is a court procedure (and as such can cost between $3,000 and $5,000; if it's contested, it may be even more) in which the court appoints a conservator to manage an individual's estate. A conservator is often appointed when an individual didn't obtain a power of attorney while they had capacity. A family member may file a petition with the court to be appointed the conservator and the court grants specific powers depending on the situation.
Unlike a power of attorney, a conservatorship does cause a loss of autonomy. "The court sees this as a last resort," says Bear.
Yet, conservatorships may be a way to end manipulation or maltreatment. Most elders don't want a conservatorship because they think it means they are incapacitated, Ebb says. "It mostly means they're unable to make decisions in their own best interests."
Only the court can remove or replace the conservator. This safeguards against pressure from the family to change the power of attorney document for their personal gain. "They think they should have it all, and they'll go out and have mom and dad sign a new power of attorney and a lot of times mom or dad may not be competent at that point to make that kind of decision," Ebb explains.
You Can't Choose Family, But You Can Choose an Attorney
Minnesotans can protect themselves or a loved one from financial exploitation by planning up front. By the time the problem starts, "I don't want to sugarcoat it, the money is going to be long gone," Bear says. However, when a problem is identified, there are ways to wall-off personal finances for protection, while still giving access to trusted family members.
As for the woman who told Bear she felt like an ATM machine? After her grandchildren consistently asked for money, it had become apparent that they were likely using the money for drugs and alcohol, and not simply down on their luck. "I wrote a letter to all the family members and said, 'Whether you like it or not, I'm her lawyer, and everything has got to be run past me,'" Bear says.
A responsible family member oversaw her accounts and paid her bills on her behalf under her power of attorney. The rest of the family was required to put requests in writing and not make unplanned visits.
"She wasn't giving up anything. She was appointing some tough guys to look out for her. And that worked really, really well," Bear says. "She lived the last years of her life protected."
What do I do next?
Enter your location below to get connected with a qualified attorney today.
Additional Elder Law articles
Attorney directory searches
Helpful links
Find top lawyers with confidence
The Super Lawyers patented selection process is peer influenced and research driven, selecting the top 5% of attorneys to the Super Lawyers lists each year. We know lawyers and make it easy to connect with them.
Find a lawyer near you