What to Expect and How to Defend an ERISA Lawsuit
An attorney's advice when a Pennsylvania business faces a suit
By Super Lawyers staff | Reviewed by Canaan Suitt, J.D. | Last updated on May 4, 2023 Featuring practical insights from contributing attorney Sarah Bryan Fask
Use these links to jump to different sections:
Sarah Bryan Fask, an employment litigation attorney at Littler Mendelson in Philadelphia, lives and breathes the Employee Retirement Income Security Act (ERISA). But even attorneys who practice employment law "run like the wind when ERISA is mentioned," Fask says. So, it should go without saying that Fask's business executive clients are likewise intimidated when they face an ERISA lawsuit.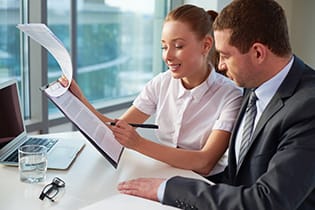 "ERISA is a very reticulated statute. It has a lot of sneaky ins and outs. And it's pretty easy, frankly, to get tripped up if you don't know your way around it," Fask says. "The case law has been, frankly, all over the place. Different ERISA issues get to the Supreme Court almost every term, and so it's an area of law that changes frequently."
ERISA is a federal statute that regulates most employee health care, pension, welfare, and retirement plans voluntarily established by private employers. "Different kinds of employers face different kinds of ERISA litigation. It depends on what kinds of benefits are being offered by the employer. ERISA essentially says, 'If you're going to offer benefits, these are the rules that you need to follow,'" Fask explains.
There are several kinds of litigation a company can face under ERISA.
"Those involve mishandling of a benefit plan, a breach of fiduciary duty claim brought by employees or plan participants; it can include claims for failure to select proper investments for a 401(k) plan, for example; it can include claims by a union trust fund for contributions—or what's called withdrawal liability—when an employer stops making contributions for multi-employer pension plans," Fask says. "So the types of litigation that an employer could face under ERISA are incredibly varied and diverse."
Going to Court: State or Federal?
ERISA is expressly designed to preempt any state laws governing pension benefit plans. This generally covers not only statutory rights, but also certain common-law theories of legal recovery.
Keep in mind, however, that preemption does not mean you can automatically dismiss an employee's state law claim. Rather, preemption allows you to remove such claims from state to federal court, which must then apply ERISA to resolve such issues.
"State and federal courts have concurrent jurisdiction," Fask says. "So a state court can hear an ERISA case, but every defense lawyer is going to remove it to federal court because federal courts have jurisdiction over them as well."
To be clear, ERISA cases very rarely go to trial. "Almost all of them get resolved at summary judgment because there are very few undisputed facts," Fask says. ERISA has an anti-retaliation provision, so those cases can go to trial because the fact pattern is closer to an employment discrimination case, for example.
An Example of How a Case Proceeds
To illustrate the path of an ERISA claim, Fask uses the example of a benefit denial suit.
"An employee or a beneficiary of a plan comes in and says, 'You should have covered my tummy tuck as a medical benefit because it was for a medically necessary reason,'" she begins.
"The employer, the plan sponsor, is saying, 'No, you got it for cosmetic reasons.' What happens is that the plan's administrator reviews all the medical documentation and then makes the decision. The court is looking generally at whether or not the plan administrator made an arbitrary and capricious decision.
"So the court looks at all of the medical records that the plan looked at when it made its decision and says, 'Yeah, this maybe isn't a decision I would have made, but it's a reasonable decision.' Meanwhile, the employee will say, 'This is arbitrary and capricious. They ignored the facts or they didn't give me the documents I asked for. So we want the plan to have to reconsider it.' So the judge looks at all that and makes the decision."
In some cases, like multi-employer withdrawal liability claims, they go straight to arbitration, which can then be appealed to federal court.
"And those have very specific appeal deadlines that are triggered by a letter from the fund," Fask adds.
"So if you don't know what you're looking out for, you could very easily find yourself with six or seven figures of withdrawal liability and literally no defenses. If you do not respond to the letter in a timely manner, you will waive all of your substantive defenses. Period. So it is very important not to put your head in the sand and to get an attorney involved."
Getting an ERISA Attorney's Guidance
Prevention is always the best defense. Ideally, you have a good ERISA plan that is administered fairly and properly. An attorney can even come in handy for helping create and review plans, as well as examine the decisions made by plan administrators.
But if you're facing a lawsuit, contact a law firm and seek legal advice from a qualified Pennsylvania ERISA litigation attorney.
"There could be a lot of dollars at stake in these kinds of cases, and you need to make sure that you are reaching out to someone who has the depth of experience to not get tripped up on all of the particularities within ERISA and within the changing state law," says Fask.
For more information on this area of law, see our overview of employment litigation.
What do I do next?
Enter your location below to get connected with a qualified attorney today.
Attorney directory searches
Helpful links
Find top lawyers with confidence
The Super Lawyers patented selection process is peer influenced and research driven, selecting the top 5% of attorneys to the Super Lawyers lists each year. We know lawyers and make it easy to connect with them.
Find a lawyer near you