What to Consider in an Entertainment Licensing Deal
Know the legal details in Washington state
By Super Lawyers staff | Reviewed by Canaan Suitt, J.D. | Last updated on May 4, 2023 Featuring practical insights from contributing attorney Tim Billick
Use these links to jump to different sections:
Entertainment is one of the leading industries in the United States. For those operating in the industry, the ability to license their intellectual property in an agreement with another party is a valuable asset.
In the modern world, most entertainment projects only make it to consumers after contributions from a number of different parties.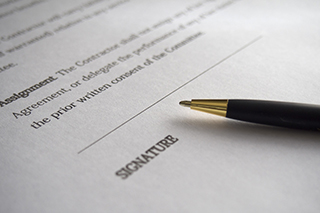 As a simple example, a new TV show being developed and filmed in California for a streaming service may very well be based on the original screenplay by a writer in Washington. For this reason, licensing agreements are a key part of the entertainment industry.
Simply defined, a licensing agreement is a contract that permits one party (called the "licensee") the right to use the property/intellectual property of another party (called the "licensor"). As licensing deals are negotiated by the parties, each agreement has its own unique terms and conditions.
4 Things to Consider When Negotiating a Licensing Agreement
Exclusivity or Non-Exclusivity: The first question that needs to be asked in any entertainment licensing agreement is: Is the deal exclusive or non-exclusive? An exclusive license is obviously far more valuable. A non-exclusive license could work well for many types of arrangements.
Compensation (Royalties): The licensing agreement should clarify compensation. How is the licensor going to be paid for their intellectual property? It could be a flat fee, royalties based on performance of the project, or some combination of a license fee and royalty payments.
Modifications/Termination: When hammering out the details of an entertainment licensing agreement, it is always a best practice to consider the possibility of modifications, renewals, derivative works and early termination.
Dispute Resolution: Ideally, you will never have to worry about this clause. No one enters a contract expecting a dispute. At the same time, there is always a risk that things could go sideways. It is imperative that you consider dispute resolution as part of your contract.
How a Lawyer Can Help, and When to Use Them
You do not have to draft or negotiate a licensing agreement on your own. Professional guidance and support is available and, in most cases, advisable.
"I always recommend having legal counsel in various stages of the agreement. Get in touch with an IP lawyer sooner rather than later," says Tim Billick, of TBillick Law in Seattle.
"I have a lot of clients that will come to me, we'll do a check-in, and I give them a lay of the land. In some deals, I'll say, 'You can use me as much or as little as you like. Use me as a resource if you have questions.' But in any case, it's really beneficial to get a quick 20-minute conversation early on. Most lawyers will do that on the house, but even if you pay a little bit for a lawyer's time, that saves you a ton of time and you have the assurance it was done right."
On the other hand, BIllick says, "You don't always need to have a lawyer involved every single step of the way. Frankly, there are some situations where the client knows the business and knows the industry better than the lawyer. If that is the case, it's totally acceptable to have the client do 60 percent of the initial rough drafting and negotiation just to get like the raw terms involved. Then you can save your budget for the final 30 to 40 percent of the negotiation so your lawyer can focus on tightening up the terms and making sure that you have the right legalese."
When Billick meets with a new client, he says the first step is to determine what you have in terms of IP, and the second is to determine the target market. To start, he protects artists and entertainers with two aspects of intellectual property: "the right of publicity and trademark law to seek protection for name, image, and likeness; and any brands or slogans they should explore," he says.
"Thankfully, U.S. trademark law makes it relatively easier to protect your full name as a trademark, assuming you're using it to identify goods and services," Billick continues.
"If someone were to say to you, 'We're using a mark similar to your full name,' when you're also using that name in commerce, you have some additional offensive and defensive arguments against competitors under trademark law. This is because Section 2(a) of the Lanham Act precludes federal registration for a mark that could disparage or create a false sense of association with someone. So, if it makes sense for a client, we can get a plan in place to leverage their full name as a trademark."
But because the area of law dealing with rights of publicity is state-specific, Billick says, "it can get a little messy, so you have to be very savvy with your licensing. Factors include where you're going to be doing your business, and it depends on whether you want to put a choice of law provision into your licenses, which is always a good practice."
"Copyright protection and content licensing should also be explored if your client is making anything expressive like music, designs, artwork, videos, et cetera," Billick says. "Because rights of publicity, trademark law, and copyright law can overlap and interplay, a full strategy can be complicated and nuanced … so it's definitely worth your time to chat with an IP lawyer early on."
What Legal Counsel May Cost
A full IP plan may mean more legal costs, but there are several options available for how they charge, depending on the project and attorney.
Some services, like IP applications and some contracts, are commonly done on a flat fee, but in some circumstances, they will charge an hourly rate. Another option that is common in entertainment law is for attorneys to take a percentage cut of a deal.
"And those percentages are going to vary pretty widely on the kind of deal that you're doing," Billick says. "Typically, it'll be somewhere in the ballpark of like 5% to 10% for some kind of deals, but many movie deals, since it has a long and lucrative licensing stream to it, it's usually on the smaller end of the spectrum."
Ultimately, Billick adds, it depends on the client's budget, the project at hand, and the relationship they have with their attorney. In this business, that relationship is pretty important. Don't be afraid to talk with your lawyer about the budget and expectations.
"Always have a lawyer look at it if even for an hour, just to be sure, because you don't know what you don't know, and you're not going to blow up negotiations if you just say, 'Let me run this by my guy.' Anybody in contract negotiations is going to be totally cool with that."
If you have any questions or concerns about entertainment licensing deals, contact a law firm and seek legal advice from an experienced Washington entertainment law attorney. They can help you find the best path forward. For more information, see our overview of entertainment and sports law.
What do I do next?
Enter your location below to get connected with a qualified attorney today.
Attorney directory searches
Find top lawyers with confidence
The Super Lawyers patented selection process is peer influenced and research driven, selecting the top 5% of attorneys to the Super Lawyers lists each year. We know lawyers and make it easy to connect with them.
Find a lawyer near you