The Rules for Contesting a Will in Florida
No. 1: someone has to be dead
By Marisa Bowe | Last updated on January 9, 2023
Use these links to jump to different sections:
If you'd like to contest a will, there are several rules to follow—chief among them, the person has to be dead. "That's the first mistake a lot of people make," says
Marsha Madorsky
, who practices estate planning and probate law at Duane Morris in Miami. "People come in and say, 'I want to contest my father's will.' 'When did he die?' 'He's not dead yet.' 'Well, I'm sorry, you can't do that.'"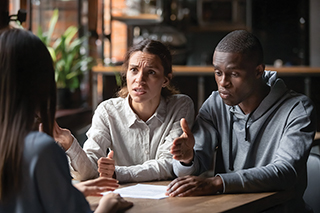 The second rule: Not just anyone can contest a will. "You have to have 'standing,' is what we call it in legal terms," explains
Gina Chevallier
, an estate planning and probate attorney in Coral Gables. You must be an "heir at law"—someone who would inherit in the absence of a will: a spouse, a child, a grandchild of the loved one. Or if you were named a beneficiary or personal representative (Florida's term for "executor") in a former will, and were left out in a newer one. Third rule: You must have a valid reason. "There are three traditional grounds," says
Frank Adams
, an estate planning and probate attorney at Dunwody White & Landon in Coral Gables. "First is improper execution." A will must be executed by a person over age 18, and witnessed by two people who watch the testator—and each other—sign the document. "The statute reads that they must be in the presence of each other," Adams says. Although a 2020 Florida law allows a testator and witnesses to sign electronically on a recorded video call—witnessed by a notary also on the call—the attorneys say there are possible complications with this process. One of them: "You can't know what else is going on behind the camera, and it could come into question in the future," Madorsky says. "[It's] not worth the potential for a lawsuit."
'Sound Mind' and Mental Capacity
Another ground for contesting is the "lack of testamentary capacity" when the testator wrote the will. However, Chevallier points out that this standard is "different than your garden-variety incapacity. I may be suffering from dementia [or] some kind of mental illness that does not allow me to handle my own affairs, but that does not mean that I cannot create a will." Adams explains: "You have to be aware that you're signing your will, you have to have some idea of what your assets consist of, you have to be aware of what we call the natural objects of your bounty [basically, your family], and you have to be aware of the consequence of what you're about to do."
If Family Members or an Interested Person Overstep
The third ground for contesting is "undue influence." An example, Frank says, is the classic situation in which a devious caretaker takes an elderly employer to a lawyer and instructs the elderly person to leave them everything. Florida has laws to prove undue influence. "Then the burden shifts to the proponent of the will to establish that it was not a result of undue influence," Adams says. Other legal grounds that are commonly seen, Adams adds, are fraud (someone lying to a testator), duress (a physical or emotional threat to get a testator to get someone included in a will), and unintended errors in the will. Once a will has been accepted by the probate court, the personal representative must serve all interested parties with a Notice of Administration. You then have 90 days to contest the will. Warning: If you think you've been cut out of a will by fishy means, you won't receive a Notice of Administration. But Chevallier says, "You can file a 'caveat' with the court in the jurisdiction in which the decedent lived. They have to now notify you of any formal administration before a will can be submitted to probate." Adams believes this offers a strategic advantage. "There's a psychological difference when the court has already acted and appointed a personal representative and admitted the will to probate," he says, "versus 'Let's have the fight ahead of time, when the person doesn't have the apparent authority of being the personal representative.'"
Letting Go of a Florida Will Contest
Even if you feel you have a solid case, attorneys recommend mediation, a settlement, or just letting it go if at all possible. For one thing, notes Adams, there's the cost. "Will contests are phenomenally expensive," he says. Even with a simple case, he says, "your starting point's $50,000." Adds Chevallier, "If you're going to be spending 50% of what you stand to gain, the only ones winning in that situation, quite frankly, are the attorneys." There's also a self-care factor: Avoiding a formal will contest can save "a lot of heartbreak, a lot of hard feelings, a lot of angst," says Madorsky. "I mean, these are more often than not families, right? And there's nothing worse than families fighting over money."
What do I do next?
Enter your location below to get connected with a qualified attorney today.
Attorney directory searches
Find top lawyers with confidence
The Super Lawyers patented selection process is peer influenced and research driven, selecting the top 5% of attorneys to the Super Lawyers lists each year. We know lawyers and make it easy to connect with them.
Find a lawyer near you