How Long Do I Have to Contest a Will in Texas?
And on what grounds am I allowed to do so?
By Super Lawyers staff | Reviewed by Canaan Suitt, J.D. | Last updated on May 4, 2023 Featuring practical insights from contributing attorney Bridget O'Toole
Use these links to jump to different sections:
When a person passes away in Texas, their estate may be required to go through the probate process. The Texas State Law Library describes probate as the court-administered procedure during which someone's death is legally recognized, their estate is settled, and estate assets are distributed to the appropriate heirs.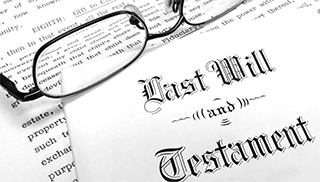 The last will and testament is the primary legal document that is referred to during probate. Texas probate court is responsible for confirming the validity of a will and interpreting instructions of a valid will. You have the right to challenge a will that you believe is improper. Here, you will find an overview of the most important things you need to know about contesting a will in Texas.
Challenging a Will in Texas: Know the Statute of Limitations
Texas has a statute of limitations that you must comply with if you are considering challenging a will. Under state law, you must officially contest the will within two years of the date that it was admitted into probate. What happens if you wait too long to take action? In most cases, you will simply lose out on the right to challenge the will. The statute of limitations is a strict deadline.
What Are the Grounds to Contest a Will in Texas?
You cannot challenge a will just because you disagree with it. Every person has a general right to write and revise their own will in accordance to their wishes. That a will is not "fair" is not relevant to the probate court. That being said, you can challenge a will that is legally flawed. Here are the four most common grounds for contesting a will in Texas:
Improper Execution
Under Texas law (Texas Estates Code § 251.001), a will is only valid if it meets certain requirements. You can challenge a will on the grounds of improper execution. A will that is not written or signed is not valid in Texas.
Lack of Capacity
To make or alter a will, a person must have legal capacity.
In some cases, people lose their capacity later in life—perhaps due to dementia or other medical issues. Any will drafted or revised by someone who lacked legal capacity is not valid in Texas.
"To prove testamentary capacity you have to be able to show that the decedent had a lucid moment and that during that lucid moment, they understood in a general sense what their estate consists of, who the [beneficiaries] of their estate are, and that the document they're signing is a will and what a will does," says Bridget O'Toole, an estate & trust litigator law firm at Schlanger Silver in Houston.
"The lucid-moment standard is a fairly low bar; if you have an estate planning attorney that drafted the will in question, that attorney is, of course, going to testify that the decedent had capacity when they signed the will—so you are going to have to prove to a jury or to the judge that the estate planning attorney was wrong about capacity. If you have an experienced estate planning attorney, that can be a difficult hurdle to overcome."
Undue Influence
You also have the right to challenge a will on the basis that another person—friend, family member, caretaker, etc.—improperly applied undue pressure to a vulnerable person.
Fraud or Forgery
Lastly, you can always contest a will on the basis that the legal document is not itself authentic. A will that is a fraud or a forgery should be thrown out by the probate court.
Getting Legal Help
Contesting a will is complex. You need to present a strong, well-supported claim to successfully challenge a will. If you have any questions about contesting a will, contact an experienced Texas estate & trust litigation attorney for help.
A probate litigation lawyer will take immediate action to protect your inheritance rights and challenge an illegitimate will. "There are statutory deadlines that you need to be aware of. When you can file a contest and who has the burden of proof is impacted by when you file your contest, etc.," says O'Toole. "I would never suggest that you try to handle this without an experienced probate litigator."
For more information on this area of law, see our overviews of estate planning, wills, trusts, probate and estate administration, and estate and trust litigation.
What do I do next?
Enter your location below to get connected with a qualified attorney today.
Attorney directory searches
Find top lawyers with confidence
The Super Lawyers patented selection process is peer influenced and research driven, selecting the top 5% of attorneys to the Super Lawyers lists each year. We know lawyers and make it easy to connect with them.
Find a lawyer near you