Can Georgia 14 Year-Olds Choose Which Parent to Live With?
Kids have a say, but the system aims to ensure the choice is legitimate
By Doug Mentes, Esq. | Reviewed by Canaan Suitt, J.D. | Last updated on May 2, 2023 Featuring practical insights from contributing attorney Brooke M. French
Use these links to jump to different sections:
In all custody cases in which the child has reached the age of 14, Georgia law gives that child the right to select the parent with whom he or she desires to live.
The child's preference (or parental election) is presumptive, meaning it's assumed to be the correct custody arrangement unless it is shown not be in the best interests of the child.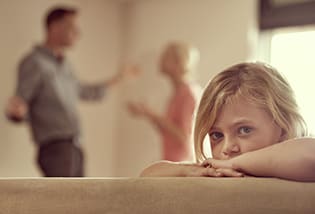 If there is a current court order concerning the custody of a child, the election of a child who is 14 or older may qualify as a material change of circumstances sufficient to warrant a modification of child custody.
What that means is that the child's election to change the custody situation will be sufficient to get the matter into court for modification of custody. However, that election on its own may not be enough to change custody.
Brooke French has been working in family law in Georgia for more than 15 years, and cautions that, "if a mom files an election saying that the child wants to come live with mom full time, that doesn't mean mom has a slam-dunk case. Judges consider it as part of all the other evidence that mom puts on and all the evidence that dad puts on."
The Process
For clients hoping to modify custody based on a custody election, French says the first step is to have the child meet with one of her colleagues who are trained as a guardian ad litem (GAL). "I have a colleague talk to the child to find out what is going on. Are they making this decision because they've been promised a car? To meet this threshold, you still must show something else other than that election," says French.
"Then I talk to the parent and see if there is any other evidence for a change. Is the child struggling in school, butting heads with a parent, struggling with friends? Is there a re-marriage and the child is not getting along with the other parent? Is there something else to say it would be better for the child to live with other parent primarily?"
What Is the Effect of the Custody Decision on the Child?
French cautions parents that this process is not easy, especially on the children. "A lot of kids say they want to file an election but then, when they realize that it is going to require them to sign a piece of paper that says they want to spend more time with dad than with mom or with mom than with dad, a lot of those 14-year-olds don't want to do it."
French is also a GAL and has talked with kids in this decision-making situation. In her experience, this is a difficult situation for children, "because frankly most kids do love both of their parents and they're afraid to upset one parent or another, or they're afraid to disappoint the parent and not sign something."
Even with the changes made to the law in 2008, French is unsure if the law is beneficial.
"I think it's a really tough law on kids and part of me wishes it didn't exist because that's putting your kids in a really hard position to make a decision about something that they may not be educated enough or mature enough to make a decision about—and if you've got some immature parents who take it personally or don't take into account the child's best interests, that could really be detrimental to the parent and child relationship," she says.
What Should Parents Do When Confronting an Election Situation?
For some divorced parents, French continues, "if they are in tune with the child and have a good relationship, they will likely work out this issue among themselves." She believes some parents may agree between themselves to change parenting time and avoid the modification hearing.
"Elections come about when it's a contentious situation to begin with and the parents aren't doing well to begin with. There is some sort of issue where the parents aren't doing well communicating or co-parenting, after a divorce," she says. "And then that escalates."
For parents in a difficult custody situation, sitting down with an experienced Georgia family law attorney may help avoid a future custody battle.
For more information on this area, see our overview of family law.
What do I do next?
Enter your location below to get connected with a qualified attorney today.
Additional Family Law articles
Related topics
Attorney directory searches
Helpful links
Find top lawyers with confidence
The Super Lawyers patented selection process is peer influenced and research driven, selecting the top 5% of attorneys to the Super Lawyers lists each year. We know lawyers and make it easy to connect with them.
Find a lawyer near you