How to Change Your Name in Maryland
The legal ins and outs 
By Judy Malmon, J.D. | Reviewed by Canaan Suitt, J.D. | Last updated on March 29, 2023
Use these links to jump to different sections:
There are many reasons why people seek to legally change their name, the most common being upon marriage, divorce, or adoption.
You don't need a specific event or reason to change your name in Maryland, however. You can do it simply because you don't like the one you have.
But there are a couple of limitations:
You're not allowed to change your name as a means to avoid creditors, financial institutions, or to perpetrate any kind of fraud
You can't take the name of a celebrity, an offensive word or phrase, a number, or something spelled with a symbol (like * or #)
Maryland recognizes the common law rule permitting the adoption of a new name simply by using it and telling others of the change. However, this can be impractical and lead to confusion for purposes of official identification and legal documents.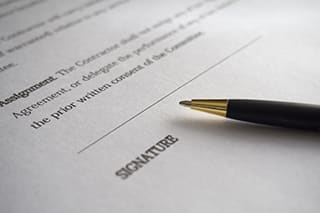 To formally change your name, you can do so by petitioning the court. Approval of a name change is discretionary with the judge who handles your petition, but generally a reasonable change will be granted.
Changing the name of a minor must be found to be in the child's best interests. If you're marrying in Maryland, either spouse may keep their maiden name or opt for the other spouse's name; and it may be hyphenated or combined.
You can simply start using the new name upon marriage and should use it consistently. A certified copy of your marriage certificate will allow you to update your ID. If a name change is expected as part of gender reassignment, it's recommended that you pursue a legal name at the same time. 
Legal Name Change Process
If you're over 18 and you reside in the state of Maryland, you may file a Petition for Change of Name in your local county circuit court clerk's office.
You may also request to resume your former name in your divorce complaint. A notice of your request will need to be published in a local newspaper (ask the court clerk's office whether the petitioner or the court handles publication in your county), and you must provide proof of publication to the court.
After a period of time is allowed for objections (if, for example, one parent doesn't want a child's name changed), you'll either have 15 days to respond to any objections made, or you'll receive a signed Order for Name Change in the mail. When you submit your name change forms, ask for multiple certified copies of the Order and court forms, so you can provide documentation to others.
Once you receive your order, follow up with additional agencies that need your correct name information, including the Maryland Department of Motor Vehicle Administration (MVA), Social Security Administration, your bank, employer, insurance, school, creditors, etc. You'll need to update your passport, driver's license, Social Security card and other forms of ID.
There are some costs associated with this process, including a court filing fee (currently $165), publication fee (depends on publication), additional certified copies ($5 per document certified), and additional cost of new ID. You don't need a lawyer to complete a name change, but if you're already working with a family law attorney (such as for divorce or adoption), they may handle the change of name.
Changing the Name of a Minor
Whether a name change will be granted for a child depends largely on if the parents are in agreement. Where parents do not agree, the court will decide if it's in the child's best interest, assessing whether the circumstances are extreme. Factors considered will include:
The length of time the current name has been used;
The strength of the parent-child relationships;
The need of a child to identify with a new family unit; and
Any conduct that led to the disgracing of an existing surname
Note that a change of name without adoption does not modify parental rights and obligations. If your child is less than one year old, you may be able to change or correct their birth name on the birth certificate through the Division of Vital Statistics, without a court order.
Getting Legal Help with Your Name Change
If you need help or legal advice, talk to a family law attorney in your area. For more information on this area, see our overview of family law.
What do I do next?
Enter your location below to get connected with a qualified attorney today.
Additional Family Law articles
Attorney directory searches
Helpful links
Find top lawyers with confidence
The Super Lawyers patented selection process is peer influenced and research driven, selecting the top 5% of attorneys to the Super Lawyers lists each year. We know lawyers and make it easy to connect with them.
Find a lawyer near you