How to Sponsor a Family Member
Common routes to permanent residency for family members of U.S. immigrants
By Amie Stager | Last updated on February 8, 2021
There are several ways to come to the United States and apply for permanent residency:
you can gain status through self-petitioning
your employer can petition for you
a family member who is a U.S. citizen can petition for you
Family-based sponsorship is the primary vehicle for applying for permanent residence. According to the Department of Homeland Security, 65% of new legal immigrants in 2015 applied for residency based on family sponsorship.
"Generally, there's two ways for people to apply for residency through family," says Peter Nagell, an immigration attorney based in Minnesota. There is one way to apply when the foreign national is outside of the United States and another way when the foreign national is already inside the United States.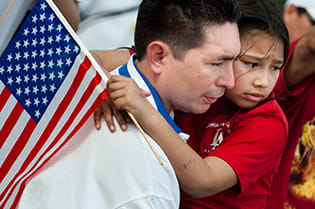 When the immigrant is outside of the country, the U.S. citizen begins the process by filing a family-based petition with U.S. Citizenship and Immigration Services, or USCIS. "That petition would be sent to one of the regional service centers within the United States. Assuming it's approved, the case gets sent to the National Visa Center, which is kind of an intermediary between USCIS and a foreign consulate. With the National Visa Center, you have to do preliminary processing in terms of getting documents together. Once the petition's approved, it gets sent to the consulate, which is through the Department of State. That's the office that would actually approve the final visa."
Nagell says that all the petition really does is decide the family relationship. It answers the question of whether there is a genuine marriage, parent-child, or sibling relationship. Once the relationship is established, the immigrant goes to the consulate.
"They do an interview; they get fingerprinted; they do a medical exam; they talk to a U.S. consular officer; they get a visa; the visa gets put into their passport," Nagell says. "That's an immigrant visa. That visa allows them to cross into the United States. Once they're inspected and admitted into the United States, they enter as a permanent resident. Then they get sent a permanent resident card."
If the family member is already in the U.S. after having entered legally, he or she can still petition for family-based permanent residency. Instead, the application is for adjustment of status, and he or she goes to the local USCIS office instead of a consulate.
There are restrictions in eligibility for sponsorship. Certain types of family relationships are not recognized under the law. "The law makes a distinction between what are called immediate relatives and preference relatives," Nagell says.
Immediate relatives typically include spouses of U.S. citizens, unmarried children under 21 years, and parents. Preference relatives are more distant, including siblings and unmarried or married children over 21 years. Not included are grandparents, aunts, uncles, nieces, nephews, in-laws, or cousins.
"Immediate relatives are not subject to annual numeric limitations," says Nagell. "They're not subject to waiting in line. You file a petition, the petition gets approved, then they're immediately eligible for an immigrant visa. Other people like siblings…they're subject to limits every year in how many can be issued. Depending on what country you're from, there can be a line. That line is decided each month by the Visa Bulletin, which is published by the Department of State to control how many visas are being issued each year."
In addition to qualifying as an immediate or preference relative, a family member must have a certain amount of money to be able to sponsor. The USCIS has newly defined restrictions on eligibility for immigrants looking to be sponsored. "You have to show that the immigrant is not going to be a public charge, meaning that they're not going to be dependent on public benefits," says Nagell.
If an immigrant is shown to be a public charge, his or her application can be deemed inadmissible. But there is a way to show the immigrant would not be a public charge. "I could petition for my sibling, and if I'm unemployed, I can have anybody else throw their tax return in the mix," says Nagell. Anyone can file to be a joint sponsor to show the immigrant's financial independence.
Depending on the immigrant's basis of entry, the permanent residency card will last two to 10 years. If an immigrant just got married in the last two years, he or she can be admitted as a conditional resident and given two years before the card expires. If an immigrant's sponsor dies or disappears, that typically doesn't affect the residency.
"Once somebody's in as a permanent resident, you don't have to update it," says Nagell. "It stays in effect until the immigrant becomes a U.S. citizen, the immigrant dies, the immigrant leaves, or the immigrant works for 10 years in the United States."
Heightened scrutiny, increased background checks, travel bans for certain national origins, and the case backlog all contribute to delays in the petitioning process. Even in simple cases, it's helpful to work with an immigration attorney.
For more information on this area of law, see our immigration overview.
What do I do next?
Enter your location below to get connected with a qualified attorney today.
Additional Immigration articles
Attorney directory searches
Helpful links
Find top lawyers with confidence
The Super Lawyers patented selection process is peer influenced and research driven, selecting the top 5% of attorneys to the Super Lawyers lists each year. We know lawyers and make it easy to connect with them.
Find a lawyer near you