What To Do When a Medical Procedure Goes Wrong
A glimpse into medical malpractice lawsuits in Colorado
By Lauren Peck | Reviewed by Canaan Suitt, J.D. | Last updated on May 9, 2023 Featuring practical insights from contributing attorneys Hollynd Hoskins and David S. Woodruff
Use these links to jump to different sections:
In 2016, a Johns Hopkins study stated that more than 250,000 Americans die each year due to medical errors. These include everything from misdiagnoses and medication errors to surgical mistakes and anesthesia errors.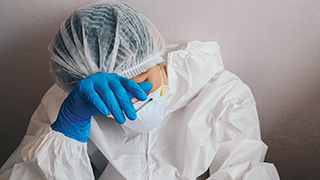 "Basically, it's an epidemic of medical malpractice in the United States," says Hollynd Hoskins, a Denver attorney who has represented patients and their families for nearly 20 years. "There's sometimes a lack of staff, inadequate staffing in hospitals, inadequate resources. But really, most medical errors are preventable."
Take, for example, 16 patients infected with hepatitis C whom Hoskins represented against a local hospital. A surgical technician was diverting fentanyl, injecting it into herself, and returning dirty needles filled with saline solution.
In addition to winning compensation for her clients, Hoskins worked with the hospital to make sure surgical drugs were more secure in the future. "If you work together with the provider or health care facility to make medicine safer … [we can] change policies and protocols based on that medical error so it doesn't happen again," she says.
But first, potential clients need to figure out if they even have a case.
Medical Negligence vs. Negative Outcome
"I consider a big part of my job to educate people about the difference between true negligence and simply a bad outcome," says David Woodruff, a partner at Denver Trial Lawyers. "Sometimes there is a recognized risk, a recognized complication that can occur in medical care even when no one makes a mistake. … Just because it happened doesn't mean someone was negligent."
Scott Eldredge, a shareholder at Burg Simpson Eldredge Hersh and Jardine law firm in Englewood, estimates his firm turns down 99% of potential clients, in part because medical malpractice lawyers must establish that a provider deviated from the accepted standard of care and the error caused the patient's injury. "Many times you can establish one, but you can't establish the other," he says.
Much of Eldredge's work focuses on birth injuries. "Sometimes children are born with cerebral palsy that does not have a cause to point to, but many times it does," he says. "Sometimes it's the result of a delayed delivery. … Other times we see a baby that has been delivered in a distressed state, but there are errors in resuscitation."
In Colorado, the legal odds are often stacked against victims. For medical malpractice claims, the state caps noneconomic damages—like pain and suffering—at $300,000. On top of that, the litigation is expensive.
"It typically costs hundreds of thousands of dollars to pursue a medical malpractice case all the way to trial," Woodruff says. "Patients and their families cannot afford these expenses, so the lawyer must advance the money and will lose it if the case does not prevail. It is a very, very risky business."
Possible Medical Red Flags
A provider is practicing outside their area of expertise
You receive a new diagnosis or treatment plan in which your symptoms don't improve or get worse
A provider gives vague or incomplete information when asked about a poor outcome
You're injured and it isn't a recognized complication of a medical procedure, such as paralysis after routine surgery
A provider has had prior discipline from the Colorado Medical Board or National Board of Medical Examiners
A provider tells a patient they should get a lawyer
How To Protect Against a Medical or Surgical Error
So what can patients do to protect themselves before an error happens? Be an active participant in your health care. Ask your health care provider questions. Do your own research to understand your treatment, medications and more. "It's important to be your own advocate," Hoskins says.
Coloradans can also look up medical professionals ahead of time on the Department of Regulatory Agencies' website. "It will list whether they have any prior enforcement agency problems, whether they've been fired or had their privileges suspended from any hospital," Eldredge says. "It also lists whether or not they've had any claims against them resolved either by trial or arbitration or mediation."
The state legislature also recently created a brand-new option: the Candor Act.
Woodruff and his colleague Lorraine Parker drafted the original bill in partnership with COPIC, an insurer that covers most of Colorado's medical providers. "It allows a confidential discussion between doctors and patients where the doctors can explain everything that happened, what went wrong, what the doctor is going to change to not do this again," he says.
The doctor can also work with their insurance company to financially compensate a patient, and the settlement will not be reported to the state medical board.
"It's a very cathartic moment for everyone," Woodruff says. "In a perfect world, this would minimize or even eliminate the need for lawsuits, and all cases will resolve like this. Because lawsuits are bad for everybody. They're bad for lawyers; they're bad for patients; they're bad for doctors."
A qualified medical malpractice attorney can help you if you believe you have a medical malpractice case. To learn more about this area of law, see our overview on medical malpractice.
What do I do next?
Enter your location below to get connected with a qualified attorney today.
Attorney directory searches
Helpful links
Find top lawyers with confidence
The Super Lawyers patented selection process is peer influenced and research driven, selecting the top 5% of attorneys to the Super Lawyers lists each year. We know lawyers and make it easy to connect with them.
Find a lawyer near you