How Do You Win a Failure to Diagnose Case?
What must be established in Indiana medical negligence suits
By Super Lawyers staff | Reviewed by Canaan Suitt, J.D. | Last updated on May 9, 2023 Featuring practical insights from contributing attorney Tina M. Bell
Use these links to jump to different sections:
When you go to a healthcare provider for a checkup, you reasonably expect that the doctor will catch any serious medical issues. Unfortunately, that does not always occur. In fact, in some cases, a patient's complaint about their own condition is simply dismissed and they are told "it is all in their head."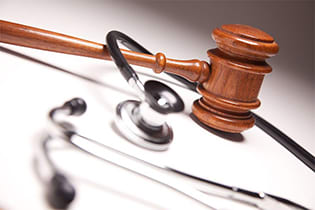 According to Modern Healthcare, diagnostic errors—including the failure to diagnose—are the single leading cause of medical malpractice claims in the United States. Depending on the underlying medical issues, a missed diagnosis could cause serious harm to a patient. In the very worst cases, the consequences may be fatal.
"We have a very unique system in Indiana that has only been replicated in two other states—one of which, Kentucky, recently declared the system unconstitutional," says Tina M. Bell, an attorney in Indianapolis who has been representing medical malpractice patients for more than a decade.
"The statute was created by the Governor of Indiana—who was, at the time, a doctor. The system is designed with many hurdles for patients, strict timing deadlines for filing a complaint, and limitations on attorney's fees. Conversely, it offers many special privileges and benefits for doctors and other qualified health care providers who elect into the system."
When is a Failed Diagnosis Medical Malpractice in Indiana?
The law does not expect doctors to be perfect—far from it. Some serious medical conditions are inherently difficult to diagnose in their early stages. A missed diagnosis is not necessarily medical malpractice. In Indiana, physicians and healthcare providers are required to provide medical care that is at least as good as "someone of ordinary prudence" would have provided in the same circumstances. (This is often referred to as the "standard of care.")
In other words, failure to provide a correct diagnosis is considered negligence if an ordinary doctor would have likely made a proper diagnosis under similar conditions. When a negligent misdiagnosis causes actual harm to the patient, it becomes medical malpractice. The plaintiff can hold the responsible medical professional(s) legally responsible through a medical negligence lawsuit.
"Many cases boil down to the doctor failing to correctly use the process in medicine called 'differential diagnosis' to rule in—or rule out—reasonable possibilities," says Bell.
"Doctors create a differential diagnosis list in their minds on practically every patient they evaluate every day. Once the doctor has a list of reasonable possibilities that fit the patient's presenting constellation of signs and symptoms, the doctor can then work through that list—ruling out the worst first. An additional area of negligence arises from the guess instead of test approach to medicine."
In some cases, a failed diagnosis or delayed diagnosis may occur because a doctor fails to follow up on symptoms that were vocally reported by the patient. In other cases, a failure to diagnose malpractice claim may arise after an important test was never ordered. Regardless, when doctors fail to diagnose conditions that should have been spotted, they can be held liable for any resulting injuries or complications.
"These cases are often difficult because they are all initially evaluated by a medical review panel of three Indiana doctors. This is part of the forced, government-mandated process set up by Governor Bowen," says Bell. "The members understandably want to give the benefit of the doubt to their fellow Indiana doctor. … The members are unfortunately put in a fox-guarding-the-hen-house position that leaves patients and Indiana communities at a severe disadvantage and susceptible to poor medical care with no recourse."
How Medical Malpractice Attorneys Can Help Recover Compensation
Failure to diagnose claims are complicated and they always require a comprehensive investigation. Generally, plaintiffs pursuing a medical negligence lawsuit will rely, at least in part, on the testimony of medical experts. A qualified medical expert can testify as to why the failed diagnose should not have happened given the circumstances of the case.
"If you have a potential medical malpractice case, seeking a lawyer who specializes in this area is critical to the likelihood of success," says Bell. "You would not consult your eye doctor for a problem with your heart; similarly, you would not want your business lawyer evaluating and prosecuting your medical malpractice case. Most medical malpractice lawyers work on a contingency fee, which means they will collect your records and have them reviewed by an expert or medical specialist at no initial cost to you."
Notably, under Indiana law, medical malpractice claims must generally be filed within two years. Should you fail to bring a claim before the statute of limitations expires, you may be prevented from seeking financial compensation.
If you'd like more general information about this area of the law, see our medical malpractice law overview or consider reaching out to a personal injury attorney who is experienced with medical malpractice lawsuits.
What do I do next?
Enter your location below to get connected with a qualified attorney today.
Attorney directory searches
Helpful links
Find top lawyers with confidence
The Super Lawyers patented selection process is peer influenced and research driven, selecting the top 5% of attorneys to the Super Lawyers lists each year. We know lawyers and make it easy to connect with them.
Find a lawyer near you