Protecting Yourself (Legally) During Extreme Sports in Colorado
A form of release
By Josiah Hesse | Reviewed by Canaan Suitt, J.D. | Last updated on July 25, 2023 Featuring practical insights from contributing attorneys Jordan Lipp, Glendon L. Laird and Jim Chalat
Use these links to jump to different sections:
The high-risk is part of the fun in outdoor activities such as skiing, snowboarding, rock climbing, whitewater rafting and zip lining.
There's a rush of recklessness when flying down a snowy mountain. We do this with the confidence that every precaution has been taken by the operator of the ski slope, though any seasoned skier has witnessed an accident or two and is aware of the risk.
But When Someone Is Hurt While Engaging in Extreme Sports, Who's at Fault?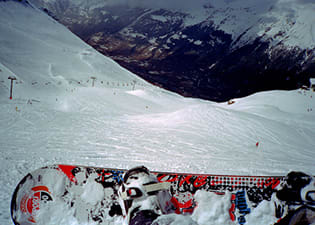 Once you've signed that release form—legally acknowledging what you're about to do may result in serious injury—does it even matter in the eyes of a court?
Denver attorney Jim Chalat of Chalat, Hatten & Banker has built a career representing injured skiers. Chalat says many laws governing the safety of this activity—like the Colorado Ski Safety Act—were created by industry insiders looking to avoid ski area culpability for accidents.
He thinks the waivers participants are asked to sign often go too far and violate Colorado law. 
The Injury Doesn't Even Have To Happen on the Slopes
"If your child gets sick as a result of being served E. coli-contaminated food at the ski area lunch set-up, the ski area operator claims immunity under the waiver," says Chalat. "If a child falls out of the chair lift because the instructor lifted the bar too early, the ski area operator will claim a waiver."
Glendon Laird, a liability and personal injury defense attorney with McElroy, Deutsch, Mulvaney & Carpenter in Greenwood Village, says current regulations and waivers still leave room to sue.
"If the equipment is inappropriate or unsafe, or dangerous river conditions caused injury," then there could be grounds for action against the guide or outfitter. "The activity provider is obligated to act reasonably and in conformance with applicable industry standards."
State Law Sets Standards for Skiing, Horseback Riding, and Snowmobiling
"State law defines the respective responsibilities, which protects operators from claims, which represent the defined risks the participants assume," says Laird.
He adds that mountain climbing, mountain biking and zip lining are not regulated at this time, so any lawsuits surrounding an injury pertaining to those sports would be subject to the signed waiver.
These waivers are generally enforceable in Colorado if properly executed and fairly disclose the risks involved in the activity. To circumnavigate the waiver, one must demonstrate the commercial operator fell below the applicable standard of care and/or was more than simply negligent in discharging its responsibilities.
Jordan Lipp, of Childs McCune in Denver, has represented ski operators in defense cases and teaches a class on ski law at Denver University Law School, where release forms are a hot topic of conversation.
While he has never refused to sign one, Lipp is suspicious of waivers that ask you to agree to not sue for gross negligence or intentional conduct—a contractual request that wouldn't hold up in court. "If the rafting guide is drunk and smacks me in the head with an oar, those are things I can still sue on, regardless of the release." 
Legal Issues with Collisions Between Skiers
Collisions between two skiers are a common cause of litigation on the slopes, and there is an exception to the immunity provisions in the Colorado Ski Safety Act that permits skiers to sue each other after collision—though they cannot sue the ski operator.
Negligence is often associated with hitting someone below you, skiing on a slope above your ability, skiing while impaired by alcohol or drugs, and not maintaining a lookout. 
Getting Compensated Through a Lawsuit
"One of the first questions a plaintiff's attorney should ask when filing a lawsuit is: 'If I win, will there be money to collect?'" says Lipp, adding that homeowners and renters insurance often cover losses.
"So, if I run into you and I don't have any insurance, you may not decide to sue me because I don't have any money. On the other hand, if my homeowners insurance is covering [the collision], it may be worth your time."
Chalat says he is pursuing an established standard of responsibility for activities not covered in statutes, such as in-area avalanches, which will be hashed out through court rulings in individual cases.
Until then, your legal standing for lawsuits may carry the same inherent risk as gliding down a snow-covered mountain.
For more information on this area of law, see our overview of personal injury.
What do I do next?
Enter your location below to get connected with a qualified attorney today.
Additional Personal Injury articles
Related topics
Attorney directory searches
Helpful links
Find top lawyers with confidence
The Super Lawyers patented selection process is peer influenced and research driven, selecting the top 5% of attorneys to the Super Lawyers lists each year. We know lawyers and make it easy to connect with them.
Find a lawyer near you