What Constitutes Overbilling in California?
When a fee dispute becomes a breach
By Super Lawyers staff | Reviewed by Canaan Suitt, J.D. | Last updated on May 4, 2023 Featuring practical insights from contributing attorney Mark B. Wilson
Use these links to jump to different sections:
In California, overbilling of a client could be a breach of fiduciary duty or a breach of contract. In this article, you will find an overview of overbilling in California.
What is Overbilling?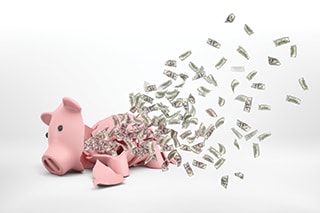 Broadly defined, overbilling, or overcharging, is the practice of charging more than what is legally or ethically acceptable for specific services. Overbilling can occur in any industry.
Some examples of overbilling by a law firm include:
Padding a bill, charging for work that was not actually done;
Performing legal work that is wholly unnecessary;
Inefficient work, billing far more than is reasonable; and
Overstaffing a case without legitimate cause.
Overbilling can be either a breach of fiduciary duty or a breach of contract, says professional liability lawyer Mark B. Wilson. A breach of contract means the client did not get the value for which they paid. A breach of fiduciary is about the lawyer lying and creating false bills.
"If a lawyer intentionally overbills a client and lies, they billed two hours when they worked one, that's lying," Wilson says. "That's cheating. And that's breach of fiduciary duty, which is more serious than negligence."
If a client wants to sue a lawyer for overbilling, the claims to raise are breach of contract and/or breach of fiduciary duty. Generally, a client cannot recover fees paid to an attorney through a negligence claim.
How to Determine if Overbilling Occurred
Overbilling malpractice cases are complicated, and proving that overbilling occurred is difficult.
If a client is being billed by the hour, Wilson says you can pay attention to the amount of work versus how much is charged on the bill.
"For instance, you have a telephone call with your lawyer, and you know that telephone call took 30 minutes because you can see it on your phone, and then you get the bill and the lawyer billed you an hour for the call, that's classic overbilling" he says.
"A lawyer writes a letter or an email to opposing counsel, and the letter or the email is one sentence long, literally, 'I'm confirming the deposition is next Tuesday at 10 a.m.' That's the whole email. And then the client looks at the bill and sees that the lawyer billed 0.7 for that single-sentence email. Well, we all know that email didn't take 42 minutes to write," Wilson continues.
In his cases, Wilson will ask to review the lawyer's timesheets and invoices to other clients. "I can compare the time," he says. "There's only 24 hours a day, and the lawyer all of a sudden says he billed 22. We know that's not true."
There are ways to demonstrate overbilling, but overall, Wilson says it's difficult to tell.
"It usually takes an experienced person to look at the work and look at the time and invoices and determine whether it was reasonable," he says.
Like with any service, an expert can better determine if the charged price is reasonable for what was provided. In the case of legal service, a law office's professional liability attorney can best help a client determine if overbilling occurred. Sometimes another set of eyes can reassure the client that they are being billed properly, Wilson says. Other times, another attorney can confirm that it's time to take action.
Options if You Are Being Overbilled
The first option in the case of overbilling is to talk with the lawyer to see if it can be resolved, Wilson says.
If the issue is significant, the relationship should be ended. "No one wants to work with someone that they believe is cheating them," Wilson says.
Then contact an attorney to address the bills. "If the client has paid the bills and they want a refund, then they're going to have to take action. They can go to a local bar association. The local bar association deals with fee disputes. It's a non-binding arbitration process, but it can be very useful," Wilson says.
If that doesn't provide a resolution, then the client can sue the lawyer that overbilled them for breach of contract or breach of fiduciary duty.
Before hiring any professional, including a lawyer, Wilson says it's important to understand how you are going to be billed.
"And if you get a bill that you don't understand, better to get your questions answered out of the gate than to wait 6 months, 7 months, 8 months, 12 months, 36 months and let it get worse and worse," he says.
For general information on this area of law, billing practices, and the legal profession, see our overviews of professional liability and legal malpractice.
What do I do next?
Enter your location below to get connected with a qualified attorney today.
Attorney directory searches
Helpful links
Find top lawyers with confidence
The Super Lawyers patented selection process is peer influenced and research driven, selecting the top 5% of attorneys to the Super Lawyers lists each year. We know lawyers and make it easy to connect with them.
Find a lawyer near you