What To Expect if You Challenge a Neighbor Under Georgia's Nuisance Law
Most neighbor disputes will fall under nuisance
By Judy Malmon, J.D. | Last updated on January 27, 2023
Use these links to jump to different sections:
Barking dogs, stinky garbage, junk vehicles, excessive water runoff. Is there anything you can do about your neighbor's behavior that you don't like (or vice-versa)? The short answer is "maybe."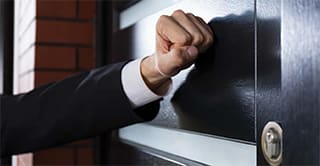 For the most part, disputes over things that bother us within close proximity of where we live come under the umbrella of nuisance law. Nuisance, as defined by Georgia law, is "anything that causes hurt, inconvenience, or damage to another." A pretty broad concept, and subject to interpretation. What might be fine or even appealing to you may be bothersome to your neighbor. To be considered a nuisance, an act doesn't have to be illegal. However, not everything that's annoying is a nuisance, and mere annoyance is not sufficient to constitute an actionable nuisance offense.
The essence of a nuisance claim is embedded in property rights and the notion that you are entitled to the use and enjoyment of your domain without interference. It's related to the concept of trespass, but does not require a direct or physical incursion onto your land. You may experience discomfort, offense, health implications, fear for your safety or loss in property value as a result. As such, to bring a claim for nuisance, you must have a property interest in the land being infringed upon, whether that is as property owner or renter.
A Mixed Bag
Jonathan L. Neville is a real estate attorney with Arnall Golden Gregory in Atlanta who helps businesses and developers draft contracts that address nuisance issues. Neville helps nip them in the bud when he deals with complex mixed-use projects involving retail, office and residential components.
"We have worked on deals where entertainment and destination venues, such as food halls, exist with office and residences in close proximity," Neville says. "If all parties are not proactive and think through issues in advance, there can be a lot of unnecessary and avoidable challenges in the future."
Noise, vibration and odor issues are the most common, Neville says. The contracts he helps draft make stipulations that help developers curb such issues (via double-paned windows, exhaust systems, stage locations, etc.), "and we all have to work together if there are future problems."
If a resident or neighbor makes a complaint to a property manager or landlord, typically they are resolved through a discussion as opposed to litigation.
"In today's day and age, lawsuits are so uncommon. I'm more of a deal guy, and I probably handle more disputes at my level than our litigators," Neville says. "The way it typically plays out is we get a call or a letter from a client, say, a restaurant, and they have vibration issues because there is a fitness center above them that continuously drops weights, causing the restaurant tables to shake. We then start a discussion."
If the parties can't agree or one is particularly unreasonable, it may result in a suit.
"If you have an unresponsive developer or an overly sensitive tenant, those are probably the ones that rise to litigation. It's not often that these things blow up, but developers and operating companies usually have a legal budget to handle unexpected disputes that can't be resolved by regular negotiation."
An important distinction, Neville notes, is that the landlord or owner would not be the defendant if the basis of the complaint was in violation of a tenant's contract agreement. That tenant would have to face the suit.
Public vs. Private
Nuisance can be public or private.
A public nuisance is one that has impact on a large number of people, such as pollution, flooding or contaminated drinking water. Rather than land ownership, a public nuisance is based on an interference with a common right, often impinging on community safety.
Individuals do not generally have standing to sue for public nuisance, but are represented by a public official, such as a city attorney, who can bring suit on behalf of the community. Public nuisance suits often intersect with environmental, zoning, land development and controlled substances issues.
In contrast, a private nuisance can affect only one person, and gives rise to an action for damages or for an injunction to stop the offending activity. For a nuisance to be actionable, it must be:
more than a simple act of negligence,
ongoing for a period of time (and not stopped after notification),
something a reasonable person would object to, and
causing a harm that outweighs the benefit received
Georgia allows for recovery of damages including any loss in value to your property, cost of repair or cleanup, personal damages, as well as attorney's fees and punitive damages in situations where it is determined the other party acted in bad faith. The state's nuisance law does contain some explicit exceptions, however, regarding certain agricultural activities, cultural facilities and shooting ranges.
Nuisance can also be classified as civil or criminal. Georgia does not have an explicit criminal nuisance law, but similar behavior can effectively be charged under laws for disorderly conduct or criminal trespass, or under local municipal ordinances, such as animal control rules. Document your efforts to stop a problem, as well as its ongoing nature, through reports to local law enforcement.
Finally, behaviors that impact your property rights may be addressed by the rules of a homeowners association (HOA). If you're experiencing a problem with a neighbor, start with your HOA to see if the dispute can be resolved while keeping things neighborly.
What do I do next?
Enter your location below to get connected with a qualified attorney today.
Additional Real Estate articles
Attorney directory searches
Helpful links
Find top lawyers with confidence
The Super Lawyers patented selection process is peer influenced and research driven, selecting the top 5% of attorneys to the Super Lawyers lists each year. We know lawyers and make it easy to connect with them.
Find a lawyer near you