Trademark Advice from Georgia IP Attorneys
When and how to legally protect your business brand
By David Levine | Last updated on May 10, 2022
Use these links to jump to different sections:
Branding a business has never been more important. 
"Our economy is largely digital now—it can change literally overnight—which means that businesses live and die by their brands. A strong brand not only signifies the quality of your products or services, it also sets your company apart in the sea of competition," says Marcy Sperry, founder of Vivid IP in Atlanta. "Your brand is the soul of your business, so the sooner you can protect it, the better."
And perhaps the most important step in protecting a brand is trademarking. 
IP Law and Legal Issues with Trademarking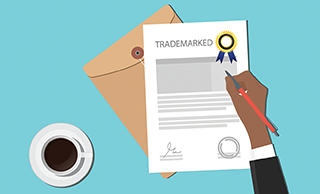 Improper trademarking can cost a business time, money and the name recognition it has already built. Take the case of a client represented by Rob Hassett of Hassett Law Group in Atlanta. "He was a really smart guy, a musician trying to trademark his own name. He did his own trademarking but failed to renew it and lost it after five years," Hassett says. "He didn't know about the deadlines. I had to reapply for his mark from scratch."
Trademarks should be included in your thought process as soon as you decide to form a company, Sperry says. She recommends first trademarking the name that will be your commercial-facing brand, which in most cases will be your company name. "You'll also want to trademark your logo and any taglines you plan to use," Sperry adds. "For example, when I launched my firm, I not only registered my firm name, VIVID IP, but I also registered a stylized 'V' logo and two taglines that speak to my firm's mission." 
Hassett says there are two ways to gain the rights to your name and brand elements. The first is simply to use them in a commercial setting. "In the U.S., you own the mark in the area you use it if you are first—and no one has applied or registered it," he says. That may be insufficient, however, since the concept of "area" is ambiguous. Someone in, say, Los Angeles could also have your name and come after you in Atlanta. "You can take a name, put $1 million into it, then suddenly get a letter saying you can't use it. Then you're in a fix," Hassett says.
"If you wait to conduct a trademark search until you've already launched your company, you are playing Russian roulette with trademark infringement," Sperry agrees. A trademark attorney can confirm if the mark is available via a trademark search, she adds. "Your attorney should file an intent-to-use trademark application, which will lock down your trademark rights as of the filing date of the application. To register the mark, you will eventually need to put it into commercial use, but the intent-to-use application will preserve your rights while you work to launch the company." Once a notice of allowance is issued by the U.S. Patent and Trademark Office, you have up to three years to put the mark into use, she says. 
What it Costs & How Trademark Lawyers Can Help
The cost of trademark registration depends on how many types of products or services you intend to use with your mark. "The USPTO categorizes products and services into classes. For each class a mark is registered under, a government filing fee must be paid," Sperry explains. Hiring an experienced trademark law firm to clear and register a mark in a single class of products or services will run about $3,000, she estimates.
It can be done for less, of course, but, Sperry warns, "Keep in mind that when it comes to trademark protection services, you get what you pay for. Trademark mills offer bargain-basement pricing, but they treat trademarks like commodities with little hands-on attorney guidance." That means a greater likelihood of receiving a challenge to your mark, which in turn could run up expensive legal bills.
Hassett adds: "If your trademark is important to you—and if it's the name of your business, it probably is—you should get a lawyer. I can do my taxes, but I always come out better if I have a CPA do it."
What do I do next?
Enter your location below to get connected with a qualified attorney today.
Additional Trademarks articles
Related topics
Attorney directory searches
Helpful links
Find top lawyers with confidence
The Super Lawyers patented selection process is peer influenced and research driven, selecting the top 5% of attorneys to the Super Lawyers lists each year. We know lawyers and make it easy to connect with them.
Find a lawyer near you