Look Out Georgia Left-Lane Drivers!
Driving the speed limit could get you a ticket
By Judy Malmon, J.D. | Last updated on June 30, 2022
In 2014, Georgia enacted a "Slowpoke Law," making it a citable offense to camp out in the passing lane (or fast lane) of a highway and hold up traffic behind you, or to otherwise impede the flow of traffic. The stated basis for the law is that drivers going slower than the speed of traffic create risk, to themselves and others on the road, as well as add obstructions to already congested freeways.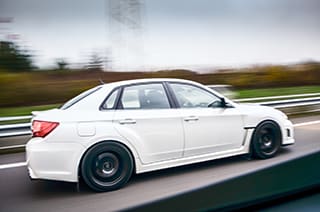 Proponents of the law, which has since spread to states like Indiana, Tennessee, Florida and New Jersey, cited the behaviors brought on by inattentive or self-righteous left-lane lurkers, such as moving into non-passing lanes at fast speeds, weaving from lane to lane, sudden braking that can cause a chain reaction far back in traffic, and inciting of road rage incidents, all of which put drivers at risk. The law change was also meant to ease traffic congestion issues, which Atlanta residents know well. Drivers travelling slower than the speed of traffic in the lane designated for passing contribute to blockage.
Studies have shown that gaps in speed can cause greater risk than speeding alone, and driving slower than the speed of traffic is considered a form of reckless driving.
All states, including Georgia, have laws on the books that reflect the Uniform Vehicle Code's standard that on multi-lane roads, slower-moving traffic must keep to the right. But more states are regulating specific behaviors like left-hand lane camping, making it a punishable offense to drive the posted speed limit when doing so blocks those driving faster.
The Georgia law states that a driver shall not drive at "such a slow speed as to impede the normal and reasonable movement of traffic." The law also makes it an offense to remain in the leftmost lane once the driver is aware of a vehicle behind them travelling at a faster speed. Exceptions to these rules apply when traffic or weather conditions mandate slower speeds, when in the left lane to exit or turn left, when paying a toll, or for emergency and construction vehicles. It's a notable conundrum that to be cited for violation of this law (that is, driving too slowly), a driver doesn't have to be going slower than the speed limit, and the person behind them may be driving considerably faster than that; the slower driver still must move aside for the faster one.
Georgia State Patrol wrote more than 300 slowpoke citations in the first year, yet many drivers remain unaware of the law. If cited, a driver may face misdemeanor penalties including a fine of up to $1,000, up to 12 months in jail, three points on your license, and increased insurance premiums. If you get pulled over for impeding the flow of traffic, talk to a lawyer who may be able to help minimize the impact.
For more information on this area of law, see our overviews of criminal defense and traffic violations.
What do I do next?
Enter your location below to get connected with a qualified attorney today.
Attorney directory searches
Helpful links
Find top lawyers with confidence
The Super Lawyers patented selection process is peer influenced and research driven, selecting the top 5% of attorneys to the Super Lawyers lists each year. We know lawyers and make it easy to connect with them.
Find a lawyer near you