Soft vs. Hard Insurance Fraud in New Jersey
What a white-collar criminal could face for committing it
By S.M. Oliva | Last updated on January 29, 2023
Use these links to jump to different sections:
New Jersey Attorney General's office
, insurance fraud costs U.S. taxpayers roughly $80 billion annually. And although many people dismiss insurance fraud cases as a "victimless" crime, it is in fact a serious felony under New Jersey law. The state can, and will, prosecute individuals who attempt to fraudulently receive insurance benefits. Regardless of the type of fraud, if you're contacted by authorities in an investigation, the best advice is to "politely decline to speak with them and contact a lawyer immediately," says
Tim Anderson
, a white collar criminal defense attorney in Red Bank.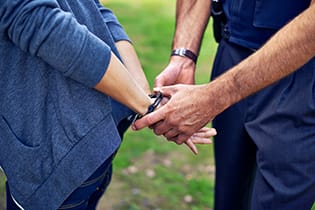 "It's really important to make sure your constitutional rights are preserved and you don't say anything that might be interpreted as some kind of an admission. Some may think, 'If you didn't do anything wrong, you have nothing to hide.' Well the constitutional protections are there to protect everyone, including the innocent, and yet there are stories in the news all the time of people who are exonerated that gave some sort of perceived confession early on." The same goes if law enforcement asks for verbal consent to searches, Anderson adds. "It's advisable to, again, politely decline, take a deep breath and call a lawyer."
The Types of Insurance Fraud
Any place where people have insurance, there is insurance fraud. Insurance fraud is often divided into two broad categories: hard fraud and soft fraud. Both are illegal and my include jail time. Indeed, New Jersey law makes no distinction between the two. State law defines the "crime of insurance fraud" as any instance where a "person knowingly makes, or causes to be made, a false, fictitious, fraudulent, or misleading statement of material fact, or causes a material fact to be omitted from any document in relation to an insurance claim. So what, then, is the distinction between hard and soft fraud? Hard fraud basically means deliberately inventing a loss or a fraud scheme to obtain automobile insurance coverage. For example, John pays Paul to steal his car and wreck it. John then files an insurance claim for the loss. John and Paul have both committed hard auto insurance fraud and a serious crime. Soft fraud, in contrast, usually involves legitimate claims that are exaggerated by the policyholder. Let's say Mary is in a car accident. She files a claim with her auto insurance company but overstates the severity of the damage to her car. Mary did not fabricate the accident or the underlying claim, but she nevertheless committed soft fraud by not being completely truthful with the insurance company. Aside from auto insurance, here are some other common typess of insurance fraud that occur in New Jersey:
Health Insurance – Many physicians and health care providers are charged with healthcare fraud when they bill Medicaid or or insurance policy for non-existent or medically unnecessary procedures in order to secure higher reimbursements from insurers.
Unemployment or Disability Insurance – If you are continuing to collect unemployment insurance or disability insurance benefits even after you have returned to work, that is hard insurance fraud.
Workers' Compensation – An employer who intentionally misclassified certain employees to obtain more favorable workers' compensation insurance rates commits fraud.
Application Fraud – Even where a policyholder does not commit hard fraud by filing a false claim, he or she may still be liable for soft fraud in connection with any false or misleading statement on an insurance application.
How Serious Are the Penalties for Insurance Fraud?
Regardless of whether or not the fraudulent act is soft or hard, insurance fraud is a third-degree felony under New Jersey law. And if a person is charged with five or more acts of fraud, the charge can be elevated to a second-degree felony. This means that even if convicted of the lesser, third-degree charge, you may be facing up to 18 months in jail and a $10,000 fine. So, once again, if you have been accused of insurance fraud, you should speak with
an experienced New Jersey white collar criminal defense lawyer
right away. When searching for an attorney, Anderson says a good rule of thumb is to talk to at least two or three before committing to someone. "And you always want to vet someone," he adds, "and make sure they have experience in handling the kinds of cases in your particular area—say, insurance fraud. And if it's federal authorities versus state authorities handling the case, those can be very different. In that case, it would be important to find a lawyer who's experienced in federal matters." For more information on this area of law, see our overviews of
white collar crime
,
criminal defense
and
federal crimes
.
What do I do next?
Enter your location below to get connected with a qualified attorney today.
Attorney directory searches
Find top lawyers with confidence
The Super Lawyers patented selection process is peer influenced and research driven, selecting the top 5% of attorneys to the Super Lawyers lists each year. We know lawyers and make it easy to connect with them.
Find a lawyer near you