How to Make a "Clear and Convincing" Argument in a Workers' Comp Suit
How to make a clear and convincing argument for disability claims
on July 7, 2017
Updated on January 29, 2023

Workers' compensation benefits are a state-mandated remedy for Louisiana employees who are injured in the course of their job. Just about all employers are required to provide workers' compensation, either by purchasing insurance or receiving approval from the State of Louisiana to "self-insure." However the employer complies, it must pay certain benefits—including medical bills and lost wages—to an injured worker following a workplace accident.
"You cannot sue your employer outside of workers' compensation in 99.9 percent of the situations," says
Dustin G. Flint
, a workers' comp attorney at Williamson Fontenot Campbell & Whittington in Baton Rouge. This means that the damages an employee is eligible for are limited to indemnity (lost wages during the time a doctor keeps the employee away from work) and medical expenses.
Heightened Standards for Certain Types of Injuries & Disabilities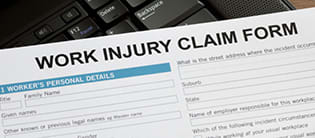 Workers' compensation is a no-fault system. This means that the injured employee does not have to prove his or her accident was the result of any negligence or misconduct on the part of the employer. But if there is a disputed workers' compensation claim, the employee may seek a hearing before the state's Office of Workers' Compensation Administration.
At the hearing, the employee must prove three things:
There was an accident in the course of employment;
The employee suffered an injury or disability as a result; and
The accident was the cause of the injury or disability.
The injured employee doesn't need to prove that the work-related injury didn't result from their own negligence. Flint explains the no-fault system to clients by contrasting it with an at-fault system. "You don't have to prove fault but you don't get pain and suffering damages," Flint says. "You trade damages for not having to prove fault."
Normally the employee's burden of proof is by a "preponderance of the evidence." This means it is more likely than not that the plaintiff is correct. It is a relatively low threshold commonly used in most civil lawsuits.
But in some workers' compensation cases, Louisiana law requires the employee to prove their case by "clear and convincing evidence." This is a higher standard than preponderance of the evidence, but lower than "beyond a reasonable doubt," which is reserved for criminal cases.
The clear and convincing standard applies in the following situations:
Mental injury – Many workplace accidents may produce mental stress or other psychiatric injuries. Because these are easier to feign than physical injuries, the employee must meet the clear and convincing standard by producing "objective medical evidence" connecting the mental injury to either a physical injury or a "sudden, unexpected and extraordinary stress related to employment."
Total disability – If an employee is unable to return to work, either temporarily or permanently, and seeks to collect disability benefits under workers' compensation, they must also meet the clear and convincing standard. Specifically, the employee must show they are "physically unable to engage in any employment or self-employment" due to their workplace injuries. This refers to any kind of employment, not just the employee's prior job.
Clear and convincing evidence is not something the employee can provide on their own. A qualified expert, typically a doctor needs to say, with near medical certainty, that the issue was caused by a specific at-work injury or situation. "The doctor has to say, with a near medical certainty, that this issue was caused by this physical problem or this fearful situation that happened," Flint says. "Most of the time, there's no real question. The doctor is either going to say, 'I don't have any question that this is the reason the problem persists,' or the doctor is going to say, 'This could have been from several different things,' and at this point you are not going to be able to meet your burden."
Other Featured Articles
Ever-changing workers' comp laws make it hard for employees to go it alone