What Benefits Am I Entitled to If I'm Permanently Injured at Work?
Filing for permanent partial disability in Maryland
By S.M. Oliva | Last updated on January 29, 2023
Use these links to jump to different sections:
An on-the-job injury can leave you with a permanent disability or disfiguring condition. In Maryland, injured workers are covered by workers' compensation in such cases. Workers' compensation benefits are designed to be a "no-fault" system where your employer provides for your medical care and lost wages for an injured employee. This also means that a workers' compensation claim is considered an "exclusive remedy" for your injuries—meaning you normally cannot file a personal injury claim against your employer. That being said, you still may want
a qualified workers' compensation attorney
.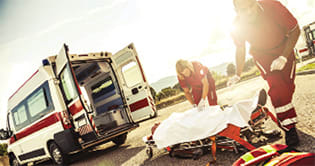 "In Maryland, our system is designed to have an attorney on each side because what you find is the ratings from the doctors on each side can be very far apart," says
Angela Garcia Kozlowski
, a workers' compensation lawyers from Franklin & Prokopik law firm in Baltimore. "If you don't see both ratings, often you're not seeing the full picture."
The Workers' Comp Process
Your case begins the moment you report your accident. At that point, your employer should begin immediate payments for your medical care. "In Maryland it is the employee's choice as to their treating physician, and they're free to transfer that care without the authorization of the employer, provided it's reasonable and makes sense," says Kozlowski. Once you have reached "maximum medical improvement," as determined by your doctor, then you may be able to seek permanent partial disability benefits. The process requires an IME, or insurance medical exam. Usually the worker's attorney will select a physician they've worked with before for the exam, while the employer does the same on its side. This is used to gauge the worker's level of permanent disability. The most common legal disputes concern the IME rating and which tier the worker falls in.
Maryland's Multi-Tier System for Permanent Disability Benefits
There are multiple levels of benefits available under Maryland law. The benefits you receive depend on whether or not you are able to return to work at the same earnings level as before your accident. For instance, if you return to work at a lower-paying position, workers' comp benefits will pay you 50 percent of the difference in wages. This is known as a "temporary partial disability" benefit. But if you suffer a permanent impairment, you can receive "permanent partial disability" benefits. A disability in this context refers to the total loss of a body part or function. The exact amount in permanent partial disability claims depends on your specific circumstances. Maryland maintains a schedule of body parts, each of which is assigned a total number of weeks. This number of weeks is then multiplied by a percentage of your pre-accident average weekly wage to determine the final benefit. Maryland further subdivides its benefits schedule into three tiers:
The first tier—minor disabilities where the employee is compensated for less than 75 weeks. First-tier injuries include the loss of an individual finger or toe.
The second tier—disabilities with compensation for between 75 and 249 weeks. Second-tier injuries include the loss of a big toe or thumb, an eye, or hearing in one ear.
The third tier—major disabilities with compensation of 250 weeks or more. These injuries include the loss of hearing in both ears or the amputation of an extremity.
First-tier injuries are compensated at one-third of the pre-accident weekly wage, while second- and third-tier disabilities are compensated at two-thirds. There are benefit caps for all tiers. After the ratings on each side are examined, Kozlowski says sometimes it's not easy to place a worker in one tier versus another. "A lot of settlements happen in the grey area between the tiers," she says. "Most first-tier awards are at a maximum of $15,000, while the second-tier starts around $25,000. So there's a $10,000 space that gives some wiggle room for settlements."
Planning Your Future
Future wage loss is also taken into consideration in the rating system. "When you're looking at the claimant right now, and they couldn't return to their pre-injury job and they went through rehabilitation and they're making less now, there's an expectation that the wage loss will continue. So if they've loss 20 percent of their income, they're 55 years old and there's a reasonable expectation that they'll work for another 10 years, that is taken into account when the commissioner comes up with their rating overall," Kozlowski says. "Nobody gets paid for pain and suffering, and no one gets paid for future medical conditions or treatments," she adds. The five factors that are taken into consideration are:
Pain
Weakness
Atrophy
Loss of endurance
Loss of function
"Every comp hearing deals with the here and now—the condition of the claimant that exists at the time. There's always the potential to come back," Kozlowski notes. In Maryland, the statute of limitations for another hearing is five years from the last compensation payment. This means a worker whose condition worsens—and might require additional medical treatment, for example—can request a new review. "It happens a lot in Maryland because we have one of the longest reopening statutes in the country," Kozlowski says. If you'd like to know more about this area, read our
workers' compensation law overview
 and
social security disability
.
What do I do next?
Enter your location below to get connected with a qualified attorney today.
Attorney directory searches
Helpful links
Find top lawyers with confidence
The Super Lawyers patented selection process is peer influenced and research driven, selecting the top 5% of attorneys to the Super Lawyers lists each year. We know lawyers and make it easy to connect with them.
Find a lawyer near you