Am I Forced to Use My Company's Doctor?
What to know about choosing a physician in a Minnesota workers' compensation case
By Super Lawyers staff | Reviewed by Canaan Suitt, J.D. | Last updated on May 5, 2023 Featuring practical insights from contributing attorney Thomas Atkinson
Use these links to jump to different sections:
Every employee deserves a safe and fair workplace. Unfortunately, on-the-job injuries remain a problem in Minnesota, as approximately 63,800 employees in Minnesota suffered nonfatal workplace injury or illnesses in 2021, according to the Bureau of Labor Statistics (BLS).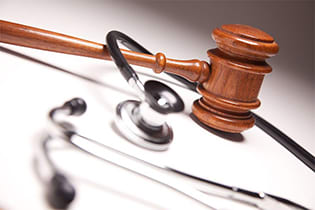 If you were hurt on the job, it is crucial that you seek immediate medical care. Not only is this important for your wellbeing, but injured workers will not be able to file a workers' compensation claim unless they have seen a doctor. You must have official medical documentation to apply for benefits.
The good news in Minnesota, as opposed to several other states, is that workers can select their own doctor.
The Right to Choose a Medical Provider
Unless an exception applies, injured workers in Minnesota are not forced to use their company's doctor for a work-related injury.
The Minnesota Department of Labor and Industry notes that employers are only allowed to require injured workers to see a designated health care provider in limited circumstances, such as when the employee is covered by a collective bargaining agreement that includes an explicit provision listing pre-agreed upon medical providers.
Another exception, notes Tom Atkinson, a workers' comp attorney at Atkinson Gerber Law Office in St. Paul, is if the worker has a managed care health insurance plan. Otherwise, "The employee always has the choice," he says.
"But what insurance companies sometimes do is tell you to go to a specific clinic or doctor to be evaluated. They don't tell the injured worker that, 'Hey, you have a right not to do this and choose your own doctor.' They hardly ever tell you that. I just got off the phone with a client whose initial care was with a company-recommended doctor."
The Right to Change Doctors, QRCs, and Judges
Minnesota does not allow injured workers to repeatedly change treating doctors without cause.
However, loss of faith in a doctor's skill or lack of improvement in the underlying medical treatment may be sufficient to establish the valid cause needed to support a change of medical providers.
"You can request a change of treating physician through the Department of Labor and Industry (DOLI), and articulate why you want a change," Atkinson says. "It's not too hard to do that." A specialist at DOLI makes the determination.
Within 60 days after first reporting the accident, an injured employee can also request a new qualified rehab counselor (QRC). The QRC is assigned to aid with things such as a worker's medical management and facilitating their return to work. Should the case go to a court hearing, the employee also has the right to strike a judge.
Of course, they won't know whether to do that or not without legal counsel.
Why Seek Out a Lawyer in a Workers' Comp Claim
Employers and workers' compensation insurance companies probably aren't looking out for your best interests. Take it from Atkinson, who used to work on the other side.
"Half the insurance companies in Minnesota have staff lawyers, and I was one of them," he says. "[If the adjustor has any questions] when a new injury claim comes in, they would roundtable with us and talk about the case. They're getting legal advice while the injured worker often doesn't."
The other side takes advantage of workers' lack of knowledge in this arena, not to mention their vulnerability.
"When you have a work injury, it's an adversarial claim against the person who pays your paycheck, so you don't want to make any waves or rock any boats. There's an assumption that the insurance adjustor is like when you get in a car accident, but it's not. So, early on, usually an injured worker wants to get better and return to work, so is trusting and compliant," Atkinson says.
Don't let your employer or their insurance direct you to a certain clinic, doctor, or QRC. If they do that, it's also possible that they'll ask you to sign an authorization allowing the QRC to communicate directly with the doctor.
What you want is a medical opinion based on your wellbeing and the highest quality care, not based on the least impact for them.
If you believe that you are not getting the proper medical treatment from your current doctor, you should speak to a Minnesota workers' compensation attorney. An experienced workers' compensation lawyer will be able to assess your situation and help you understand your options. Learn more about selecting a good worker's compensation attorney.
"If you're injured, just call us," Atkinson says. "We'll tell you what work comp is, give you a little primer of what to expect and the red flags to look out for. Work comp is always free; we never charge a retainer." Fees are covered by the insurance company when the case settles.
Not every law firm will give an initial consultation, nor will every firm hear your case if you've yet to have a dispute. "We have people we represent where there is no dispute yet. We help keep an eye on it because we know most complex work comp cases have a dispute," he adds. "By being involved right away, we can troubleshoot things ahead of time and keep the insurance company honest longer."
If you'd like to know more about workers' compensation benefits, read our workers' compensation law overview.
What do I do next?
Enter your location below to get connected with a qualified attorney today.
Additional Workers' Compensation articles
Attorney directory searches
Helpful links
Find top lawyers with confidence
The Super Lawyers patented selection process is peer influenced and research driven, selecting the top 5% of attorneys to the Super Lawyers lists each year. We know lawyers and make it easy to connect with them.
Find a lawyer near you