What Can I Do If My Workers' Comp Claim is Denied?
New Yorkers still have the ability to challenge it
By Super Lawyers staff | Reviewed by Canaan Suitt, J.D. | Last updated on May 5, 2023 Featuring practical insights from contributing attorney Catherine M. Stanton
Use these links to jump to different sections:
When Cathy M. Stanton first came to workers' compensation cases, New York had an easily navigable system for injured employees. "But that's not the case anymore," she says.
The way it used to be, it wasn't often necessary for an attorney to become involved unless the insurance company denied the injured workers' claim.
"Now we often get contacted at the onset of the case because of the myriad of hurdles and bureaucratic obstacles placed in front of the worker in New York State—between all of the forms that need to be filed, the procedures the worker has to follow and the deadlines imposed on the treating physician," says Stanton, who works with Pasternack Tilker Ziegler Walsh Stanton & Romano law firm.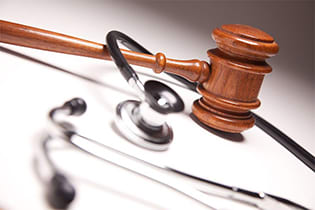 125,500 workplace injuries were reported in the New York in 2021, according to the U.S. Bureau of Labor Statistics. For workers, dealing with the aftermath of a work-related accident can be difficult. Workers' compensation benefits provide much-needed financial protection. Under state law, employers are required to carry workers' compensation insurance.
The most important steps if you're injured are to: give immediate notice to your employer, seek immediate medical treatment, and file your claim before the two-year statute of limitations runs out. If you follow these three steps, Stanton says, you're giving your claim the best possible shot at being approved—and most claims are.
If you were injured on the job, comp benefits are available for medical costs and lost wages. Unfortunately, recovering workers' compensation is not always easy. Unfair denials happen. If your workers' comp claim was rejected, do not give up: You have the right to file an appeal.
Why Are Workers' Compensation Claims Denied in New York?
If you were injured on the job, you are generally entitled to recover benefits—regardless of how and why the workplace accident occurred. To be clear, you are not required to prove that your accident occurred because of your employer's negligence. Still, workers' comp claim denials can be for a wide range of different reasons. Some common reasons for compensation denial include:
Minor mistakes on application paperwork
Not reporting the accident on time
Missing deadlines
Failure to seek professional medical attention
Insufficient medical records/evidence
Disputes about the existence or severity of the injury
Disputes regarding when and where the accident occurred
Errors or bad faith settlement practices by insurance companies
"Your claim can be denied for a number of different reasons, but that doesn't mean that's the end," Stanton says. "It just means it has to go before a law judge, who ultimately has to make the decision. If they make a decision that either side isn't happy with, then there's an appeal process."
How easy it will be to resolve a workers' comp denial on appeal depends entirely on the specific circumstances.
"Generally speaking, most claims won't get resolved in one hearing," Stanton says. If there's an objection, usually the judge will determine what evidence is necessary to reach the next point in the claim. In some comp cases, additional evidence such as supplemental medical records will be sufficient to prove that the claim is valid. In other cases, employers or insurers may fight aggressively to deny benefits.
Four Steps to Appeal a Denied Workers' Compensation Claim in New York
1. Understand the Denial
Under New York law, injured workers should receive a written denial letter that explains the reasoning behind the unfavorable decision. Make sure you read, understand, and preserve the denial letter. If you have questions about the denial letter, a workers' comp lawyer can help.
2. Know the Deadlines
You must comply with appeal deadlines. If you miss a deadline, your appeal is unlikely to ever be heard. You have 30 days to request a hearing of an adverse decision. As explained by the New York State Workers' Compensation Board, your initial hearing will go before a "Board Panel" that is made up of three judges.
3. Organize Documents and Records
Successful workers' comp appeals require a strong foundation of supporting evidence. To prevail on appeal, it is imperative that all relevant documents, records, and other evidence is organized. The more information you have the supports your claim, the easier it will be to get benefits authorized on appeal.
4. Call a New York Workers' Compensation Lawyer
If your claim was denied, contact an experienced New York workers' compensation attorney who can review your case, explain your options, and take action to protect your rights.
"The insurance company is representing your employer," Stanton adds. "If they have someone looking out for them, you want an even playing field which means having an attorney representing your best interests."
Attorneys in this are work on a contingency fee basis, meaning "we don't get paid unless the injured worker gets paid," Stanton says. "Our fee is paid directly by the insurance company, so never should a worker be writing a workers' comp attorney a check. It's against the law in New York." The judge approves fee requests, and while the law doesn't specify an amount or range, it's commonly around 15 percent.
If you'd like to know more about this area, read our workers' compensation law overview.
What do I do next?
Enter your location below to get connected with a qualified attorney today.
Additional Workers' Compensation articles
Attorney directory searches
Find top lawyers with confidence
The Super Lawyers patented selection process is peer influenced and research driven, selecting the top 5% of attorneys to the Super Lawyers lists each year. We know lawyers and make it easy to connect with them.
Find a lawyer near you